Chowan Volleyball Falls To Limestone In Four Sets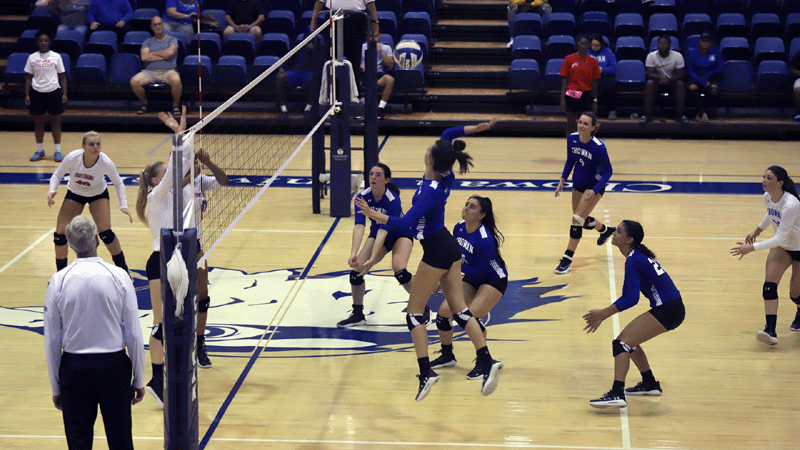 | Team | 1 | 2 | 3 | 4 | F |
| --- | --- | --- | --- | --- | --- |
| Limestone | 25 | 25 | 20 | 25 | (3) |
| Chowan | 16 | 18 | 25 | 16 | (1) |
Evann Carpenter Picture courtesy Chowan

MURFREESBORO, N.C. – The Chowan Volleyball team suffered their second straight Conference Carolinas loss to league leading Limestone, 3-1, at home on Saturday.

THE BASICS

FINAL | Chowan 1, Limestone 3

RECORDS | Chowan 3-7 (1-3), Limestone 8-5 (5-0)

LOCATION | Murfreesboro, N.C. (Helms Center)

INSIDE THE BOX SCORE

Hannah Sladick notched her first double-double of the season with 11 kills and 13 digs. Sydney Hiner (20), Anixa Rosa-Martinez (17), and Katie Houston (15) posted double-digit digs.

Ann-Marie Johnson posted nine kills to go with 5.5 total blocks including four solo blocks.

Chowan hit .353 in the third set taking the set 25-20.

HOW IT HAPPENED

First Set:

Limestone opened up the match with a 5-0 run before Hannah Sladick put the Hawks on the board with a kill. Ann-Marie Johnson notched a kill and a solo block to cut the deficit in half, 10-5.

Sydney Hiner sparked a run after trailing 12-7 to take the lead 13-12. Hiner posted two kills and teamed up with Ann-MarieJohnson for a block. HannahSladick notched a kill and KatieHouston produced a service ace before Limestone called timeout.

Ann-MarieJohnson recorded a kill before the Saints pushed their lead to 20-15. The Saints would take the set 25-16.

Second Set:

AnixaRosa-Martinez started the set with a pair of kills. Rosa-Martinez and Ann-Marie Johnson posted kills to push the lead to 8-4.

Limestone responded with five straight points on three kills and two Hawks miscues. Ann-Marie Johnson and Anixa Rosa-Martinez would regain the lead with a kill each, 10-9.

Chloe Putnam would put down a kill before the Saints took the lead 18-14 with five straight points.

Following a block and kill by Ann-Marie Johnson, the Saints opened the set to 24-17. Hannah Sladick notched the final kill for the Hawks as Limestone took the set 25-18.

Third Set:

Anixa Rosa-Martinez, Sydney Hiner, Hannah Sladick and Ann-Marie Johnson posted a kill each to give the Hawks an 8-4 advantage. Hiner, Sladick and Johnson added to the lead with a kill, 11-6.

Limestone would rally to even the set at 15, 16, and 17-all. Saints' miscues gave the Hawks the lead before Hannah Sladick recorded two of the final three kills in the set to take the set 25-20. Ann-Marie Johnson posted the final kill.

Fourth Set:

Hannah Sladick and Ciara Ortega posted a kill and Ann-Marie Johnson recorded a block early in the fourth set.

The Saints rattled off nine straight points to push the set to 17-7. The Saints would use back-to-back blocks to lead 20-9.

Chowan would score seven of the next nine points to cut the deficit to 22-16. Sydney Hiner and Anixa Rosa-Martinez posted a kill and Ciara Ortega recorded a service ace.

Limestone finished off the set with a pair of kills to take the match.

UP NEXT

Chowan will travel down the road to take on Barton in a Conference Carolinas match on Wednesday, October 9. The contest will be held at Fike HS in Wilson. Firstserve is at 7pm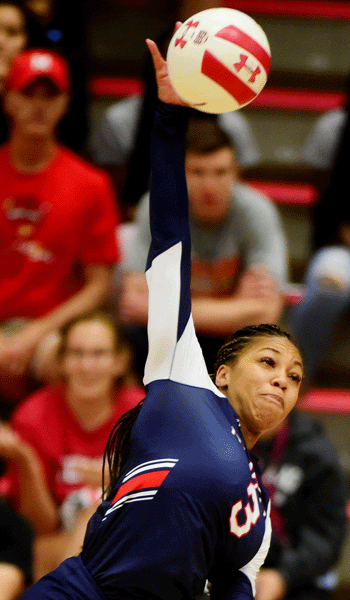 Howard Volleyball Sets School Mark at the Jack Kaiser Classic , Bison sweep Golden Griffins; HU's comeback falls short against Columbia Derek Bryant
(Photo Credit – Mark Coleman)

QUEENS, N.Y. (September 6, 2019) – Howard University women's volleyball team set a new school record in hitting percentage after sweeping Canisius in three sets (25-19, 25-16, 25-20). HU eclipsed a .446 mark, shattering the previous school record of .415.

Overall, the Bison registered 49 kills throughout the match while limiting their hitting errors to eight.

"We played well tonight," said Howard women's volleyball head coach Shaun Kupferberg after the match versus Canisius. "[We] showed a lot of growth in our offense by limiting our hitting errors while still being aggressive. If we can do that consistently, we will be tough to beat."

Junior Jurnee Tipton (Ypsilanti, Mich.) led the Bison attack with a match-high 15 kills while recording a .652 hitting percentage. Senior Kira Porter (Lake Tahoe, Nev.) added nine kills with a .727 hitting percentage while freshmen Semira Blair (Fort Worth, Texas) and Kayla Diaz (Nanuet, N.Y.) combined for 41 assists in the victory.

Howard opened the day with a tough five-set loss to Columbia, despite a valiant comeback (20-25, 17-25, 25-23, 25-23, 14-16).

"I'm proud of the team and how they came back from a slow start," Kupferberg stated after the contest against Columbia. "Columbia has a big time player in ChiChi [Ikwuazom] that controlled large parts of the match. We need to be a better more consistent team if we expect to have a better result."

Columbia's ChiChi Ikwuazom guided the Lions, registering 27 kills while eclipsing a .389 hitting percentage.

After dropping the first two sets, HU rallied to take sets three and four to force a fifth and deciding set. In the fifth set, Howard held the upper hand late, but the Lions clawed their way back to take the set and match.

Porter led the way with 10 kills, seven blocks (one solo), three digs and an ace. Newcomer Macy Witt-Nobles (Rosharon, Texas) produced a match-best 12 kills while junior Abby Morrow (Detroit) racked up a team-leading 17 digs in the loss.

Saturday (Sept. 7), Howard wraps up the weekend against St. John's. Match-time is set for noon on ESPN3.

For more information, visit the Bison Athletics website at www.HUBison.com.
Four Rams Named to Pre-Season All-CIAA Team; WSSU Picked to Finish Fourth

WSSU picked to finish third in CIAA South

CHARLOTTE, NC – The Winston-Salem State Rams will look to prove the predictors wrong in the upcoming season as the team was picked to finish fourth overall and third in their division in the 2019 CentralIntercollegiate Athletic Association (CIAA) Predicted Order of Finish. The Rams will have a lot of talent to do it with as four WSSU players were selected for the 2019 CIAA Preseason All-Conference team.

The Rams earned the preseason prediction after a very successful 2018 season. The team finished the season with a 16-15 overall record and a 14-4 record in CIAA play. Of the three teams picked ahead of themin the predictions, the Rams notched wins over two of the three teams ranked ahead of them last season, including taking a five-set win over the predicted top team, Virginia State.

There will be a lot for the team to work with as the team had several players honored with spots on the preseason all-conference team. Senior outside hitter Ytae Cobb earned a spot at the outside hitter positionafter totaling 281 kills and ranking third in the CIAA in total kills. She was also a first team All-CIAA selection last season. She is joined on the team by fellow Rams Danyale Berry and Alexis Gregson-Hammond. Berry finished last season as the CIAA leaderwith 283 total kills while Gregson-Hammond added 151 kills with 56 total blocks (51 solo). Sophomore Myra Wallace was also selected at the Libero position as she totaled 238 digs with 29 service aces.

The Winston-Salem State Rams will open the 2019 season, Friday, September 6th when the team hosts the Erskine Fleet in a 6:00 p.m. match. The Rams will return to action, Saturday, September 7thwhen they host the Benedict Tigers at 2:00 p.m.

For more information on Rams volleyball, contact the WSSU Office of Athletic Media Relations at (336) 750-2143 or log on to www.WSSURams.com.
Youth Wave Soaring for NCCU Volleyball in 2019


YOUTUBEVIDEO: Head Coach Jody Brown Preseason Interview

DURHAM, N.C. — Fourth-year head coach Jody Brown continues a youth movement for an optimisticNorth Carolina Central University volleyball team that will begin play for its upcoming 2019 season on Friday, Aug. 30 after hosting its annual Maroon-Gray Scrimmage on Tuesday, Aug. 27.

NCCU'sroster will showcase a young and talented group with 10 of its 16 players being either freshmen or sophomores. The Lady Eagles may be young, but they do have a lot of collegiate experience to make some noise in the Mid-Eastern Athletic Conference (MEAC). NCCU has 12 returnees and two transfers for a total of 14 student-athletes that have competed at the intercollegiate level.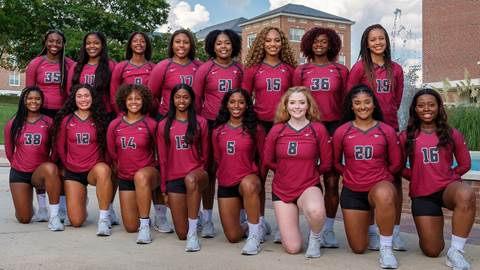 Senior outside hitter Kennedy White is NCCU's lone four-year letter winner and will serve as team captain for the Lady Eagles. The Debra Saunders-White Leadership Award winner and NCCU Volleyball Players Choice honoree has played in 55 matches over her first three seasons in a maroon and gray uniform.

Fellow outside hitter Jessica Pilivi will be the only other senior on the NCCU volleyball roster. In her first season with the Lady Eagles, Pilivi played in 24 matches and averaged over two digs per set and nearly one point per set.

The youth movement was solidified last season when rookies Arlanda Faulkner and Morgan Goodwin were selected to the MEAC All-Rookie Team. Faulkner plays on the outside ofthe front row and led NCCU in her first season with 2.36 kills and 0.27 aces per set. Goodwin became a good scoring option from the middle blocker position with averages of 2.02 kills and 0.94 blocks per set.


Goodwin and setter Celene Morris, another rookie last season, are NCCU's two returnees that played in every match last season. Morris became a versatile player with averages of 3.65 assists and 2.49 digs per set, which were both second best averages on the team.

Junior outside hitter Christine Alcox matches White as a leadership and player's choice award winner and will join Faulkner as a primary pin hitter. Alcox has averaged over two points and one dig per set over the course of her first two seasons at NCCU.

The depth of NCCU's attack is its strongest it has been since Brown took over leading the Lady Eagles. Junior middle blocker McKayla Young, sophomore outside hitter Ammaarah Williams, sophomore right side Estfania Louis and sophomore outside hitter Hana Lee are four more veterans that will be competing for playing time on the front line to go along with sophomore outside hitter transfer Jasmine Sanders and freshman middle blocker Elana Fuller.


NC Central returns its two primary setters from last season, which shall help the offensive chemistry. Sophomore Isis Mitchell led the Lady Eagles with 7.91 assists perset and was joined by Morris at the setter position.

A couple of newcomers will be expected to fill the void left by two defensive specialists that graduated last academic year. Freshman Alyssa Pieh and junior transfer Yomaries Villegas-Miranda are the leading candidates to wear the libero jersey. Junior Braxton Wright is NCCU's lone letter winning defensive specialist.

NCCU has finished fourth in the Southern Division each of the last three seasons to qualify for the MEAC Championship Tournament each time. The Lady Eagles were picked to finish fourth out of five teams in the division in the 2019 preseason coaches' poll.


Fans of the maroon and gray can follow NCCU volleyball all season on NCCUEaglePride.com.
2019 CIAA Volleyball Predicted Order of Finish
1.Virginia State
2.Fayetteville State
3.Shaw
4.Winston-Salem State
5.Johnson C. Smith
6.Claflin
7.Virginia Union
8.Bowie State
9.Livingstone
10.Saint Augustine's
11.Elizabeth City State
12.Lincoln (Pa.)

Northern Division
1.Virginia State
2.Virginia Union
3.Bowie State
4.Elizabeth City State
5.Lincoln (Pa.)


Southern Division
1.Fayetteville State
2.Shaw
3.Winston-Salem State
4.Johnson C. Smith
5.Claflin
6.Livingstone
7.Saint Augustine's