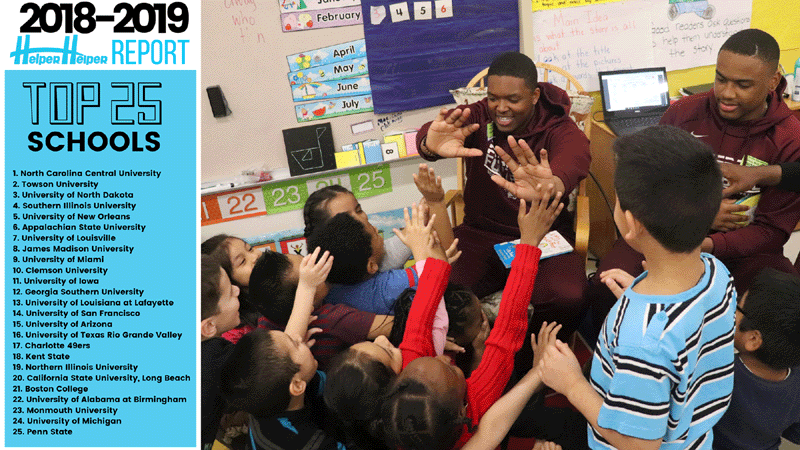 NCCU Tops NCAA Division I in Community Service
NCCU Athletes

DURHAM, N.C. - North Carolina Central University student-athletes completed 11,715 hours of community service with 25 different service organizations in 2018-19 to rank No. 1 in the Helper Helper Division I Top-25 list, according to the Helper Helper volunteer management platform's annual report released on Tuesday.

Nine NCCU teams rank in the top-5 among Division I programs by sport, including men's track & field/cross country, women's volleyball, women's tennis and women's basketball placing second. Other NCCU teams finishing in the top-5 are baseball, men's tennis and men's basketball in third, and football and women's track & field/cross country in fifth.

"I am extremely proud of the commitment to 'Truth and Service' of our student-athletes," said NCCU Director of Athletics Dr. Ingrid Wicker McCree. "It demonstrates the importance to not only stress academics and athletics, but also the priority of developing citizens and leaders as we continue to represent NCCU in our local community."

The Helper Helper volunteer management platform tracks community service hours through the Helper Helper mobile app and online portal, provides a team-by-team breakdown, and rewards top performers of the more than 200 NCAA participating institutions.

During the 2018-19 campaign, NCAA student-athletes completed 474,282 hours of community service across the country.

For more information about Helper Helper, visit www.HelperHelper.com.
MEAC SEES FIVE ATHLETICS PROGRAMS EARN NCAA PUBLIC RECOGNITION HONORS
Maurice Williams
NORFOLK, Va., Aug. 21, 2019 – Five teams in the Mid-Eastern Athletic Conference (MEAC) have received the NCAA's Public Recognition Award for academic excellence during the 2018-19 academic year.

The NCAA Public Recognition Awards are bestowed upon teams with an NCAA Div. I Academic Progress Rate (APR) in the top 10 percent of all squads in their respective sports. In all, more than 1,300 programs from 321 schools were recognized.

North Carolina A&T State saw both its men's and women's cross country teams earn the honor, a continuation of a banner year for the Aggies which saw the men capture their first MEAC cross country title in 34 years.

The North Carolina Central men's golf team, along with the men's and women's golf programs at Maryland Eastern Shore, were also recognized by the NCAA for their achievements in the classroom.

"I would like to extend congratulations to North Carolina A&T State University, North Carolina Central University and the University of Maryland Eastern Shore for this achievement," MEAC Commissioner Dr. Dennis E. Thomas said. "To be in the top 10 percent for their intercollegiate team is outstanding and demonstrates a total commitment to academic excellence."
NCCU Volleyball's Cultural, Team-Building Trip to Prague

Athletics Department

The North Carolina Central University women's volleyball team's trip to Prague, Czech Republic, this summer allowed the student-athletes to compete against local club teams, exposed them to a foreign culture, and brought the teammates closer together.

From June 25-July 7, the team stayed at the Sportcentrum Brandys in the Czech Republic, which doubled as a training facility and hotel. They played against two local club teams (Brandys and Babofky), and in a clay court tournament versus five other teams.

PHOTOGALLERY: https://nccueaglepride.com/galleries/?gallery=219

PRAGUE VLOG: Created by NCCU volleyball student-athletes Celene Morris and Arlanda Faulkner
https://youtu.be/w_r5snwm5rA


When not playing or practicing, the members of the volleyball travel group participated in multiple educational experiences, including a Holocaust tour at the Terezin Concentration Camp, and visits to historic landmarks like the Charles Bridge, Prague Castle, celebrated concert venue Smetana Hall and the John Lennon Wall. They also traveled to Germany to watch two professional men's volleyball matches, Japan versus Germany and Portugal against Poland.

The international trip showed the student-athletes what life is like in a different culture.

"It was a huge culture shock for us to see how people in Europe lived," said NCCU sophomore setter Celene Morris (Rockford, Ill.). "Air conditioning was used slim to none. The first couple of days and nights were difficult because we never really had to be in the heat constantly. Also, the currency system in the Czech Republic works very different than the way American currency works, and it was hard to get used to what each coin and bill meant."

Some of the challenges they encountered during their travels, they confronted and overcame together, which they feel brought them closer together as a team.

"The team's chemistry improved a tremendous amount while being in Europe," Morris said. "While being together all day, every day in a foreign country where no one spoke the same language as us, we were put in different or uncomfortable situations. As a result, we became closer with each other by overcoming those obstacles together. This trip exemplified the true meaning of what it is like to be part of a team."

NCCU sophomore outside hitter Arlanda Faulkner (Goldsboro, N.C.) agrees with her fellow sophomore's assessment.

"This trip allowed the team to grow not only as teammates, but as people," Faulkner said. "We each learned different things about each other, and ourselves. We each faced some struggles and frustrations, but we all learned at the end of the day you are neveralone in the fight you must face."

Faulkner returned from Prague with a different perspective on life. "Appreciate the little things, enjoy the moment, embrace adversity, overcome obstacles, have an abundance of patience for the world, and love endlessly."
Overall, the international experience was one the NCCU women's volleyball team will never forget.

"The memories we shared while in Prague will become memories that we will share and remember forever," Morris said.
Here are more reflections from the NCCU women's volleyball student-athletes about their trip to Prague…

Estfania Louis (Sophomore/Immokalee, Fla.): "One thing I've learned from Prague is that we may complain about the smallest things in America, but we are blessed to have everything that we do. Nothing comes easy and complaining isn't going to get meanywhere. So I've learned to appreciate everything that I have because at the end of the day someone else never had the stuff that we think we "Have" to have."

Isis Mitchell (Sophomore, Tempe, Ariz.): "What I learned in Europe is to appreciate everything that I have. I loved the fact that I had the opportunity to go further abroad, learn about different cultures and play a different type of volleyball!! I alsohad a chance to learn about everyone else in a deeper level. I just want to thank you guys for giving me the opportunity to get to play overseas and visit a new country."

McKayla Young (Junior/Charlotte, N.C.): "I learned that we should appreciate the small things. You don't realize what you have until it isn't at the ready, whether it be a person, place, or something simple like say... COOL AIR."


Yomaries Villegas (Junior/Ocala, Fla.): "I'm grateful for the opportunity to have experienced a once-in-a-lifetime trip with amazing people. Being able to bond and truly enjoy each other's company was one of the most satisfying moments from the trip.These are memories that are worth a lifetime."

Morgan Goodwin (Sophomore/Solon, Ohio): "One thing that I learned in Prague was how to work better with others and problem solve with my teammates. It brought us all closer together while building patience. Learning how to work better with people isan important skill, especially in the game of volleyball. Very grateful for the opportunity."


Jessica Pilivi (Senior/West Jordan, Utah): "The trip to Prague positively impacted me by providing exposure to people with a very different culture than mine, ranging from food and language to daily routines and living situations that I would've otherwise never came in contact with. I am grateful for Prague helping me to be more open-minded."


Alyssa Pieh (Freshman/Raleigh, N.C.): "I learned in Europe that the basic luxuries for Americans, such as air conditioning, free water and accessible bathrooms, are not as imperative over there. I'm grateful for the experience to go into Prague and to live in another culture, but also very thankful to go home to America and enjoy those luxuries. In America, we are very privileged in the quality of things we receive, but I have learned we don't need them to still live a fulfilling life."


Christine Alcox (Junior/Carrboro, N.C.): "Prague was an invaluable learning experience for me, as it taught me the importance of teamwork, patience and communicating effectively."


Kennedy White (Senior/Raleigh, N.C.): "I learned the importance of adapting and team bonding. Being able to adapt in situations that I'm not use to and handle it well helped me mature more. While over there I realized how fortunate we are and how many luxuries we get to play not only in the U.S., but in college. Building a better bond with my teammates before season will show on and off the court during the season. To be able to travel to another country to explore and train will never be taken for granted."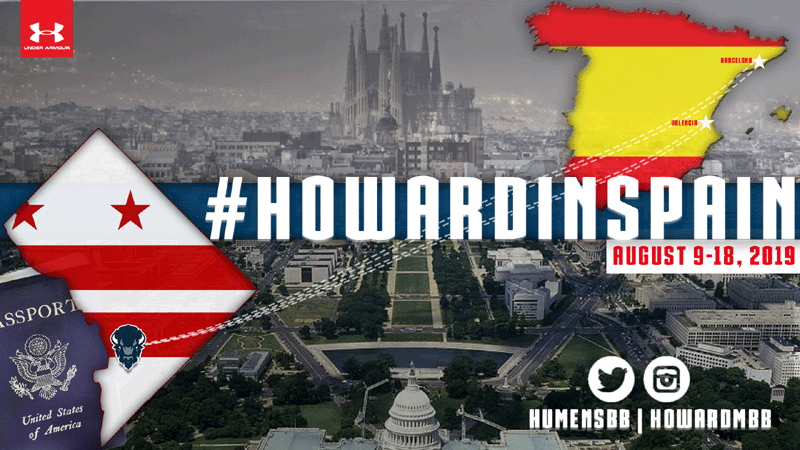 Howard Men's Hoops Heads to Europe in August

Bison prepare for Summer Tour in Spain

DEREK W. BRYANT

(Photo Credit – Howard Athletics)

WASHINGTON (June 26, 2019) – First-year head coach Kenneth Blakeney and the Howard University men's basketball team heads to Europe for a Summer Tour in Spain this August. The tour runs August 9-18 in Barcelona and Valencia, featuring team-bonding activities throughout the trip while playing three competitive contests.

"I love that our student-athletes have this chance to represent Howard University on a global stage in Spain," said Blakeney. "This trip will be a great educational, cultural, team and basketball experience that our guys will remember for the rest of their lives."

The tour begins in Barcelona, home of the 1992 Summer Olympics Games where the world witnessed arguably one of the greatest men's basketball teams assembled, the U.S. Dream Team.

During the team's visit in Barcelona, they will take a tour of the famous Camp Nou Stadium, home of FC Barcelona, followed by a bike tour through the city and cruise on the Mediterranean Sea. Howard wraps up its stay with a pair of games and a tour of the Temple Expiatori de la Sagrada Família, a large unfinished Roman Catholic church in Barcelona, built in 1882.

"This trip will give us an opportunity to bond [as a team]," Blakeney continued. "We'll also get to see how we compete before we start practice in the fall."

Midway through the tour, Coach Blakeney's squad journeys to Valencia where the city is known for its arts and sciences, with futuristic structures including a planetarium, an oceanarium and an interactive museum.

In Valencia, the Bison will play its final contest while building chemistry through activities like a team scavenger hunt.

"It's such a unique experience that will provide great momentum towards the improvement of our program," Blakeney added. "No matter how much you train or practice, you really don't know about a team until you see it in game competition."

Through the NCAA Bylaws, Howard may begin training for Spain as early as Tuesday, July 30.

All questions concerning access to the tour should be directed to Keith Coutreyer (keith.coutreyer@howard.edu).

About Howard University Athletics

The Howard University Department of Intercollegiate Athletics sponsors 19 NCAA Division I men and women varsity sports. The programs represent six conferences: The Mid-Eastern Athletic Conference (MEAC), Southwestern Athletic Conference (SWAC), Coastal Collegiate Swimming Association (CCSA), Sun Belt Conference, Eastern College Athletic Conference (ECAC) and Atlantic Sun (ASUN) Conference.

About Spain

Spain, a country on Europe's Iberian Peninsula, includes 17 autonomous regions with diverse geography and cultures. Capital city Madrid is home to the Royal Palace and Prado museum, housing works by European masters. Segovia has a medieval castle (the Alcázar) and an intact Roman aqueduct. Catalonia's capital, Barcelona, is defined by Antoni Gaudí's whimsical modernist landmarks like the Sagrada Família church.

For more information, visit the Bison Athletics website at www.HUBison.com.