Howard Men's Swimming & Diving Defeats VMI in Home Opener
Freshmen lead the way to victory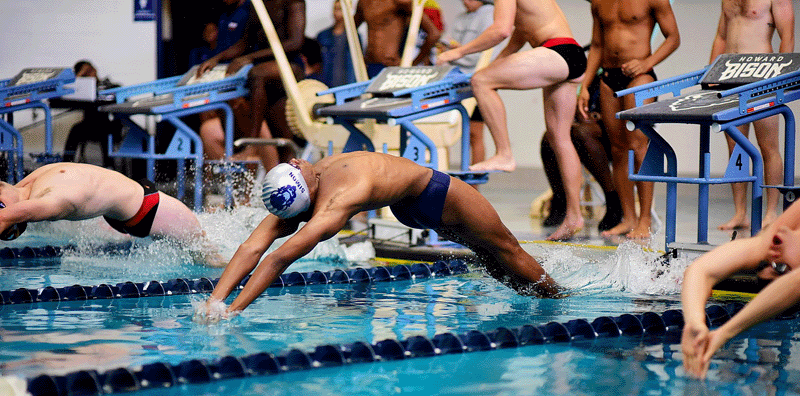 Derek Bryant (Photo Credit – Mark Coleman)

WASHINGTON (October 5, 2019) – Howard University men's swimming & diving team defeated Virginia Military Institute (VMI), 167.5-126.5, inside a packed Burr Pool.

With the victory, HU secured its first home win of the season while extending its home winning streak to seven, dating back to November 2017.

Howard opened the afternoon with the men's 200 medley relay where junior Kegan Ford (Port-of-Spain, Trinidad & Tobago), sophomore Miguel Davis, Jr. (Washington) and freshmen Miles Simon (Atlanta) and Arion Solomon (Fairburn, Ga.) were victorious, clocking in with the program's fourth-fastest mark (1:33.76).

Individually, Simon and fellow classmate Luke-Kennedy Thompson (Nassau, Bahamas) led the way.


Simon won the men's 100 Backstroke (54.67) and 200 Backstroke (1:59.23) while Thompson claimed first-place in the 200 Freestyle (1:46.49) and 500 Freestyle (4:50.68).

On the afternoon, HU won 11 events overall (10 individual and one relay).

Other notable winners include Davis, Jr. (100 Breast; 1:00.14), Ford (100 Free; 48.80), Solomon (100 Butterfly; 51.98), junior William Speakman Smith II (Jacksonville, Fla.; 200 Breast; 2:10.94) and newcomers Mark-Anthony Beckles (Chaguanas, Trinidad & Tobago; 50 Free; 21.42) and Reese Samuel (Pittsburgh, Pa.; 200 Butterfly; 2:01.32).

To view the all results versus VMI, please click here.

On Oct. 19, Howard travels to Murfreesboro, N.C. for a duel meet against Chowan. First race is set for 1 p.m.

For more information, visit the Bison Athletics website at www.HUBison.com.
Branch Joins CU Swimming Staff
Evann Carpenter
MURFREESBORO, N.C. – The Chowan Athletic Department and head coach Nikki White announced the hiring of Michael Branch as Assistant Men's and Women's Swimming Coach for the 2019-2020 season.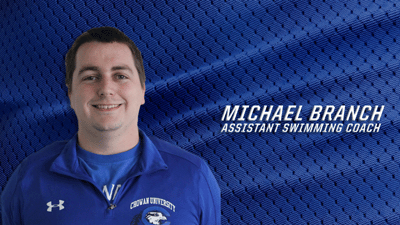 Michael comes to Chowan after two years as Assistant Coach and Recruiting Coordinator for the Wilmington College Men's and Women's Swim Team, where he coached one conference champion and three all-conference finishers.

Prior to Wilmington, Michael was Head Swim Coach for Legacy High School in Las Vegas, Nevada, where he coached two individual state champions, one relay state champion, and two state runner-ups. He was alsoan Assistant Coach for the Las Vegas Swim Club.

Michael swam for the University of Mount Union, where he was a four year letter winner and earned all-conference honors in the 1650 yard freestyle and 400 yard individual medley. He graduated from Mount Unionin 2016 with a bachelor's of science in Athletic Training with a minor in Exercise Science.
Dr. Joetta (Jodi) Jensen Named First Hampton Women's Triathlon Coach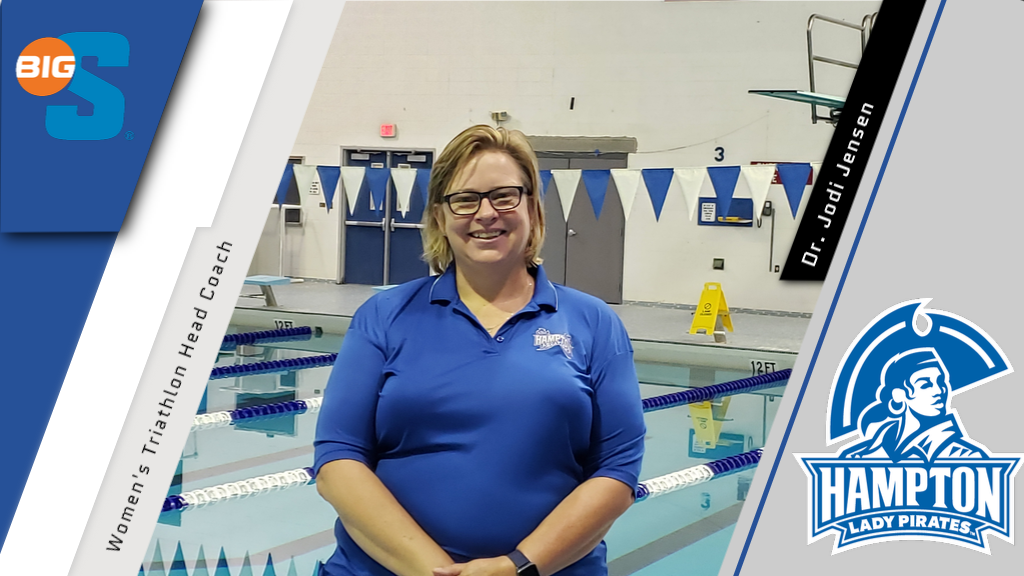 Jim Heath
HAMPTON, Va. -- Dr. Joetta (Jodi) Jensen, the current Director of Aquatics at Hampton University, was announced today as the first head coach of the Hampton Women's Triathlon team.

"It is my pleasure to welcome Dr. Jensen to our athletic department," said Hampton University Director of Athletics Eugene Marshall, Jr. "The creating of our first women's triathlon team is another step in the vision of our President. Dr. William R. Harvey, as the Standard of Excellence and we look forward to seeing this team develop under Dr. Jensen."

She has been the Director of Aquatics at Hampton since 2004 where she teaches undergraduate classes in swimming, lifeguard training, water safety, First Aid and CPR. Jensen has taught all levels of swimming in all areas from children, to adults, to helping train triathletes.

Dr. Jensen is a nationally recognized Aquatics Professor with over 30 years of experience in the industry. Before coming to Hampton University, she worked in public parks and recreation for James City County and the City of Newport News, managing indoor aquatic facilities, outdoor aquatic facilities and a waterfront. Dr. Jensen also taught at Christopher Newport University and Old Dominion University.

"With Hampton being the first HBCU school to sponsor women's triathlon, it is another step in the school continuing to be a leader for opportunities for women," Jensen said. "Our first year we will be looking to build the foundation and participate in a meet in October held at Smith Mountain Lake, Va. Following a year to hit the recruiting trail, we would be looking to make an impact on the national scene in year two and beyond."

She earned her Bachelor of Arts Degree in Public Recreation and Tourism from Christopher Newport University in 1997 and her Masters of Public Administration from Old Dominion University in 2002. Dr. Jensen received her Doctorate of Philosophy in Educational Management from Hampton University in 2018.

For more information on Hampton University women's triathlon, please contact the Office of Sports Information at 757-727-5757 or visit the official Pirates website at www.hamptonpirates.com