Seven Bison Selected to the Easton/NFCA Scholar All-America Team
Howard Softball recognized for their academic achievements off the field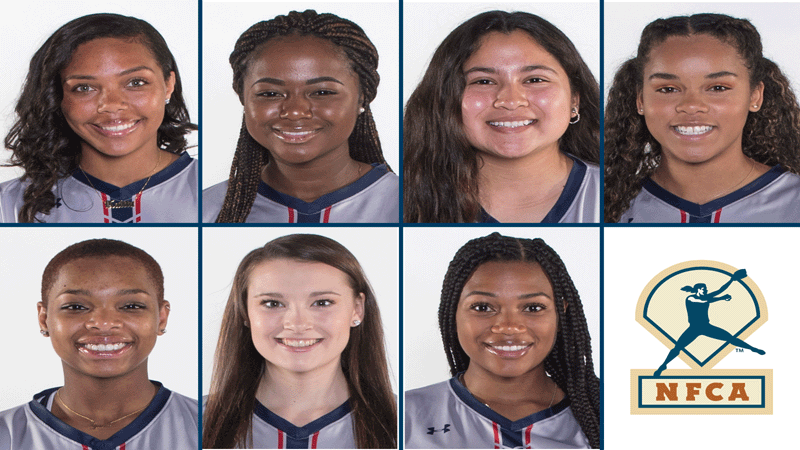 Derek Bryant (Photo Credit – Howard Athletics)

LOUISVILLE, Ky. (October 2, 2019) – Easton and the National Fast pitch Coaches Association (NFCA) unveiled its 2018-19 Scholar All-America team where Howard University saw seven Bison selected. The announcement came Wednesday afternoon.

Among the seven student-athletes recognized included Kalita Dennis (Elk Grove, Calif.), Trinity Gibbs (Kissimmee, Fla.), Sienna Herrera (Corona, Calif.), Camille Navarro (Los Angeles), Ayana Sallee (Chesapeake, Va.), Shayna Swanson (Sammamish, Wash.) and Kamryn Tillman (Snellville, Ga.).

"I am very proud of these young ladies," said Howard softball head coach Tori Tyson. "This is the standard for Howard Softball and I'm grateful for our academic staff. They deserve this recognition as well."

Over 8,000 student-athletes (8,161), a first in NFCA history, were named 2018-19 Easton/NFCA All-America Scholar-Athletes. The rankings and honors recognize the academic prowess of softball teams across the Association's membership categories.

To view the entire 2018-19 Easton/NFCA Scholar All-American Team, please click here.

In only her first season, Coach Tyson revitalized the program with several victories throughout the year. HU reached the postseason for the first time since 2015 while grabbing their first tourney win in eight seasons (2011). Additionally, the Bison's 19 victories are the most since 2012.

Howard opens the 2020 campaign in February.

About Howard Athletics

The Howard University Department of Intercollegiate Athletics sponsors 19 NCAA Division I men and women varsity sports. The programs represent six conferences: The Mid-Eastern Athletic Conference (MEAC), Southwestern Athletic Conference (SWAC), Coastal Collegiate Swimming Association (CCSA), Sun Belt Conference, Eastern College Athletic Conference (ECAC) and Atlantic Sun (ASUN) Conference.

About NFCA

Established in 1983, the National Fast pitch Coaches Association (NFCA) is the professional growth organization for fast pitch softball coaches from all competitive levels of play. Although collegiate coaches comprised the majority of the organization's membership in the early days, today they are joined by high school, travel ball, professional and international coaches, along with umpires, clubs, businesses and fans of fast pitch softball. Growing from40 members in 1983 to over 5,700 today, the NFCA boasts members from all 50 states and 11 international countries – Canada, Czech Republic, Germany, Great Britain, Ireland, Italy, Netherlands, New Zealand, Singapore, Switzerland and Sweden.

For more information, visit the Bison Athletics website at www.HUBison.comor the NFCA website at www.NFCA.org.

Chowan Softball Ranked 17th In NFCA, 13 Scholar Athletes
Evann Carpenter
LOUISVILLE, KY. - Over 8,000 student-athletes (8,161), a first in NFCA history, were named 2019 Easton/NFCA All-America Scholar-Athletes, the Association announced on Wednesday afternoon.

The Chowan Softball team ranked 17th among Division II schools in team GPA and posted 13 student-athletes on the list.

As a team, Chowan posted a GPA of 3.587, highest among Conference Carolinas and CIAA programs with Clafin (CIAA) checking in at #40. No other team posted above a 3.0 in either league.


Haley Cooper, EmaRae Flores, Jesse Gentry, Miranda Glover, Alexis Grim, Lindsee Howard, Brooklynne Johnson, Mikayla Luskin, Kerrin Mailhot, Meredith Morgan, Lindsey Stigler, Mackenzie Taggart, and Beth Walker achieved the minimum 3.5 GPA.