ON THIS DATE: NCCU Men's Basketball Plays Four Games in One Day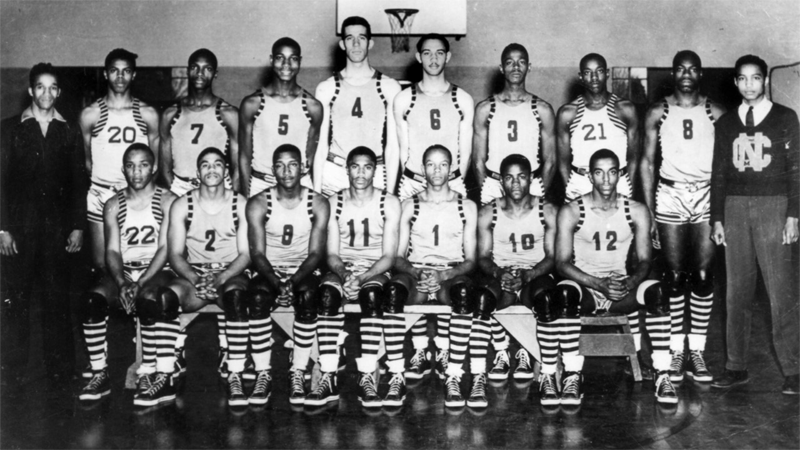 Eagles Basketball Plays Four Games against Conference Champions in One Day

NCCU Athletics Department

DID YOU KNOW? On March 22, 1941, during an end-of-season men's basketball tournament in Cincinnati, Ohio, North Carolina Central University (then known as North Carolina College for Negroes) played four games in one day.


The Eagles defeated three conference champions on the same day and lost a protested decision to the fourth on the same night. NCCU defeated Clark College (Southern Intercollegiate Athletic Conference) 61-54 at 10 a.m., West Virginia State College (West Virginia Intercollegiate Athletic Conference) 61-39 at 2 p.m., Kentucky State College (Midwest Athletic Association) 43-37 at 7 p.m., and lost to Southern University (Southwestern Athletic Conference) 48-42 at 9 p.m.

Under the direction of legendary coach John B. McLendon, the Eagles finished the season with 19 wins and five losses, capturing the CIAA Visitation Championship.


The 1940-41 team was honored among the inaugural induction class of the NCCU Athletic Hall of Fame in 1984. Members of the squad were Buford Allen, Floyd H. Brown, John A. "Big" Brown, Harold "Slam" Colbert, Monroe Collins, Norbert "Slim" Downing, Reginald "Hawk" Ennis, Leo Fine, James "Boogie" Hardy, Rudolph "Rocky" Roberson, Albert Johnson, George R. "Mighty" Mack, Richard "Dick" Mack, William "Bill" Peerman, Lee W. Smith, Jr., and Walter Womack.

Kyle Serba

Senior Associate Athletics Director for Strategic Communications

North Carolina Central University
Four Bowlers Earn MEAC All-Academic Honors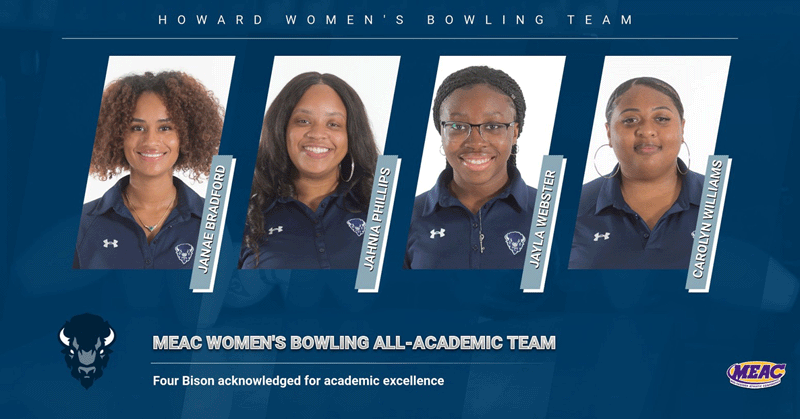 Four Bison acknowledged for academic excellence

Derek Bryant Photo courtesy Howard (Photo Credit – Howard Athletics Media Relations)

NORFOLK, Va. (March 20, 2020) – The Mid-Eastern Athletic Conference (MEAC) revealed its 2020 Women's Bowling All-Academic Team where Howard University witnessed four Bison on the list. The announcement came Friday afternoon.

The league honored 58 student-athletes from its 11 bowling institutions who have achieved academic success in the spring 2019 and fall 2019 semesters.

Among those honored included sophomores Janae Bradford (Chicago), Jahnia Phillips (Elmont, N.Y.) and Jayla Webster (Woodbridge, Va.) and junior captain Carolyn Williams (Glen Burnie, Md.).

"I am so proud of these ladies," said Howard women's bowling head coach Ron Davis. "Our goals were to not only thrive in competition, but inside the classroom as well. This is a win for us."

MEAC sophomore, junior and senior student-athletes with a 3.0 or better cumulative grade point average (GPA), as well as transfer student-athletes who have been in residence at the institution for at least one year, are eligible for All-Academic accolades.

"I want to congratulate our bowling student-athletes, who maintained a 3.0 or better grade point average during the spring 2019 and fall 2019 semesters," MEAC Commissioner Dennis E. Thomas said. "The ultimate goal is to develop and graduate our student-athletes to be productive citizens in our society."

To view the entire 2020 MEAC Women's Bowling All-Academic Team, please click here.

HU finished its 2019-20 campaign with 50 victories, including 10 versus nationally ranked opponents.


About Howard University Athletics

The Howard University Department of Intercollegiate Athletics sponsors 21 NCAA Division I men and women varsity sports. The programs represent six conferences: The Mid-Eastern Athletic Conference(MEAC), Southwestern Athletic Conference (SWAC), Coastal Collegiate Swimming Association (CCSA), Sun Belt Conference, Eastern College Athletic Conference (ECAC) and Atlantic Sun (ASUN) Conference.

About the Mid-Eastern Athletic Conference

The Mid-Eastern Athletic Conference (MEAC) begins its 49th year of intercollegiate competition with the 2019-20 academic school year. Located in Norfolk, Va., the MEAC is made up of 11 outstanding historically black institutions across the Atlantic coastline: Bethune-Cookman University, Coppin State University, Delaware State University, Florida A&M University, Howard University, University of Maryland Eastern Shore, Morgan State University, Norfolk State University, North Carolina A&T State University, North Carolina Central University and South Carolina State University.

For more information, visit the Bison thletics website at www.HUBison.com or the MEAC website at www.MEACSports.com.

Durfee Named All-CIAA; Bowling Earns High GPA Award

VUU Sports , Photo courtesy VUU Sports

Virginia Union University's Amaree Durfee was named to the All-CIAA Women's Bowling Team while the Lady Panthers Bowling Team earned the 2020 Dr. Freddie Vaughn's Highest Team Academic Award. The Lady Panthers recorded a 3.53 teamgrade point average, earning the award for a fourth straight year, it was announced on Monday, February 19.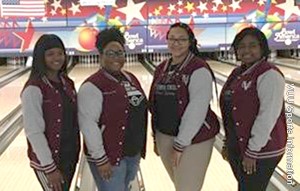 Durfee, a redshirt junior from Sacramento, Cal., was third in the CIAA with a scoring average of 169.35.

" I am very proud of Amaree for being named to the All-Conference Team for the third consecutive season," said VUU Head Bowling Coach James Washington. "She worked really hard this season with the goal of being player of the year. She was poised to gain that honor at our last tournament, but the tournament was canceled. I was very fortunate to have her come all the way from Californiato bowl for me and to succeed in the way she did. She will be truly missed.

"Winning the GPA award for the fourth straight year was pretty special. What a great testament to the young ladies who realized they were not only bowlers, but students as well. Three of the four seniors on this year's team have helped VUU win this award allfour years. I am grateful for the dedication these young ladies put out on the lanes and in the classroom. With the starting five all being seniors I hope to continue recruiting the same type of dedicated ladies."

VUU finished the year fourth overall in the CIAA with a 13-11 record.
MEAC STATEMENT ON OFFICE CLOSURE

Maurice D. Williams

Norfolk, Va. – The Mid-Eastern Athletic Conference office will close starting on Monday, March 16 and reopen on Monday, March 23. The office will reevaluate the situation as it relates to COVID-19 at that time.

Those fans looking to get refunds for the sessions missed during the 2020 MEAC Basketball Tournament are reminded to contact the venue through which they made their purchase. Fans who purchased tickets from the MEAC Office may call the office on Monday, March 23 to gain more information about refunds.

For more information go the MEAC website at www.meacsports.com. The office will reopen on Monday, March 23.
Walk-offcaps seasons

KSU Sports , Photo courtesy KSU

JASPER, Ala. - In a game that ultimately became the final Kentucky State University athletic contest for the 2019-20 season, the Kentucky State softball team was able to conclude on the winning side of the scoreboard.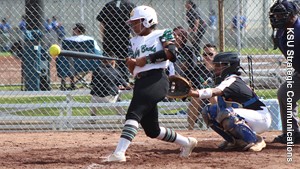 Freshman TanishaValdez (Maui, Hawaii) stroked a one-out single in the bottom of the seventh inning to send the Thorobreds to the 7-6 walk-off win over Savannah State Thursday in the opening game of the 2020 Southern Intercollegiate Athletic Conference (SIAC) crossover. Following three consecutive one-run losses to open SIAC action, it was a win that the team hoped would be the tipping point to a turnaround. Unfortunately, the euphoria of said walk-off came to a crashing low as seniors Sasha Allen (West Covina, Calif.) and Katie Arbec (Louisville, Ky.), along with the rest of their teammates, were informed that the season was canceled.

"This is a difficult time especially for our seniors," said Kentucky State University head coach David Morton. "The team worked extremely hard this year and it's a disappointment to have the season end in this manner.

"I am extremely proud of our young ladies and the fight they showed today to have our last game of the year be a win," Morton continued. "Although this may be a low light for all student-athletes, we have a bright future ahead of us and we will continue topush Onward, Upward and Forward."

The SIAC had announced during the game that spring athletic seasons and championships were canceled in light of recent developments relating to the outbreak of COVID-19.

Kentucky State's comeback started as sophomore Olivia Saylor (Lancaster, Ky.) and junior Kailen Olison (Moreno Valley, Calif.) reached via one-out hit by pitches. Junior slugger Moana Pinner (Hilo, Hawaii) drove home both players with her third hit of the game, a double to straightaway center field.

Freshman Sarah Mercer (Louisville, Ky.) pinch ran for Pinner and moved to third on a wild pitch before scoring on Valdez' single.

You couldn't fault the young Thorobreds if they experienced shades of déjà vu as Savannah State scored one run in the sixth inning and took the lead with three runs in the top of the seventh. In their three one-run losses, runs in the late innings led to the defeats.

Instead of looking into the past, Kentucky State stayed in the moment to secure the victory.

The Thorobreds took the lead with two runs in the bottom of the first inning, but single runs in the second and third innings enabled the Tigers to pull even. A sacrifice fly by sophomore Janae Graham (Morehead, Ky.) in the fourth inning and a double by Pinner in the fifth inning gave KSU its two-run lead back. However, SIAC newbies Savannah State battled back.

Pinner finished 3-for-4 with two doubles and four RBI to lead Kentucky State. Valdez recorded a career-best three hits, going 3-for-4 with a run scored and a RBI. Saylor was 2-for-3 with three runs scored.

Freshman AlexisMenifee (Lexington, Ky.) allowed six runs, five earned, on eight hits in seven innings of work.
Rams Duo Earns NCAA Division II Degree Completion Award

Cobb, Witherspoon earn prestigious honor toward degree completion

Trevin Goodwin

WINSTON-SALEM, NC – In addition to completing a pair of terrific athletic careers at Winston-Salem State University, the duo of senior outside hitter Ytae Cobb and senior linebacker Dachon Witherspoon both received the NCAA Division II Degree Completion Award. With the award, the pair earn tuition towards their completion of their baccalaureate degrees.

The WSSU student-athletes were selected for the award by a special committee composed of representatives from six Division II institutions, including one NCAA Division II Management Council representative, one Division II director of athletics appointed bythe Division II Athletic Directors' Association, and two Division II faculty athletics representatives appointed by the Faculty Athletics Representatives Association. The Division II Degree Completion Award program was established by the NCAA in 2001 to provide deserving student-athletes financial assistance toward the completion of their first baccalaureate degree. Candidates for the award must student-athletes who have exhausted their eligibility, within good academic standing at their institutions and must be within 36 hours (54 quarter hours) of completion of their undergraduate degree.

Cobb earned the award after two successful seasons with the Winston-Salem State University Rams volleyball team. She finished her career at WSSU with 495 kills with 65 service aces and 118 total blocks (28 solo). She also had a pair of Central Intercollegiate Athletic Association (CIAA) All-Conference honors and she was a two-time selection for the North Carolina College Division Sports Information Association (NCCSIA) All-State team. She joined the Rams in the fall of 2018 after transferring to WSSU from Pensacola State College. She is an Exercise Science major at WSSU.

Witherspoon is a four-year member of the Rams' football team. He was a true freshman on the Rams; 2016 Central Intercollegiate Athletic Association (CIAA) championship team. He finished his career with 15 total tackles (nine solo) in 12 games for the Rams. In 2018, he returned a Livingstone blocked punt 21 yards for a touchdown in the Rams' 34-19 win. He is a Network Marketing major with a Business minor.

To date, the Division II Degree Completion Award program has awarded nearly $6 million to approximately 1,400 deserving student-athletes. Since its inception, 90 percent of the recipients have gone on to complete their undergraduate degree through the program.


For more information on Winston-Salem State University athletics, log on to www.WSSURams.com.