Breaking News : NC A&T Big South Conference Affiliation Challenged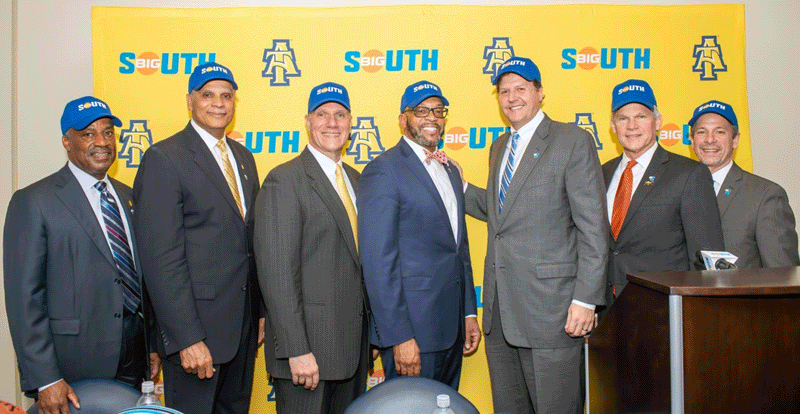 Praised the LORD and nobody else.
Michael Pippen Sr. Photo courtesy NCAT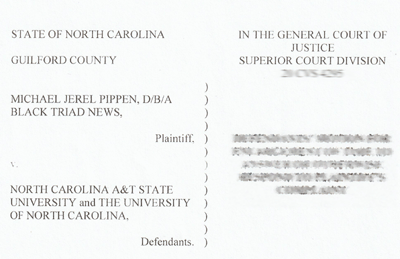 Departing the MEAC Conference, N.C. A&T Announced a New Athletics Affiliation with the Big South Conference" on February 7, 2020, after alleged meeting of Athletic Affiliation Committee and subsequent meeting of universities Board of Trustees Executive Committee. In compliance with proposed settlement of suit at law to dismiss lawsuit between Michael Pippen /dba/Black Triad News and UNC & NCA&T. The original Executive Committee decision February 7, 2020 would be vacated. Pursuant rules and regulations of the NC Open Meetings Law, A&T will notice a special meeting of the Athletic Conference Assessment Committee (ACAC). During the meeting, the ACAC will discuss their findings regarding A&T's move to the Big South. Second, pursuant to the rules and regulations of the NC Open Meetings Law, A&T will notice a special meeting of the Board of Trustees. At the meeting, among other agenda items, the Board will hear from a representative from the ACAC regarding their findings. Following the presentation from the ACAC, the Board will vote on the move to the Big South. See Special Called Meeting
Tonya Dixon 7/24/20 For Immediate release:
The North Carolina Agricultural and Technical State University Athletics Conference Assessment Committee will hold a meeting, on Tuesday, July 28, 2020, via Zoom webinar, at 11 a.m. N.C. A&T BOT to Hold Special Called Meeting, July 28. The North Carolina Agricultural and Technical State University Board of Trustees will hold a Special Called Meeting, on Tuesday, July 28, 2020, via Zoom webinar, at noon.
Note: Board of Trustee meeting material is not current posted on NCA&T web site but should be on July 26.
North Carolina Agricultural and Technical State University Board of Trustees July 18-19, 2019 held an Orientation and Retreat Graylyn International Conference Center – Winston-Salem, NC. The agenda called for the oath of office being administer on Friday. The agenda indicate Board member former judge Paul Jone would swear swear in Trustees Timothy King, John Bluford, Venessa Harrison, and Student Government who were reappointed for four more years and with Student Government President Kimberly
Gatling. Notwithstanding the purported swearing I was told first by Board assistant secretary Sharon Bennett and then by Vice president for University Relations that I could not attend. Friday July 19, 2019 NC A&T BOT was consider Actions, including Approval to Establish Center of Excellence. I was allowed to Friday attend. When the Board considered the Action Items Sharon Bennett did not call the role, no quorum was establishing nor was the conflict of Interest statement read. NC A&T Board of Trustees bylaws require minutes of the previous meeting be included in Board material for the next meeting. Sept. 2019 NC A&T held the first Regular schedule Meeting of the Board of Trustees Retreat Minutes were not included in Board of Trustee Meeting Material, nor were they approved. Pursuant NC Public record laws I requested the minute as well as the audio from the July Retreat.

NC A&T Media Contact Tonya Dixon issued a press release:
N.C. A&T Board of Trustees Adds New Members; Dates for Quartely Meetings Set
EAST GREENSBORO, N.C. (Sept. 23, 2019) – A new academic year for North Carolina Agricultural and Technical State University has begun. Additionally, the university board of trustees welcomes new members and releases dates for quarterly meetings. N.C. A&T Student Government Association President Allison Gilmore along with newly elected trustees Mark Copeland, William Dudley and Kimberly Gatling were sworn in as new board members. A complete board of trustees list is available
The Martin Administration has not complied with Public record requests for minutes/ audio thus no public evidence exist with witness NC A&T Chairwoman Venessa Harrison and alleged

Athletics Conference Assessment Committee

Chairman Timothy King were sworn July 18, 2020. Going into Wednesday July 29, 2020 meeting there is no public record Venessa Harrison and Timothy Kink are members of NC A&T Board of Trustees.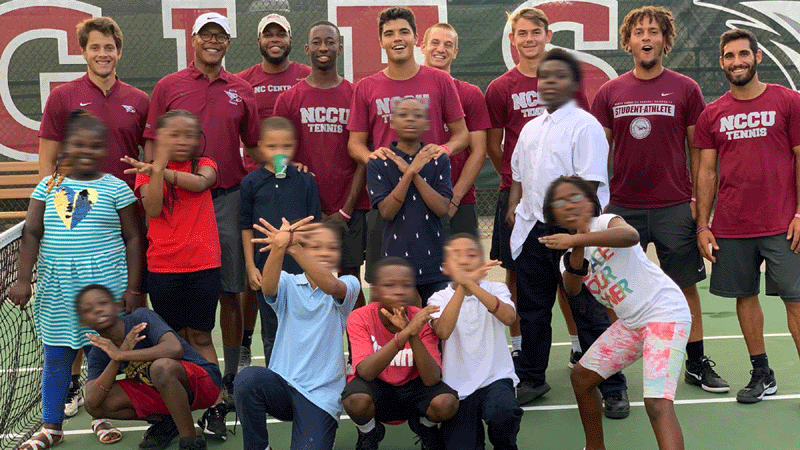 NCCU Athletics & Photo Courtesy

Before the page turns on the 2019-20 campaign, here's a look back at the highlights from the North Carolina Central University sports seasons...
Football:
Volleyball: Cross Country:
Men's Basketball: Women's Basketball &
20 Bison Named to the ASUN Academic Honor Roll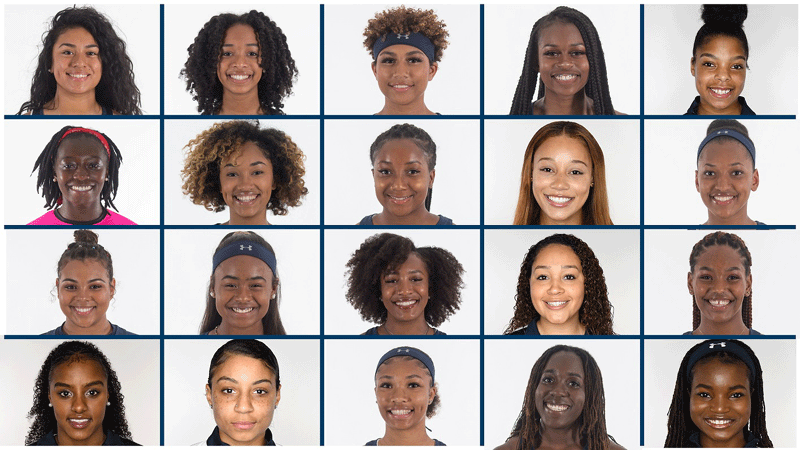 Women's Lacrosse recognized for hard work inside the classroom
DEREK W. BRYANT (Photo Credit – Howard Athletics Media Relations)

Link to story: https://hubison.com/news/2020/7/20/womens-lacrosse-20-bison-named-to-the-asun-academic-honor-roll.aspx

ATLANTA (July 20, 2020) – The ASUN Conference unveiled its 2019-20 Academic Honor Roll where the Howard University women's lacrosse team had 20 Bison recognized for their hard work inside the classroom. The announcement came Thursday (July 16).

The league acknowledged student-athletes who earned a 3.00 grade point average (GPA) on a 4.00 scale during the 2019-20 academic year.

Among the honorees included Heidi Chicas (Hyattsville, Md.); Talia Coryat (Orlando, Fla.); Aysha Dean (Murfreesboro, Tenn.); Andrea Fievre (Snellville, Ga.); Jessica Greene (Fruitland, Md.); Alayah Hightower (Mitchellville, Md.); Tiffany Hunt (Bridgewater, N.J.); Kiyanna Jackson (Upper Marlboro, Md.); Skylar Jennings (Downingtown, Pa.); Madison Joines (Winston-Salem, N.C.); Jillian Jones (Fresno, Calif.); Rania Jones (Alexandria, Va.); Shelby Lee (Bowie, Md.); Josie Mallory (Charlottesville, Va.); Bernadette Nwoye (Montgomery Village (Md.); Latroya Pina (Seeknok, Mass.); Lailah Robey (Chesapeake Beach, Md.); Quai Skeete-Ridley (New Carrollton, Md.); Marquia Walker (Bradenton, Fla.) and Terie Young (Dallas).

"I'm extremely proud of these young women," said Howard women's lacrosse interim head coach Paul Bowden. "Even though our season was cut short due to COVID-19, we persevered and continued to make strides off the field. They exemplify what it means to be a student-athlete and embodies what Howard University stands for."

Overall, the conference recognized 1,964 student-athletes over its 19 sponsored sports. Coastal Carolina led all ASUN affiliate member schools with 43 student-athletes.

HU looks to build upon last year's success under Coach Bowden.

ABOUT HOWARD ATHLETICS

The Howard University Department of Intercollegiate Athletics sponsors 21 NCAA Division I men and women varsity sports. The programs represent five conferences: the Mid-Eastern Athletic Conference (MEAC), Northeast Conference (NEC), Sun Belt Conference (SBC), Eastern College Athletic Conference (ECAC) and Atlantic Sun (ASUN) Conference.

ABOUT THE ASUN

The ASUN Conference, a member of NCAA Division I, boasts nine member institutions committed to Building Winners for Life. The ASUN meets the challenge of maintaining the highest standards in academic and athletic achievement with a true balance between student and athlete. The ASUN includes a blend of the most prestigious and dynamic private and public institutions in the region: Bellarmine University, Florida Gulf Coast University, Jacksonville University, Kennesaw State University, Liberty University, Lipscomb University, University of North Alabama, University of North Florida and Stetson University.
Ruck, Allen added to MJBL virtual Symposium

Larry Barber photo courtesy Larry Barber
Richmond, VA - Rob Ruck, a professor and author of the book Raceball and former Negro Leagues player Sam Allen have been added as presenters to the Metropolitan Junior Baseball League (MJBL) Bobby Bonds Memorial Symposium. Ruck is a professor of history at the University of Pittsburgh, and the book is fully called Raceball: How the Major Leagues Colonized the Black and Latin Game. Allen, playing for the Kansas City Monarchs, led the league in runs scored in 1957. Ruck will be a guest of the initial MJBL segment set for July 20. Allen will serve as a commentator during the second segment July 27 of a four-part series.

Go to www.mjbl.org for the Zoom link to join this 2020 presentation.


MJBL was founded in 1966 by Dr. William M.T. Forrester, the late father of current MJBL Executive Director William Forrester, Jr. The league was established in Richmond, VA which remains the home base. It was formed during the days of segregation when there were very limited opportunities for African-American youngsters to participate in organized baseball. While open to everyone, MJBL continues to be the only national youth league geared toward inner city African-American athletes.

The MJBL mission is to provide a platform for primarily socially and economically disadvantaged youth to realize their self worth through educational, athletic and cultural enrichment programs designed by individuals who strive to connect these youth to the legacies of African-American life, achievements, and institutions.

The presentations, starting at 8:00PM will consist of panel discussions led by a moderator and end on Monday, August 10. This will be the first time the symposium has aired nationally in six years when it was shown on C-Span from Capitol Hill. That link is https:www.c-span.org/video/?320840-1/bobby-bonds-symposium-diversity-baseball.

Monday, July 20- "Steps for baseball to retain the title America's National Pastime". Examine the Economical Factions of the game. Dr. Wilmer Leon, nationally broadcast radio talk show host on SiriusXM Satellite channel 126, will serve as the moderator. Panelists: Former Major League Baseball player and later first Black manager Jerry Manuel. Edwin Thompson of Eastern Kentucky University, one of three Black head coaches in NCAA Division I level. Ricky Clemons, sports management lecturer at Howard University and former Vice President of the MLB National League.

Monday, July 27- 100th Anniversary of the Negro League Baseball. Panelists: Emmy Nominated Director and Civil Rights advocate Lauren Meyer, who is the filmmaker behind the documentary "The Other Boys of Summer". Ken Free, who played in the last Negro League Baseball All-Star game in Comiskey Park was the MEAC first full time Commissioner and is former national chairman of MJBL. Memorabilia will be provided by Luther Norman of Youth Sports Bureau in Spartansburg, SC.

Monday, August 3- The African-American Baseball Coaching.

Panelists: Jimmy Williams, MJBL board member and former professional player and Howard head coach. He will be joined by Terrance Whittle, Stillman College Head Baseball Coach.

Monday, August 10- Where are our heroes? "A discussion of the disappearance of Black superstars and its connection with our declining interest in baseball." Panelists to be announced later. Directed by Corey Nicholson, MJBL national chairman and MJBL board member Barksdale Haggins of Dallas, TX.

The four MJBL presentations are set to start on Zoom at 8:00PM and carry Question-Answer sessions.
CHAZZ WOODSON NAMED HAMPTON UNIVERSITY MEN'S LACROSSE COACH
James Heath

HAMPTON, Va. -- Chazz Woodson, a former Major League Lacrosse standout and Hampton Roads native, was announced today as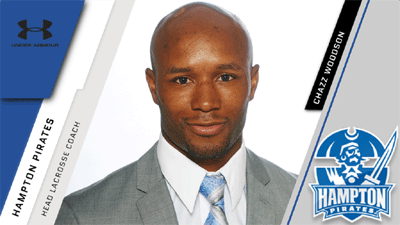 the new Hampton University Head Men's Lacrosse Coach.
"It is my extreme pleasure to welcome Mr. Chazz Woodson to the Hampton University family," said Hampton University Director of Athletics Eugene Marshall, Jr. "He comes highly recommended and with an impeccable background in lacrosse. I am looking forward to seeing him with his team this year."
Woodson joins the Pirates after serving as the Program Director and Head Boys Varsity Coach at the Ransom Everglades School in Coconut Grove, Fla. He recruited and managed the coaching staffs of two middle school and two high school teams, along with practice and game planning for the varsity team.
"What an honor and a blessing it is to come full circle and find myself back home in Hampton Roads," said Woodson. "I am exceptionally grateful to Hampton University President Dr. William R. Harvey, for inviting me to join the Hampton University family, and the proud tradition of excellence that has characterized this school for so many years."
"I'd also like to thank Mr. Marshall for trusting me with the direction of a program that is the most unique in the country and, in my opinion, arguably the most important in lacrosse right now," Woodson added. "I'm excited to work with him and his staff to build a program that exemplifies the University's dedication to the promotion of learning, building character, and preparing students for positions of leadership and service."
He had a stellar career at Brown University where he graduated in 2005 with a B.A. degree in Educational Studies with a focus on Human Development. While at Brown, he scored 71 goals in 54 games, as he was a two-time All-Ivy League, All-New England and team Offensive MVP. He was named to the Brown University All Decade team for 2000-2009.
"It's also important to acknowledge the work that was done by the men who preceded me, Coach Carter and Coach Devoe, and of course Mrs. Crawford," Woodson said. "Their commitment to the men of this program is what has ultimately provided me an opportunity to to step into this position of servantship."
Woodson had a lengthy professional career after being selected 19th overall in the 2005 Major League Lacrosse (MLL) Collegiate Draft by Long Island. He had stops in Long Island, Boston, Los Angeles, Chicago, Chesapeake and Florida with the MLL. Throughout his 10-year career, he was recognized as one of the most exciting players in the game.
Off the field, Woodson is well entrenched in the Lacrosse community as he is an At-Large Board Member for U.S. Lacrosse. He is an owner and director for Sankofa Lacrosse Foundation which is focused on supporting efforts to expand the reach of the game, particularly in economically challenged areas.
Woodson grew up in Norfolk, Va. and attended Norfolk Academy until 2000 when he played his senior year at the Blue Ridge School in Charlottesville.
The chance of his first collegiate coaching job was one that Woodson couldn't pass up. "It's an exciting new challenge for me. But coaching is fundamentally about building and maintaining relationships. That holds true no matter what sport or what level, and it's not new to me at all. So, I'm looking forward to getting started, he said.
For more information on Hampton University Men's Lacrosse, visit the official Pirates website at
Updated 072420