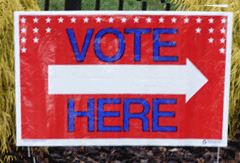 XXX would say Move-that-Ass !!! American Revolution 2020 kicked off Thursday in North Carolina with commencement of early voting. We challenge Rams, Eagles, Blue Bears, Golden Bulls, Vikings, Bears, and Aggies to get in there and make it happen - Vote to protect the ground that has been won.
---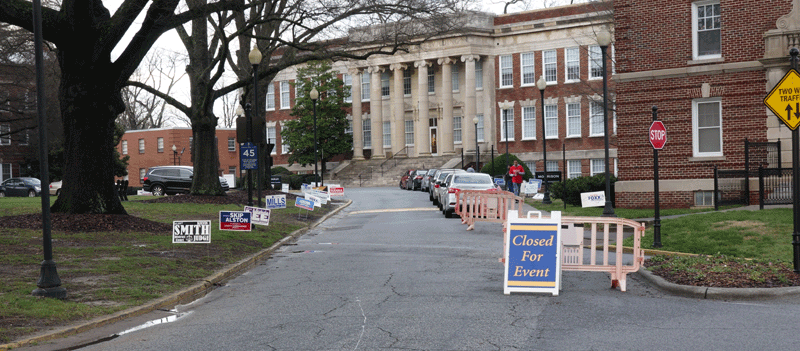 Early Voting Begins at N.C. A&T Feb. 13; Campus Back in One District
Tonya Dixon
EAST GREENSBORO, N.C. (Feb. 12, 2020) – North Carolina Agricultural and Technical State University is not only back in one congressional district, but also serves as a one-stop early voting location for the 2020 primary election. The early polling site opens, Thursday, Feb. 13 and runs through Saturday, Feb. 29, in the Dudley Building, 202 University Circle.

WHY
Students, community leaders and lawmakers also lobbied to have congressional districts redrawn after a 2016 federal court ruled two North Carolina districts were unconstitutionally gerrymandered. N. C. A&T students also petitioned the Guilford County Board of Elections to restore an early voting site on the campus. Link
---
Education is the passport to the future, for tomorrow belongs to those who prepare for it today.
Malcolm X
The Negative Impact of Racism on the self-esteem and well being of African-American Women - Senior Blondina Friday - NC A&T Undergraduate Research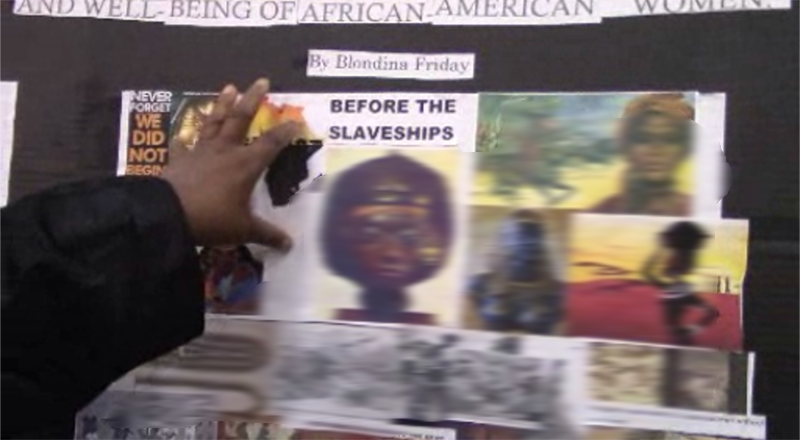 They say we are loud and have an attitude ... If all the things that happen to us happen to you ...you'd have an attitude too.
Video Report
---
Howard Bowling Displays Strong Showing at Baker Classic; HU goes 3-1 against ranked opponents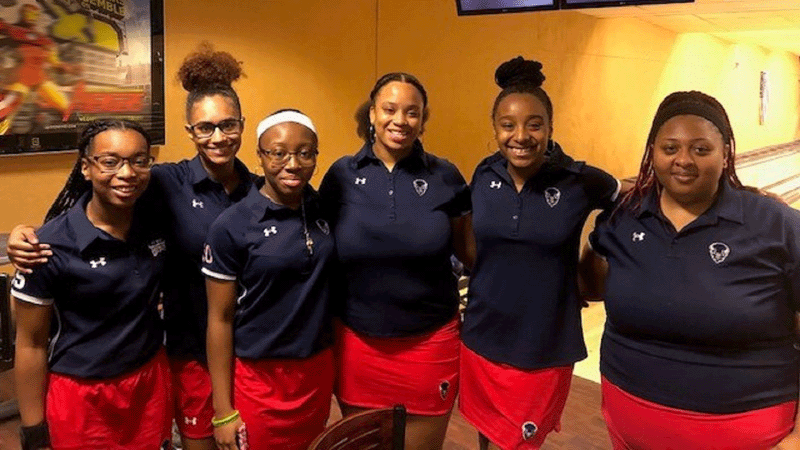 Derek Bryant Photo courtesy Howard (Photo Credit – Brianna Clark)

SINKING SPRINGS, Pa. (February 9, 2020) – Howard University women's bowling team competed in the Griffin Baker Classic, hosted by Chestnut Hill College, where HU finished eighth overall after going 9-4, including3-1 against ranked opponents.

"It was a great confidence boost to beat all three ranked teams at this event," said Howard women's bowling head coach Ron Davis. "It shows us that we can compete at a high level and win."

The three-day (Feb. 7-9) event was split into two separate events.

Friday (Feb. 7), the Bison competed in five baker style matches where they went 4-1, including a one-pin victory (1,003-1,002) over No. 17 Fairleigh Dickinson University (FDU). That was the highest set of the day for HU and helped them secure ninth place after Day One.

The next day (Feb. 8), HU took part in five more baker style matches to determine seeding for Sunday (Feb. 9). Howard had another fantastic day on the lanes, going 4-1 again while beating two more ranked foes, No. 25 Long Island University (870-808) and No. 20 Adelphi University (830-809).

At the end of the qualifying day, the Bison jumped one spot to eighth place and with the tournament format, HU had the opportunity to move up as high as fifth.

The final day saw Howard participate in three best-of-seven baker style matches. HU defeated Caldwell University in the first match, 4-2, but fell in their next contest against No. 20 Adelphi in five, 1-4.

The Bison squared off versus Caldwell again in the weekend finale where they forced Game Seven, but the Cougars would edge out HU to take the match, 3-4.

"I am extremely proud of my teammates," said junior captain Carolyn Williams (Upper Marlboro, Md.). "We are continuously getting better. We are competing at a high level [right now]."

On Feb. 14-16, the Bison return to the lanes for the James Brown Invitational in Towson, Maryland, hosted by Morgan State University.

For more information, visit the Bison Athletics website at www.HUBison.com.
Hampton 80, UNC Asheville 70 - Marrow Breaks All-time Scoring Record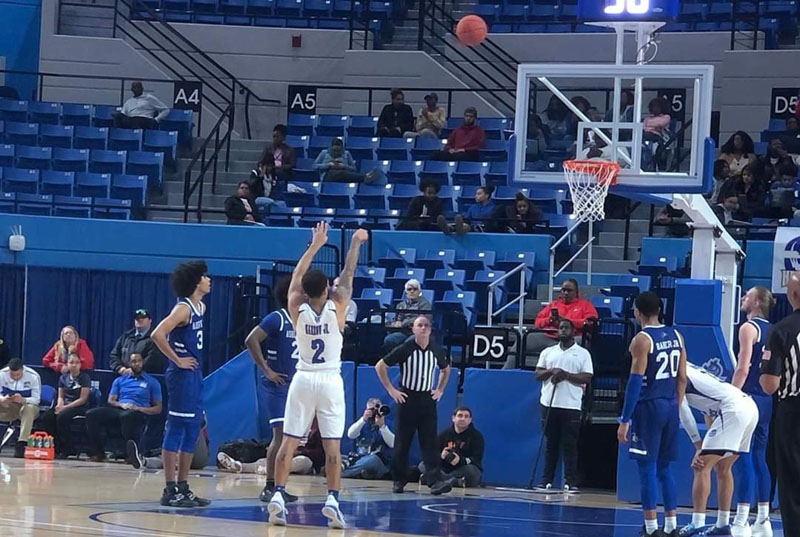 James Heath picture courtesy Hampton
HAMPTON, Va. – Senior Jermaine Marrow broke the all-time Hampton University scoring record scoring 18 points as Hampton put away a pesky UNC Asheville squad 80-70 on Monday night.

Marrow broke the record of Rick Mahorn with a free throw with 4:12 remaining. He hit two more free throws to end the night with 2,421 career points. Marrow surpassed Mahorn's total of 2,418 in one less game finishing his 118th career game.

Ben Stanley topped the Pirates with 25 points and nine rebounds as Hampton (11-13, 6-5) the Pirates used a 12-3 run in the first half to take a 31-23 lead on a jumper by Stanley with 2:56 left.

In the second half, UNC Asheville (10-13, 4-8) cut the lead down to four with a DeVon Baker layup at the 15:08 mark for a 44-40 score. Hampton pushed the lead to 10 on a Ben Stanley jumper with 12:18 left at54-44. The Pirates then broke out a 16-5 run to push a nine-point lead to the largest of the night at 70-50 on a 3-pointer by Edward Oliver-Hampton with 6:52 left.

Oliver-Hampton had 13 points, hitting all three of his three-point attempts, and Davion Warren added another double-double with 11 points and 11 rebounds. Hampton held a 44-31 advantage on the boards.

Hampton now goes on the road for two games starting at Campbell on Thursday night at 7 pm.

For more information on Hampton University men's basketball, please contact the Office of Sports Information at 757-727-5757 or visit the official Pirates website at www.hamptonpirates.com.
Four NCCU Baseball Student-Athletes Awarded Cheatham-White Scholarship
NCCU Athletics Department ; Photo Courtesy NCCU
The NCCU baseball team has four recipients of the distinguished Cheatham-White Scholarship at North Carolina Central University.

Congratulations

to Nick Fajardo, Caleb McRoy, Aaron Morris and Zach Zedalis for earning this prestigious scholarship. Hear from NCCU baseball head coach Jim Koerner and student-athletes Nick Fajardo and Caleb McRoy as they talk about what their academic success means both on and of the field.
Video Feature: https://youtu.be/h20cUTNzx2I
NCCU's Lewis, Jones Earn MEAC Weekly Indoor T&F Awards

Kyle Serba Picture courtesy NCCU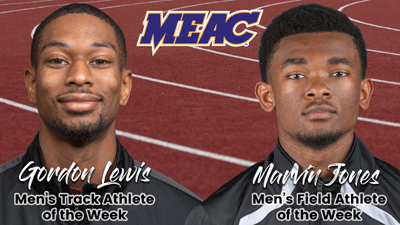 NORFOLK, Va. – North Carolina Central University juniors Gordon Lewis and Marvin Jones have earned weekly MEAC indoor track & field awards for their performances at the Camel City Invitational on Feb. 7-8 in Winston-Salem, North Carolina, the Mid-Eastern Athletic Conference announced Wednesday.

Lewis has been announced as the MEAC Men's Track Athlete of the Week after breaking the meet record in the 400-meter dash with a time of 48.61 seconds. The Fredericksburg, Virginia, native also ran a leg on the triumphant 4x400m relay squad with a time of 3:20.17, edging Troy by less than a second.

Jones has received the MEAC Men's Field Athlete of the Week honor after matching his career-best leap to win the men's high jump with a height of 2.10 meters, the second-best jump in the conference this season. In four indoor events this campaign, the Hillsborough, North Carolina, product has now won the high jump twice and finished second twice.

Up next, the Eagles return to action on Feb. 14-15 at the Darius Dixon Memorial Invitational, hosted by Liberty University in Lynchburg, Virginia.

-EAGLE PRIDE-

Kyle Serba
Leach Scores 42 in Win Over St. Augustine's

VUU Sports; Photo courtesy VUU
Leach's 42 points also propelled him to atop the scoring leaders for the CIAA. Leach is now averaging 23.7 points per game while his closest competitor, Ray Roger of Livingstone College, is averaging 22.9 points per game.


"That was one of the best scoring performance I've witnessed as a player and a coach here at Virginia Union," said VUU Head Men's Basketball Coach Jay Butler. "Terrell was unbelievable tonight. He was very efficient from the free throw line, three point line, and his overall field goal percentage was excellent. I just told him to keep attacking and good things will happen. We wanted to get more scoring in the lineup, so we started Tyriek Railey tonight. He got us off to a good start, offensively knocking down shots. I think the key to the win was that our defense stepped up, holding them to 30 points in the second half. When we play defense we are a very good basketball team."

Railey scored 16 points while teammate Jordan Peebles added 11 points. VUU's Raemaad Wright led the team with 11 rebounds.

The win raised VUU's record to 13-10 overall and 6-4 in the CIAA. Saint Augustine's fell to 8-14 overall and 3-9 in CIAA play.

Virginia Union will now face Elizabeth City State University at 4:00 p.m. on Saturday, February 8, at Barco-Stevens Hall in Richmond, Va.
Rams Take an 8-0 Loss at Mount Olive

WSSU held to five hits in tough loss

Trevin Goodwin

MOUNT OLIVE, NC – The Winston-Salem State Rams (1-3) gave a solid effort, but the team could not get their offense going in an 8-0 five-inning road loss to the Mount Olive Trojans (1-2). The Rams were able to get 10 runners on base during the game, but the team could not get them home in the tough loss.

The Rams had their fair share of struggles at the plate in the loss. As a team, WSSU was held to just five hits in the game. WSSU senior designated player/first base Shauntaja Dedecker led the way for the Rams when she went two-for-two at the plate with a walk. Sophomore catcher Alleigh Himes was one-for-one with two walks.

Though the Rams took the shutout loss, the team did have some offensive bright spots as well as some key defensive moments during the game. The Rams opened the game, allowing four first inning runs on back-to-back homers, but the team would not allow any more runs to the Trojans. In the second inning, a single was all that WSSU allowed. The Rams offense showed some life in the third inning when the team got back-to-back singles from senior Daijah Chambers and senior Shauntaja Dedecker. A walk drawn by sophomore Alleigh Himes loaded the bases for the Rams, but back-to-back strikeouts ended the WSSU threat. The Rams would allow another UMO score in the bottom of the third inning to fall behind 5-0. In the fourth inning, the Rams once again held the Trojan scorelessafter a two-out fielding error by the Rams was followed by WSSU catching a UMO runner stealing and ended the scoring threat. The game ended in the fifth inning when the Rams allowed three Trojan runs. A two-run home run and a score on a WSSU throwing error ended the game and sealed the 8-0 WSSU loss.

WSSU junior Tia Robinson (0-2) took the pitching loss. She allowed eight runs to the Trojans (seven earned) on 11 hits. She had a strikeout.

With the loss, the Rams fall to 1-3 this season. The team will return to action, tomorrow, when they face the Alderson Broaddus Battlers in a 1:00 p.m. game before a 5:00 p.m. rematch with the Trojans. For more information on Rams softball,log on to www.WSSURams.com.
MEAC ANNOUNCES WEEKLY WOMEN'S BASKETBALL HONORS

Jeff Cunningham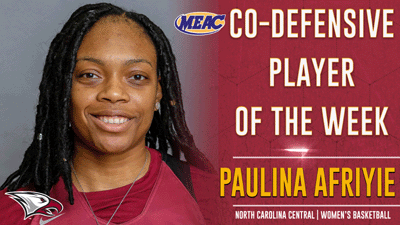 NORFOLK, Va., Feb. 11, 2020—Norfolk State redshirt senior La'Deja James and Bethune-Cookman graduate student Ashanti Hunt were selected as the Mid-Eastern Athletic Conference (MEAC) Women's Basketball Co-Players of the Week, the conference office announced today. Norfolk State's Cam Platt-Morris was named Rookie of the Week, while Coppin State sophomore E'Mya Price and North Carolina Central senior Paulina Afriyie shared Defensive Player of the Week honors.


James (G, 5-8, r-Sr., Virginia Beach, Va.) dropped 27 points on Delaware State on Saturday, going 10-for-19 (.527) from the floor and hitting six of her seven free throws. In addition to her offensive output, James dished out five assists while grabbing four rebounds and four steals.


Hunt (G, 5-11, Gr., Washington, D.C.) shot a combined 68.4 percent (13-for-19) from the floor in helping Bethune-Cookman to sole possession of first place after two more wins this past weekend. In Monday's dominant win over Howard, she had 20 points to go along with seven rebounds and three steals – going 6-for-9 from the floor. This was after a 15-point, five-rebound, four-steal, two-block effort on Saturday in a 20-point win over North Carolina A&T State, a game in which she was 7-for-10from the floor.


Platt-Morris (G, 5-7, Fr., Woodbridge, Va.) scored 14 points and grabbed five rebounds in Saturday's overtime win over Delaware State, going 6-for-13 from the floor and hitting two 3-pointers. She hit the game-tying three in the closing moments of regulation to send the game into overtime.


Price (G/F, 5-10, So., Charlotte, N.C.) averaged 4.5 steals per contest as Coppin State picked up its first win of the season on Monday. She opened the weekend with five steals against North Carolina Central, then on Monday, she swiped four more steals and blocked a shot.

Afriyie (F, 5-11, Sr., Bronx, N.Y.) averaged 12.0 rebounds per game this past weekend, and of her 24 total rebounds in two contests, 18 of them were on the defensive end. She had 12 rebounds each (nine defensive) in contests against Coppin State and Morgan State, and in the Coppin State contest, she also blocked three shots and recorded a steal.


Other Top Performers

Daniella Hatcher (B-CU) had 19 points, four rebounds and three steals in a win over Howard.

Alexandra Hamilton (CSU) had 10 points in a win over Maryland Eastern Shore.

Jalynda Salley (CSU) dropped 18 points in a win over Maryland Eastern Shore.

Lanayjha Ashe (DSU) had 19 points and three assists in a win over South Carolina State.

Jasmine Ballew (FAMU) scored 17 points against Howard.

Alaina Rice (FAMU) had 10 points, four rebounds and two steals against North Carolina A&T State.

Gia Thorpe (HOW) had 20 points in a win over Florida A&M.

Iyanna Warren (HOW) had a career-best 18 points at Florida A&M.

Ja'Niah Henson (MSU) had 10 points against Maryland Eastern Shore.

Chelsea Mitchell (MSU) recorded her 11th double-double of the season (18 points, 16 rebounds) against Maryland Eastern Shore.

Dahnye Redd (MSU) had 21 points and 12 rebounds against North Carolina Central for her fifth double-double of the season.


Jayla Jones-Pack (NCAT) recorded a double-double (13 points, 15 rebounds) against Florida A&M, and against Bethune-Cookman, she had 12 points, eight boards and four blocks.

Kieche White (NCCU) dropped 26 points in a win over Morgan State, going 10-for-15 from the floor.

Heniaya Moten (SCSU) had 25 points against Delaware State.
MEAC ANNOUNCES WEEKLY MEN'S BASKETBALL HONORS

Maurice D. Williams

NORFOLK, Va., Feb. 11, 2020 — Senior guard Leon Redd of Bethune-Cookman University and junior guard Deven Palmer of North Carolina Central University have been selected by the Mid-Eastern Athletic Conference (MEAC) as this week's Men's Basketball Co-Players of the Week, it was announced on Tuesday. Joining the two on the MEAC Weekly Honors list are sophomore center Brendan Medley-Bacon of Coppin State University (Defensive Player of the Week) and freshman guard Da'Shawn Phillip of the University of Maryland Eastern Shore (Rookie of the Week).

Redd (G, 6-0, Sr., Grand Rapids, Mich.) led the Wildcats to wins over North Carolina A&T State and Howard over the weekend, posting averages of 20.0 points, 4.0 assists, 3.5 steals and 1.5 rebounds while shooting 51.9 percent from the field and 42.9 percent from3-point range. His top outing came against the Bison, when he scored 23 points, made five steals and dished out four assists.

Palmer (G, 6-4, Jr., Hyde Park, Mass.) led the Eagles to a 2-0 week with wins on the road against Coppin State and Morgan State. He averaged19.0 points, 6.5 rebounds and 2.5 assists while shooting at a blistering 58.3 percent from the field and 72.7 percent from behind the arc. Palmer scored 21 points, grabbed seven rebounds and dished out four assists against Coppin State and hit four threes in both contests.

Medley-Bacon (C, 7-1, Soph., Baltimore, Md.) had vicious performances on defense for the Eagles, grabbing 15 rebounds and blocking seven shotsin a loss to North Carolina Central, while grabbing 17 rebounds and blocking three shots in an overtime victory over Maryland Eastern Shore. He had a 17-point, 17-rebound double-double in the UMES contest and averaged 12.0 points, 16.0 rebounds, 5.0 blocked shots and 2.5 assists for the week.

Phillips (G, 6-5, Fr., Baltimore, Md.) averaged 9.5 points and 4.5 rebounds as the Hawks dropped a pair of games to Morgan State and Coppin State, the latter in overtime. He scored 10 points against the Eagles and nine points with six rebounds against the Bears.

Other Top Performers

Isaiah Bailey (B-CU) averaged 17.5 points, 7.5 rebounds and 2.5 assists as the Wildcats collected victories over North Carolina A&T State and Howard. He netted 24 points against the Bison and had an 11-point,11-rebound double-double against the Aggies.

Dejuan Clayton (CSU) scored 20 points, grabbed five rebounds and dished out seven assists in an overtime win over UMES en route to averaging 15.0 points, 4.0 rebounds and 5.0 assists over the weekend.

Evins Desir (FAMU) averaged 16.5 points and 5.5 rebounds as the Rattlers reeled over a pair of wins over Howard and North Carolina A&T State. He had 18 points with three assists against Howard and 15points and eight boards against NCAT.

Jibri Blount (NCCU) posted near identical numbers in the Eagles' wins at Coppin State and Morgan State, scoring 19 points with nine rebounds against the Eagles, followed by 20 points with nine rebounds against the Bears. He averaged 19.5 points and 9.0 rebounds over the weekend.

Devante Carter (NSU) scored 19 points, grabbed eight rebounds and handed out four assists in the Spartans' lone game of the week, a victory over Delaware State.

Steven Whitley (NSU) scored 11 points to go along with eight rebounds, four steals and three assists in the Spartans' victory over Delaware State. He shot 60.0 percent from the floor and 50.0 percent from 3-point range.

AJ Cheeseman (UMES) averaged 13.5 points and 5.0 rebounds in losses to Morgan State and Coppin State. He garnered 17 points, five rebounds and two blocked shots against the Eagles.

Maurice D. Williams