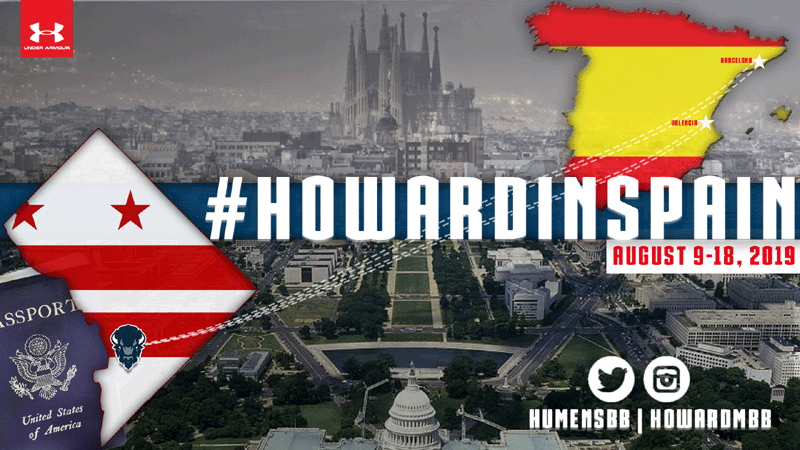 Howard Men's Hoops Heads to Europe in August

Bison prepare for Summer Tour in Spain

DEREK W. BRYANT

(Photo Credit – Howard Athletics)

WASHINGTON (June 26, 2019) – First-year head coach Kenneth Blakeney and the Howard University men's basketball team heads to Europe for a Summer Tour in Spain this August. The tour runs August 9-18 in Barcelona and Valencia, featuring team-bonding activities throughout the trip while playing three competitive contests.

"I love that our student-athletes have this chance to represent Howard University on a global stage in Spain," said Blakeney. "This trip will be a great educational, cultural, team and basketball experience that our guys will remember for the rest of their lives."

The tour begins in Barcelona, home of the 1992 Summer Olympics Games where the world witnessed arguably one of the greatest men's basketball teams assembled, the U.S. Dream Team.

During the team's visit in Barcelona, they will take a tour of the famous Camp Nou Stadium, home of FC Barcelona, followed by a bike tour through the city and cruise on the Mediterranean Sea. Howard wraps up its stay with a pair of games and a tour of the Temple Expiatori de la Sagrada Família, a large unfinished Roman Catholic church in Barcelona, built in 1882.

"This trip will give us an opportunity to bond [as a team]," Blakeney continued. "We'll also get to see how we compete before we start practice in the fall."

Midway through the tour, Coach Blakeney's squad journeys to Valencia where the city is known for its arts and sciences, with futuristic structures including a planetarium, an oceanarium and an interactive museum.

In Valencia, the Bison will play its final contest while building chemistry through activities like a team scavenger hunt.

"It's such a unique experience that will provide great momentum towards the improvement of our program," Blakeney added. "No matter how much you train or practice, you really don't know about a team until you see it in game competition."

Through the NCAA Bylaws, Howard may begin training for Spain as early as Tuesday, July 30.

All questions concerning access to the tour should be directed to Keith Coutreyer (keith.coutreyer@howard.edu).

About Howard University Athletics

The Howard University Department of Intercollegiate Athletics sponsors 19 NCAA Division I men and women varsity sports. The programs represent six conferences: The Mid-Eastern Athletic Conference (MEAC), Southwestern Athletic Conference (SWAC), Coastal Collegiate Swimming Association (CCSA), Sun Belt Conference, Eastern College Athletic Conference (ECAC) and Atlantic Sun (ASUN) Conference.

About Spain

Spain, a country on Europe's Iberian Peninsula, includes 17 autonomous regions with diverse geography and cultures. Capital city Madrid is home to the Royal Palace and Prado museum, housing works by European masters. Segovia has a medieval castle (the Alcázar) and an intact Roman aqueduct. Catalonia's capital, Barcelona, is defined by Antoni Gaudí's whimsical modernist landmarks like the Sagrada Família church.

For more information, visit the Bison Athletics website at www.HUBison.com.
2018-19 NCCU Athletics Top 10 Moments: No. 2

NCCU Athletics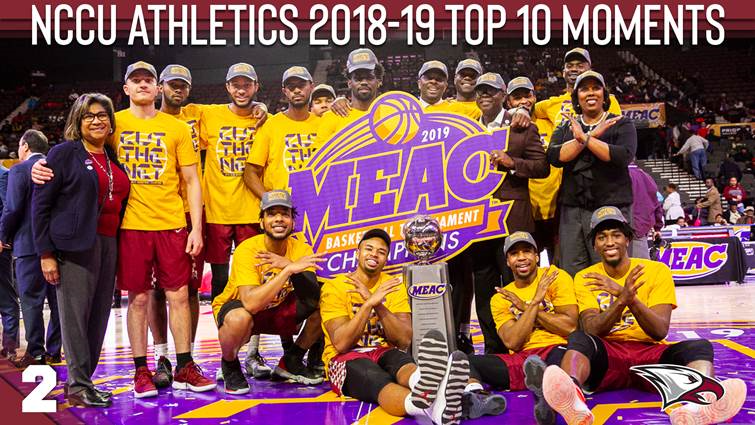 NO. 2 – On March 16 in the championship game of the 2019 MEAC Tournament, the North Carolina Central University men's basketball team watched a potential tying three-pointer skip off the iron as time expired, then celebrated the program's third consecutive conference title following a 50-47 victory over Norfolk State University at Scope Arena.

The Eagles made an impressive tournament run as the No. 3 seed to clinch a third straight NCAA Tournament appearance for the first time in school history, and become the first MEAC team to win three consecutive men's basketball league tournament crowns since 1988.

NCCU senior center Raasean Davis (Chicago, Ill.) was named Most Outstanding Player of the tournament after putting up eight points and a game-high 14 rebounds in the title game. Senior forward Zacarry Douglas (Landover, Md.) also earned All-Tournament Team honors with a double-double against NSU with 10 points and 12 boards. During the three games, Davis averaged 12.3 points and 8.7 rebounds, and Douglas contributed 9.0 points and 10.7 caroms.

For the full story and video highlights, visit https://nccueaglepride.com/news/2019/3/16/mens-basketball-eagles-halt-norfolk-state-for-third-consecutive-meac-tournament-championship.aspx?path=mbball
Seese Tabbed To Lead Chowan Men's Lacrosse Program

Evann Carpenter
MURFREESBORO, N.C. – The Chowan Athletic Department announced the hiring of Josh Seese as the head coach of the Men's Lacrosse program.
Seese comes to Chowan after spending three seasons as the head coach at Potomac State College (NJCAA). During his stint with the Catamounts, Seese saw improvement in two seasons competing against Division I programs and several NJCAA top-25 programs.
Prior to Potomac State, Seese previously coached at Robert Morris University, serving as the Men's Lacrosse Director of Operations for the 2014 and 2015 seasons. He also coach on the club level for Low and Away Pittsburgh.
Before heading to the college game, Seese coached at University High School in Morgantown, W.Va. from 2011-2013. The Hawks compiled a record of 30-5 during his tenure and won West Virginia Scholastic Lacrosse Association (WVSLA) state championships in 2011 and 2013. For the latter season, Seese was honored with the WVSLA State Coach of the Year award. Prior to his head coaching stint, Seese served as an assistant and defensive coordinator with the University lacrosse team in 2010-11. He also was an assistant coach with soccer from 2008-10 and football in 2012.
A native of Bruceton Mills, W. Va., Seese graduated from West Virginia University in 2012 with his bachelor's degree in Athletic Coaching Education while minoring in Sports & Exercise Psychology. Seese obtained his masters' of Science degree in Organizational Leadership, graduating in May 2015 from Robert Morris.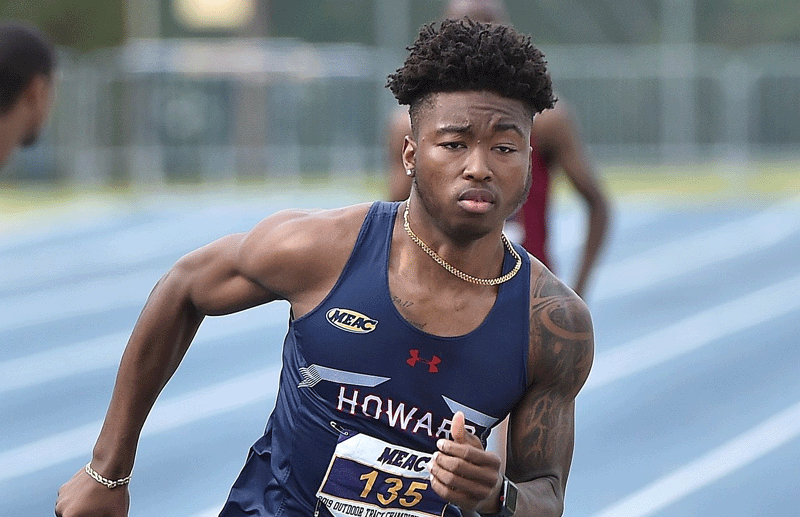 Howard's Byrd Shines at the USATF U20 National Championships
Freshman hurdler sets personal best; takes sixth overall in the finals


DEREK W. BRYANT



(Photo Credit – Steve Worthy)

MIRAMAR, Fla. (June 22, 2019) – Howard University's Jermaine Byrd (Fort Lauderdale, Fla.) wrapped up his rookie campaign with shining moments at the 2019 USA Track & Field (USATF) U20 National Championships where he reached the110-meter hurdles finals and placed sixth overall. The race took place at the Ansin Sports Complex in Miramar, Fla.

Before reaching the finals, Byrd ran a qualifying time of 13.68, a new personal best for the South Florida product.

"[Jermaine] Byrd's prelim run was a thing of beauty," said Howard Director of Track & Field David Oliver. "He's been locked in and focused over the past six weeks and it showed. His time [13.68] has him on the World U20 Top 25 list, which ishuge. Not even I was able to do that as a freshman."

Nearly three hours after advancing, Byrd had a quick turnaround as he prepared for his toughest race. The hometown native held his own, finishing sixth overall (13.84) against the top athletes in the country.

"I think he had some pre-race jitters that got the best of him in the finals," Director Oliver continued. "He's never been in that type of quality race before, so nerves played a role as expected."

Kentucky's Tai Brown and Oregon's Eric Edwards, Jr. placed first and second, respectively, where they will represent the United States in the 2019 Pan American U20 Athletics Championships, held in San Jose, Costa Rica (July 19-21).

To view all results from the 2019 USATF U20 National Championships, please visit www.usatf.org or click here.

Despite falling just short of Costa Rica, Director Oliver realized the importance of competing in an event at this magnitude.

"This was a great way to end his freshman campaign," Director Oliver added. "Early on, he was riddled with setbacks due to injuries, but [he] still contributed points in three events at the MEAC [Outdoor] Championships, which culminated to a sixth-place finish at the USA Junior Championships."

At the 2019 MEAC Outdoor Championships, Byrd was the lone freshman to make the finals where he took fifth with a USATF qualifying time of 14.33.

"I can't remember the last time Howard had someone at this level so early in his or her career," Director Oliver stated. "When the lights are the brightest, that's when you're supposed to perform your best and he did just that. I hope this is a great springboard for the rest of his collegiate career."

Byrd, alongside fellow rising sophomores Aariq Nixon (Baltimore) and reigning MEAC javelin champion Mekhi Abbott (Monroe, N.J.), have laid a foundation for the Bison as they enter the summer.

"This was a very long season," Director Oliver ended. "It's time for him to get a much deserved mental and physical break."


For more information, visit the Bison Athletics website at www.HUBison.com.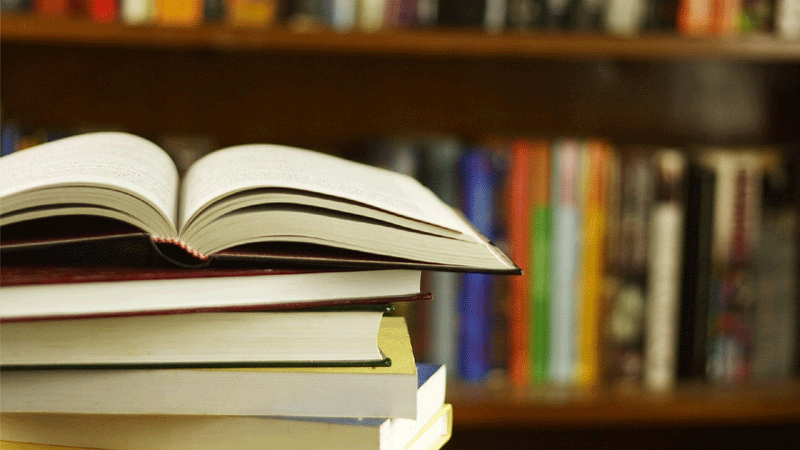 Student-Athletes Soar High To Finish Semester

Evann Carpenter

MURFREESBORO, N.C. – As the Fall semester has come to a close, 139 student-athletes posted a 3.25 or higher grade point average and were named to the Chowan President's or Dean's List.
Fifty-three student athletes were named to the President's list with the softball team leading the way with 13 student-athletes. Eighty-six student-athletes werenamed to the Dean's list as 20 student-athletes from the football program led the way.


Below is the full list of student-athletes by President's or Dean's list.

President's List 3.8+ GPA

Baseball:

JaredFry, Vinny Puma

Men's and Women's Basketball:

Keon Claiborne, Arianna Hopkins, Ugljesa Portic, DestinyRobinson, Joanne Williams

Women's Bowling:

Kailah Herbin, Genesis Oliver

Men's and Women's Cross Country:

George Kattan, Genesis Oliver

Football:

Jimmy Chambers, JacobHunter, Connor O'Brien, CorbinRobertson

Men's and Women's Golf:

IneciaRolle

Men's and Women's Lacrosse:

SlaterBender, Nicholas Cooper,Jax Eddleman, Leslie Escobar, JasmineLatney

Softball:

AutumnBateman, Haley Cooper, JesseGentry, Miranda Glover, AlexisGrim, Brooklynne Johnson, KerrinMailhot, Meredith Morgan, KelseySonntag, Leah Spiggle, LindseyStigler, Mackenzie Taggart, BethWalker

Men's and Women's Soccer:

Danielle Acree, Olivia Borer, Elliot Chadderton, Blake Culig, Octavio Espino, Rebekah Langley, Carolina Lucci, Monae Moore, Ashlyn Smith

Men's and Women's Swimming:

Grace Arredondo, Donald Bowman, Sarah Hull, Justin Lough, Marissa Mann, Shaine Olmstead, Ann MarieSpiker

Men's and Women's Tennis:

Angelique Gouin

Volleyball:

Alyssa Born, Kimberly Evans, Courtney O'Keefe


Dean's List 3.25-3.79 GPA

Baseball:

Robert Burns, Noah Cartwright, Tristan Council, Slade Cowan, Ryan Gallaccio, Jack Ritzer, Dylan Weiblinger

Men's and Women's Basketball:

Jahkeria Bagby, Mariah Coker, Ebony Graham, Jada Lee, Brandon Mayhan, Danielle Weldon

Women's Bowling:

Deja King

Cheerleading:

Alexis Burke, Elizabeth Stokes

Men's and Women's Cross Country:

Deja King, Elizabeth Stokes, Kevin Taylor

Football:

Dudane Anderson, Arrington Bazemore, Raymurk Bembury, Parker Boyd, Torrance Brumfield, Marcus Devin, Kyle Dixon, Raydarius Freeman, Isaiah Gibbons, Bryson Gibson, Logan Gillespie, Brandon Hughes, David Keck, John Kight, Jahlil Lowe, George Parker, Lewis Pearce, Treielle Pearson, Travis Sabdo, Kamren Weaver

Men's and Women's Lacrosse:

Tenciah Dixon, Jacob Ferretta, Danielle Henry, Noah Holloway, Adam Howard, Jason Jenkins, Chris Ydjumbwiths

Softball:

EmaRae Flores, Lindsee Howard, Mikayla Luskin, Hannah Naifeh, Donya Salman

Men's and Women's Soccer:

Kevin Avila, Jaime Calcagno ,Emmanuel Esparza, Cristian Fuentes, Harry Garstang, Kayla Gonzalez, Sabrina Henderson, Sydney Henderson, Miguel Hernandez, Glodie Kangia, Jamie McNicholas, Djordje Novovic, Shannon Park, Denis Roule, Skyler Stroud, Emily Trueman, Robin Walsh, Lee Wattam, JJWojciki

Men's and Women's Swimming:

Taylor Bitting, SheAyre Bowles, James Cameron, Jeleah Delancy, Jasmine Gibson, Lucas Pels, Megan Reid

Men's and Women's Tennis:

Cynthia Carrier, Louis Proulx

Volleyball:

Makayla Castro, Raven Finley-Flowers, Kayla Gates, Sydney Hiner, Meghan Mutter, Micayla Pope, Milica Vejnovic, Michaela Worthington, Breona Young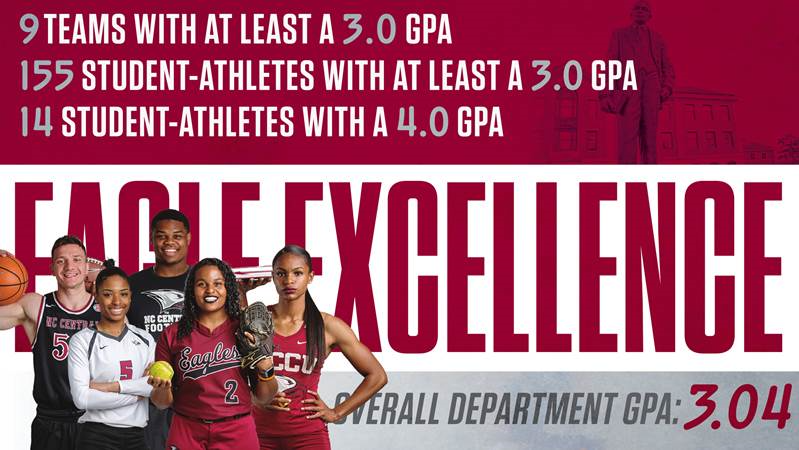 NCCU Student-Athletes Earn 3.04 Cumulative GPA
Kyle Serba
DURHAM, N.C. – At the conclusion of the spring 2019 semester, North Carolina Central University student-athletes now boast a 3.04 cumulative grade point average.

Out of nearly 300 student-athletes representing the NCCU Department of Athletics, 155 have maintained a cumulative GPA of 3.0 or better. In addition, nine NCCU teams have reached the 3.0 cumulative GPA standard.

Thirty-four NCCU student-athletes earned a perfect 4.0 GPA during the spring 2019 semester, while 14 student-athletes have achieved an unblemished 4.0 cumulative GPA.
Nikki White Promoted To Director Of Swimming

Evann Carpenter
MURFREESBORO, N.C. – The Chowan Athletic Department announces the promotion of Nikki White as Director of Swimming on Wednesday morning.

"I couldn't be more excited and grateful for the opportunity to continue my career with the Hawks as Director of Swimming. The growing women's and men's teams have such a bright future ahead of them, and I cannot wait to make an impact from the start. I would like to thank Matt Hood for everything he taught me these past two seasons and for helping me develop as a coach," said Nikki White.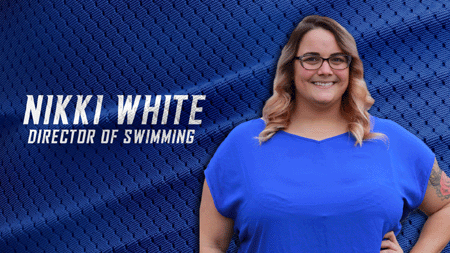 Nikki White enters her third season with the Hawks after spending her first two seasons as the assistant men's and women's swimming coach. White helped the program to a fourth place finish on both sides at the Conference Carolinas Swimming Championships in 2018-19. Ann Marie Spiker picked up two All-Conference selections in the 200 Breaststroke and 100 Breaststroke. The men's 200 Medley Relay team earned an All-Conference selection.

During the 2017-18 season, White helped the women's program to a third place finish at the inaugural Conference Carolinas Women's Swimming Championship. The Hawks took home 13 total podium finishes.

Prior to coming to Chowan, White spent two seasons at Stony Point High School in Texas. White was able to improve the team's performance at the District and Regional level. She also taught Algebra I while at Stony Point.

Before starting her coaching career, White taught Mathematics to elementary and middle school students.

White was a standout distance swimmer at Indiana University, where she was a four-time All-Big Ten First Team Selection (2009-12). White was named IU's Freshman of the Year in 2009 and earned Big Ten Freshman of the Week honors. White garnered eight All-American honors, held the Big Ten meet and conference record in the 500 Free from 2009-12 and holds five school records at IU.

At the 2008 Olympic Trials, White placed ninth and 12th overall in the nation. In the classroom, White was named to the Academic All-Big Ten in 2010, 2011, and2012.

Nikki graduated from Indiana University in 2013 with a Bachelor's degree of Fine Arts in Photography with minors in Business Entrepreneurship and Art History.
Ashley Gustafson Named Head Softball Coach

Evann Carpenter
MURFREESBORO, N.C. – The Chowan Athletic Department announced the hiring of Ashley Gustafson as the head coach of the Chowan Softball program.

Ashley Gustafson is no stranger to Chowan athletics after spending three seasons as an assistant coach under former coach Brian DeWitt from 2014-2017.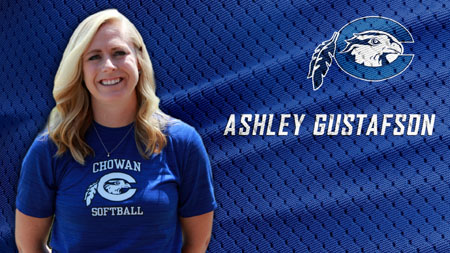 Gustafson returns to Chowan after spending the past two years as a middle school teach at Conway Middle School in nearby Conway, N.C. During her time with the Blue Devils, Gustafson was the head softball coach, assistant volleyball coach, Math department chair, and a part of the Staff Leadership and PBIS Culture teams.


During her first stint with the Hawks, Gustafson helped lead the team to a 91-48 overall record and a 43-3 record in the CIAA with three CIAA Northern Division Titles, three CIAA Championship Finals appearances, a CIAA Championship, and a NCAA Atlantic Regional appearance. Gustafson helped players like Kayla Robins, Danielle Baccus, Brittany Parson, and Haley Cooper to CIAA Player of the Year and CIAA Rookie of the Year honors.

Prior to coming to Chowan, she was a graduate assistant at UT-Martin from 2012-2014. There, she helped the program amass a 64-47record with two trips to the Ohio Valley Conference Tournament with an OVC Tournament Finalist appearance in 2013. Gustafson helped produce five All-OVC selections, an OVC Freshman of the Year, and a Capital One Academic All-American.
Before her collegiate coaching career, Gustafson was an assistant coach at Central Catholic High School for two season.

The West Lafayette, Indiana native played at Morehead State as an outfielder. While with the Eagles, she helped the program to 117 wins and three Ohio Valley Conference Tournament appearances including the program's first in 2008. Gustafson was a three-time OVC Commissioner's Honor Roll selection.

Ashley Gustafson received her bachelor's degree in Mathematics with a concentration in Secondary Education from Morehead State in 2010. Gustafson would receive her MBA from UT-Martin in 2014.

She is married to Eric Gustafson, Director of Sports Medicine at Chowan
MJBL national youth baseball championships return to Richmond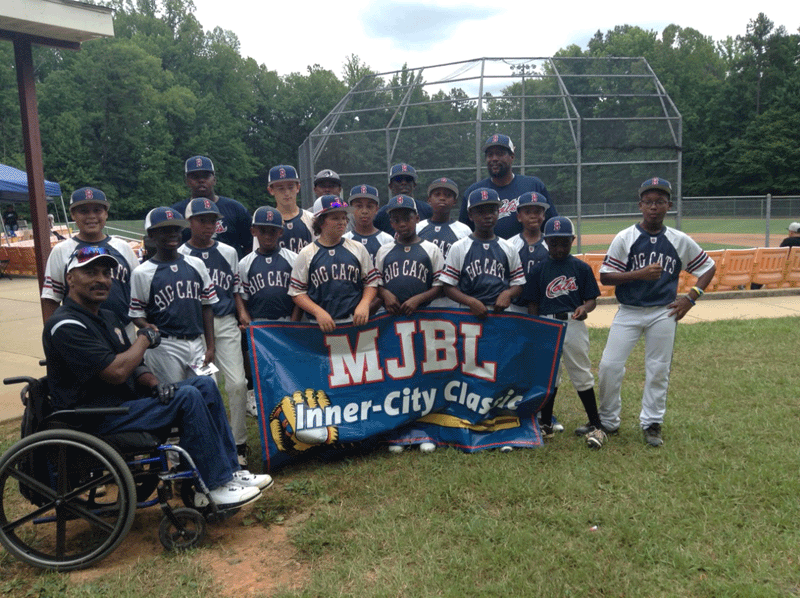 Larry Barber
RICHMOND, VA – The Metropolitan Junior Baseball League (MJBL), a 53 year old 501 (c)3 non-profit organization, will present its 29th Annual Inner City Classic July 30 through August 4 (Tuesday-Sunday) in Richmond, Virginia. Richmond last hosted from 2012 to 2014. MJBL, a national youth organization that boasters the motto "Preparing Our Youth for Success" will offer it's championship series in five different age groups 10-under to 19-under. "MJBL is excited to be headed back to Richmond. "In the past we have been welcomed with opened arms, this year is no different, and we expect another great event. We invite the community to come out and witness the beauty of baseball expressed by these youngsters," said board chairman Corey Nicholson.

The event was held in Greensboro the past two years and also during the 2009 and 2010 baseball seasons. Chicago hosted in 2016 while Orlando held the event in 2015 and 2011. Richmond serves as tournament host this year and games will be played at Glen Allen Complex, Hotchkiss Field, Parker Field Annex, RF&P Stadium, Hermitage High School, Tuckahoe Little League, Deep Run High School, Douglas Freeman High School and Klehr Field.

"We are extremely pleased with the support Henrico County and the City of Richmond's recreation and parks are providing for the Classic. We believe they have provided some of the best venues in the state for our participants to showcase their talents and to compete for the 29th Annual MJBL Classic titles," stated MJBL Executive Director William Forrester.

The Classic also features the Bobby Bonds Memorial Symposium. The symposium is a think-tank for issues that plague youth in the African-American communities and how baseball and education can help remedy these problems. The discussion drew an overflowing crowd a year ago including players, coaches, panelists and television coverage. Details for this year's symposium will be announced later.

The 2019 Classic opening ceremony will be held on July 30 and features the skills showcase and home run derby. The defending derby winners are Luis Bahamundi of the Illinois Panthers in the 15-under class and Isaiah Meaders of the Charlotte, NC UBA Black Sox in 12-under. The organization also presents the Pee Wee Robinson Award, which goes to a selected outstanding MJBL player 12 years old or younger. Last year's winner was Brayden Jeffries of the Greensboro Big Cats. Last year's team winners were: 19-under (Charlotte NC Crushers), 17-under (Cedar Grove NC Red Sox), 15-under (Greensboro Bison), and 12-under (Greensboro Big Cats). Although the MJBL focuses on the inner city, it's various programs are open to all youth baseball organizations.

Game times and activity schedules will be placed on website www.mjbl.org.
Howard Recognized for MEAC's Highest Graduation Success Rate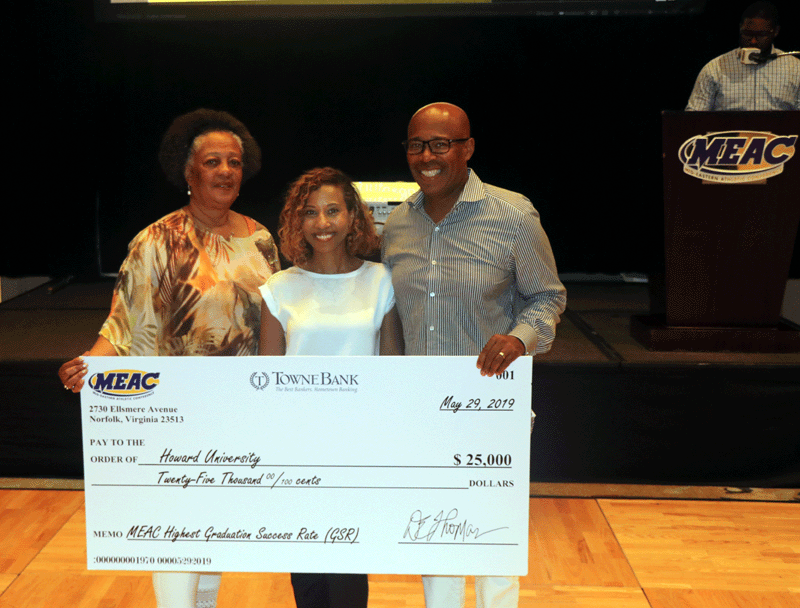 DEREK W. BRYANT

HU's 81-percent GSR is the highest among MEAC institutions spanning the 2008-11 cohorts

NORFOLK, Va. (May 30, 2019) – The Mid-Eastern Athletic Conference (MEAC) recognized Howard University with the league's highest graduation success rate (GSR) for the first time Wednesday evening (May 29) at the Westin Hilton Head IslandResort & Spa in Hilton Head, S.C. HU's 81-percent GSR is the highest among MEAC institutions spanning the 2008-11 cohorts

"We are proud our athletic department reflects the academic excellence of the university," said Howard Director of Athletics Kery Davis. "This recognition is the result of the hard work by ourstudent support services group, led by Paul Bowden, and the commitment from our coaches and student-athletes."

In addition, Howard was presented a check for $25,000 from the MEAC for the achievement.

The GSR measures graduation rates at Division I institutions as well as those transferring into those schools, according to the NCAA. The rate was created to reflect mobility of college students in graduation data.

"The graduation success shows the quality of student-athletes we are recruiting," Davis continued. "Our department, along with the university, is doing its part in preparing student-athletes for life after college."

About Howard University Athletics

The Howard University Department of Intercollegiate Athletics sponsors 19 NCAA Division I men and women varsity sports. The programs represent six conferences: The Mid-Eastern Athletic Conference (MEAC), Southwestern Athletic Conference (SWAC), Coastal Collegiate Swimming Association (CCSA), Sun Belt Conference, Eastern College Athletic Conference (ECAC) and Atlantic Sun (ASUN) Conference.

About the Mid-Eastern Athletic Conference

The Mid-Eastern Athletic Conference (MEAC) just completed its 48th year of intercollegiate competition with the 2018-19 academic school year. Located in Norfolk, Va., the MEAC is made up of12 outstanding historically black institutions across the Atlantic coastline: Bethune-Cookman University, Coppin State University, Delaware State University, Florida A&M University, Howard University, University of Maryland Eastern Shore, Morgan State University, Norfolk State University, North Carolina A&T State University, North Carolina Central University, Savannah State University and South Carolina State University.

For more information, visit the Bison Athletics website at www.HUBison.com.
Harris Receives George A. Christenberry Award at Big South conference Hall of Fame Dinner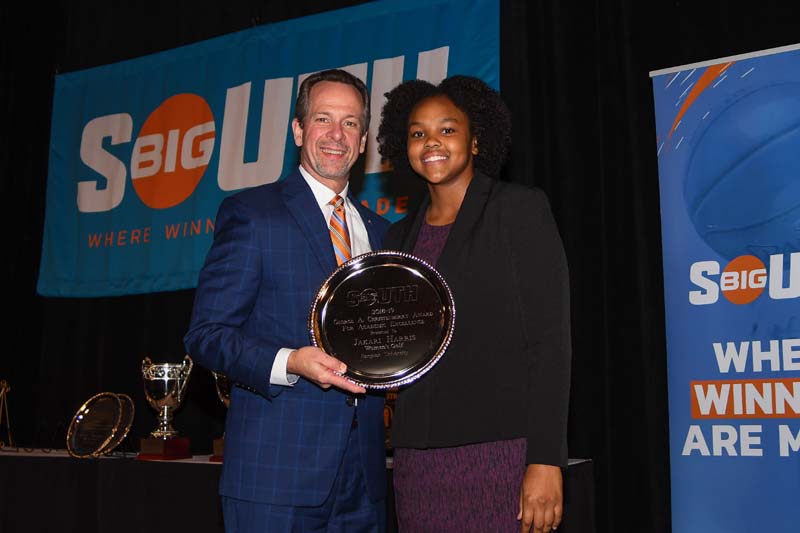 Jim Heath
HILTON HEAD, S.C. -- Jakari Harris, from the women's golf team, was honored on Thursday nightas one of 10 recipients of the George A. Christenberry Award at The Westin Resort in Hilton Head, S.C., as part of the Big South Conference's annual Spring Meetings and Hall of Fame Dinner.

It is the most prestigious academic honor by the conference. The award is given to the male and female student-athlete who attain the highest GPA during their undergraduate collegiate careers.

"I am so proud of JakariHarris for being Hampton's first Christenberry Award winner," said Hampton University President Dr. William R. Harvey. "These awards are very special in the conference and to have her earn one in our first season shows the type ofstudent-athlete we aim for at Hampton University."

Harris, a chemical engineering major who carries a 4.06 grade point average, had her best three-round event at the Big South Championships with a 248 three-round total and a season best roundof 79. She was tops on the team in scoring average at 83.2 for the 2018-19 season.

"I would also like to extend my congratulations to Jakari Harris for being Hampton's first George A. Christenberry Award winner," said Dr. JoAnn W. Haysbert, Chancellor and Provost for Hampton University. "Earning this prestigious award from the conference reinforces the "Standard of Excellence "that has been a motto of Hampton University forever."

Big South member institutions nominate one male and one female undergraduate student-athlete for the annual Christenberry Award. The honor is named for George A. Christenberry, the former President of Augusta College (now Augusta University) and one of the founders of the Big South Conference. A member of the Big South Hall of Fame, Christenberry served as the league's first President from 1983-86.

Congratulations to Jakari Harris on winning this prestigious award.

For more information on Hampton University women's golf visit the official Pirates website at www.hamptonpirates.com.

Jim Heath

Director of Sports Information
NORTH CAROLINA A&T STATE SWEEPS 2018-19 ALL-SPORTS AWARDS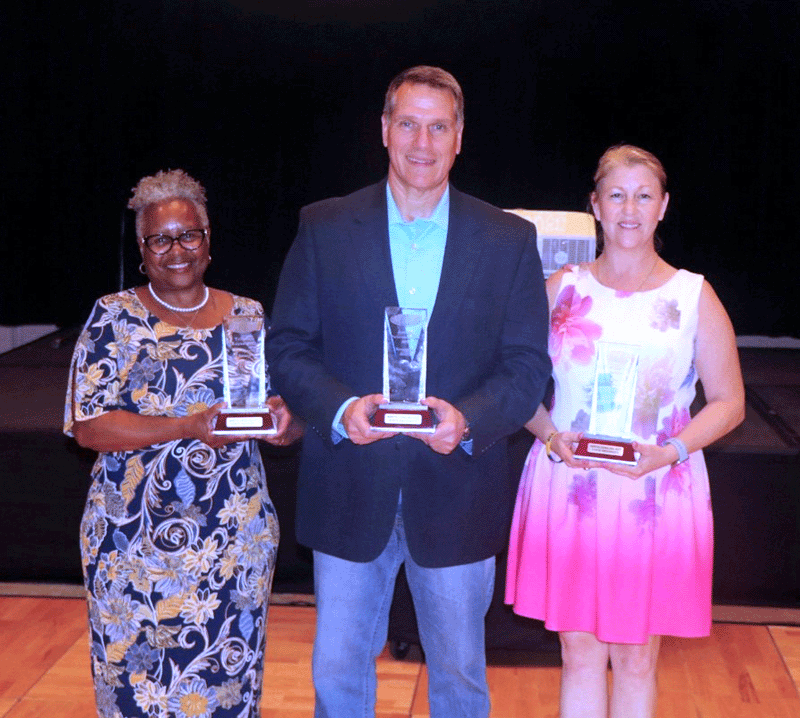 Maurice Williams

NORFOLK, Va., May 29, 2019—North Carolina A&T State University captured both the Talmadge Layman Hill Men's Award and the Mary McLeod Bethune Women's All-Sports Award, the conference announced on Wednesday.

The All-Sports Award are indicators of the overall strengths of the conference's men's and women's athletic programs. North Carolina A&T State was presented with a pair of $20,000 checks during a reception at the Westin Hilton Head Island Resort & Spa in Hilton Head, S.C. on Wednesday evening.

"I would like to congratulate North Carolina A&T State University, including Chancellor Dr. Harold L. Martin, Sr., Director of Athletics Earl M. Hinton III, and the administrators, coaches, student-athletes and support staff for winning both the 2019 Talmadge Layman Hill Men's All-Sports Award and the Mary McLeod Bethune Women's All-Sports Award," said MEAC Commissioner Dr. Dennis E. Thomas. "Receiving these awards is indicative of the overall strength of their athletic programs."

In addition, North Carolina A&T State was honored academically, posting the MEAC's highest academic performance rate (APR) over the past four academic years. For its efforts, the NCAT Department of Athletics received a $10,000 check.

Howard University was recognized during the reception as the 2019 recipient of the MEAC Highest Graduation Success Rate (GSR). In addition to the recognition, Howard was presented a check for $25,000 from the conference. The Bison's 81-percent GSR is the highest among MEAC institutions spanning the 2008-11 cohorts.

The Aggies claimed their second straight women's all-sports award with 94.5 points, highlighted by conference championships in indoor track & field and outdoor track & field, as well as the regular-season title in women's basketball and a runner-up finish in bowling.

Norfolk State was second with 82.5 points, followed by Bethune-Cookman (78.5) and Howard (76.5).

On the men's side, North Carolina A&T State racked up 101 points in taking its first all-sports trophy since 1996 (and its third overall). The Aggies won MEAC titles in football, cross country, indoor track & field and outdoor track & field, as well as a regular-season title in baseball. In addition, the Aggies were runners-up in the men's basketball regular season.

Bethune-Cookman, with 88.5 points, came in second in the men's team standings. Norfolk State (76.5) was third, followed by North Carolina Central (67.5).

This marked the first time since 2015-16 where one school swept both all-sports awards; that year, Bethune-Cookman accomplished the feat in taking the Talmadge Layman Hill Award and splitting the Mary McLeod Bethune Award with Florida A&M.

Points are awarded in a descending order beginning with 14 points for champions or first-place regular-season finishes. The second-place team receives 12 points. Tied teams split the point total.

The Mary McLeod Bethune and Talmadge Layman Hill Awards

The Mary McLeod Bethune Award, named after the founder of Bethune-Cookman College, awards the top overall women's athletic program during the course of one full academic year. The first Mary McLeod Bethune award was given in 1987 to Delaware State University. Hampton leads all MEAC schools with 14 women's awards. The men's All-Sports Award is named after the late Talmadge Layman Hill,a former player and coach at Morgan State, and former Chairman of the MEAC Steering and Planning Committee, as well as the conference's first President. Howard University was the recipient of the first Talmadge Layman Hill Award in 1972. South Carolina State and Norfolk State share the men's record with 11 awards each.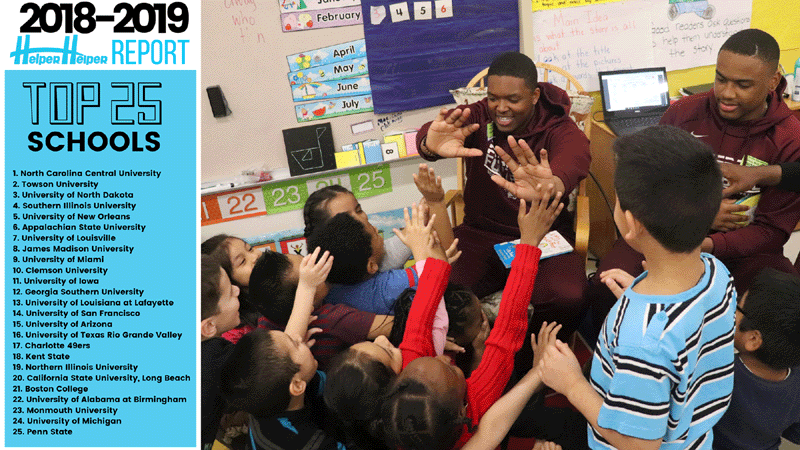 NCCU Tops NCAA Division I in Community Service
NCCU Athletes

DURHAM, N.C. - North Carolina Central University student-athletes completed 11,715 hours of community service with 25 different service organizations in 2018-19 to rank No. 1 in the Helper Helper Division I Top-25 list, according to the Helper Helper volunteer management platform's annual report released on Tuesday.

Nine NCCU teams rank in the top-5 among Division I programs by sport, including men's track & field/cross country, women's volleyball, women's tennis and women's basketball placing second. Other NCCU teams finishing in the top-5 are baseball, men's tennis and men's basketball in third, and football and women's track & field/cross country in fifth.

"I am extremely proud of the commitment to 'Truth and Service' of our student-athletes," said NCCU Director of Athletics Dr. Ingrid Wicker McCree. "It demonstrates the importance to not only stress academics and athletics, but also the priority of developing citizens and leaders as we continue to represent NCCU in our local community."

The Helper Helper volunteer management platform tracks community service hours through the Helper Helper mobile app and online portal, provides a team-by-team breakdown, and rewards top performers of the more than 200 NCAA participating institutions.

During the 2018-19 campaign, NCAA student-athletes completed 474,282 hours of community service across the country.

For more information about Helper Helper, visit www.HelperHelper.com.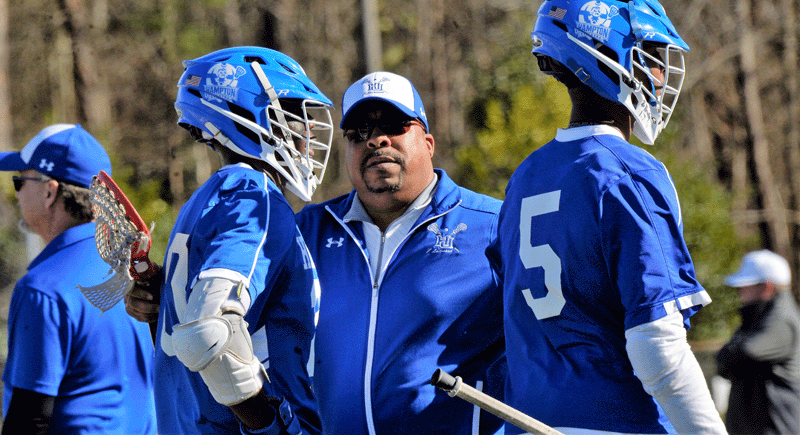 Lloyd Carter to Retire As Head Lacrosse Coach June 30
James Heath
HAMPTON, Va. -- Hampton University head lacrosse coach Lloyd Carter, the first coach of the Pirates program, announced today that he will be retiring as coach on June 30.

Carter served as head coach of the men's lacrosse program after co-founding and coaching the university's club lacrosse team since 2013. A native of Baltimore, Md., Carter lettered in the sport in both high school and college – playing for Morgan State until the program was discontinued in 1981.

"I first would like to thank Hampton University President Dr. William R. Harvey and Director of Athletics Mr. Eugene Marshall,Jr. for selecting me as the inaugural head coach for this historic program. If I were to do it for 100 years, I could never thank them enough for such a God given opportunity, said Carter. "

"I want to thank coach Carter and express my appreciation for his years of service with our lacrosse program," said Dr. Harvey. "His guidance and leadership as we transitioned from a club program to varsity status helped to lay the groundwork for the upcoming coach to take this team to the next level."

Carter joined the Hampton family after a phone call in January of 2011 from Mrs. Verina Crawford after her son Michael, who attempted to start a club team on campus, passed away. For the first two years, Carter commuted from Baltimore to help establish and coach the team.

He retired from the Baltimore City Fire Department in 2013 and moved to the Peninsula as a professor at Thomas Nelson Community College. From there he was asked to continue coaching the club program.

Hampton was the 70th NCAA Div. I school to field a men's lacrosse program, and the first-ever HBCU to field a Div. I program in 2016. Hampton is the first HBCU to play men's lacrosse overall since Morgan State in 1981. Carter was a member of that Bears team, a Div. II power that defeated the likes of Villanova, Michigan State, Georgetown, and Notre Dame.

Carter's coaching experience began in Baltimore's Northwestern High School in 1999. During his tenure that stretched more than a decade, Carter was a four-time Baltimore City Lacrosse Coach of the Year, and he served as president of the Baltimore City Lacrosse Coaches Association. Under his leadership, Northwestern won two regional, two city, and six divisional championships.

In 2003, Carter founded Blax Lax Inc., a club-level organization where college- and high school-level players competed in programs and summer leagues in Howard County, Md. From 2004-08, Carter co-founded and coached club lacrosse at Morgan State.

"Coach Lloyd Carter was the perfect person to lead the lacrosse team through its first years as a varsity program, said Hampton University Director of Athletics Eugene Marshall ,Jr. "His background with Morgan State and the Ten Bears helped set a strong foundation for future Pirate teams. I wish him the best as he moves onto the next phase of his life, he will always be a Pirate."

Carter summarized his career with the Pirates as a consummate coach would. "I have met and worked with some of the most wonderful people here at Hampton and have seen several of my players and staff graduate from this prestigious institution and go on to become successful leaders in society. I am truly blessed and will continue to support the program in any way that I can," he added.

The cupboard will not bare for the next coach of the Pirates in 2020 as the top five goal scorers return with four of them being either a freshman or a sophomore. All three goalies return as the Pirates only lose six seniors from the 2019 squad that finished with a school best six wins going 6-5. That marked the third year in a row they increased their wins from the year before.

For more information on Hampton University lacrosse visit the official Pirates website at www.hamptonpirates.com.
Coble Invited to U.S. Open
VUU Sports
5/22/2019 | Men's Golf

Virginia Union University's Head Golf Coach, E.Lee Coble, has been invited to work as a member of the TV Rules Escort Committee at the 2019 United States Open Championship on June 13-16 in Pebble Beach, Cal.

The 2019 United States Open Championship will be the 119th U.S. Open.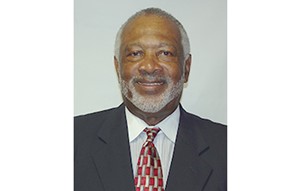 Coble joined the USGA in 1993 as a member of the Sectional Affairs Committee later named the Regional Affairs Committee. Coble was also named to the USGA Rules Committee as a member of the TV Rules Escort Team. This will be Coble's 21st US Open. The USGA remains indebted to the volunteer who serve on USGA committees and to the thousands more who assist in conducting the national championships and team competitions.

"Again, it's an absolute honor to be invited to work this year's US OPEN at Pebble Beach. While this is my third time working the US OPEN at Pebble Beach each US OPEN is a great experience and I am excited to be at Pebble Beach again. Of course none of thiscould be possible without the support of Vice President of Intercollegiate Athletics, Joe Taylor and Athletic Director, Felicia Johnson and the entire Athletic Administrative staff, said Coble.