Kyle Serba
The North Carolina Central University Department of Athletics congratulates its 38 student-athletes graduating today during NCCU's 133rd commencement exercise. The 38 student-athletes, including 12 first-generation college graduates, have earned degrees in 11 different majors. CONGRATULATIONS! Photo Gallery: https://www.facebook.com/pg/NCCUAthletics/photos/?tab=album&album_id=10157443717862792
50 VUU Student-Athletes Receive Degrees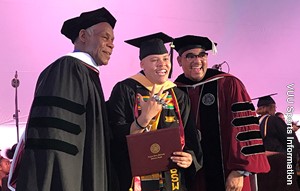 VUU Sports Information
PHOTO GALLERY | A total of 50 student-athletes received their degrees at the 120th Commencement Exercises at Virginia Union University at Hovey Field on Saturday, May 11, in Richmond, Va.

The Commencement marked the most student-athletes to graduate since 2015.

Actor and activist Danny Glover delivered the keynote address while Glover, Barbara Radcliffe Grey and Earl F. Miller received honorary degrees.

"I'm inspired by them and their education here, and their moral conviction that they'll make the kind of choices that will contribute to a better world and rescuing humanity and mother earth," said Glover of the graduates.

The afternoon was also marked by the announcement that Dr. Virginia B. Howerton will be making a $2.5 million gift to the University, the largest one-time gift by anyone in the history of VUU.

More than 300 students received their degrees in the largest graduating class in VUU history.
Hampton Sweeps Big South Outdoor Championships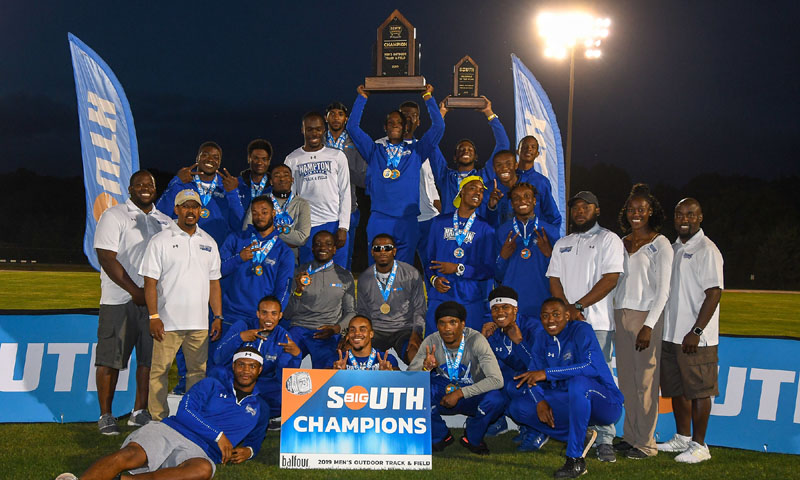 Jim Heath

ROCK HILL, S.C. -- The Hampton Track and Field programs entered the outdoor seasons with targets on them after both teams won their first Big South titles in February. Those targets may have grown now as both teams took their first outdoor crowns on Friday night at Winthrop University.

The Lady Pirates scored 206.5 points to win the crown over High Point (194) and Campbell (105). They entered the last two races with a commanding 41.5 point lead and cruised to a repeat of its indoor crown.

The men came from 35 points down heading into Fridayís competition to win their first outdoor crown with 188.5 points as Campbell took second (181) and Charleston Southern took third (145). Heading into the last day of the indoor meet,Hampton was 36 points out of first and rallied for that crown.

Head Coach Maurice Pierce won Coach of the Year honors for both the men and women, while Coby Price took Freshman of the Year honors for the men. Representing Hampton on the All-Academic teams were Trey Clark and Ayana Culhane.

This marks the second time in school history that the track teams pulled the ďdouble sweepĒ as both teams won the 2003 MEAC Indoor Crowns and the 2004 MEAC Outdoor Crowns.

Friday event highlights

Womenís Hammer

Corneisha Mitchell was fifth in the hammer with a toss of 166-3 and Ayana Culhane was seventh with a throw of 159-1 as Hampton scored a total of five points.

Womenís Triple Jump

Kameryn Trussell scored one point with an eighth place finish with a leap of 37-5.75.

Womenís 4x100 relay

The group of Autumn Smith, Asha Copeland, Isis Brooks and Mallory Pitchford ran a 44.81 to win the 4x100 relay for 10 team points. The time was .01 off the Big South Conference meet record set last year by Liberty.

Womenís 100 meter hurdles

Hampton started to make up points going 1-3-4-7 in the 100 meter hurdles for 23 points. Autumn Smith won the title with a 13.64 with Mallory Pitchford in third (13.97), Kylie Mcmillan in fourth (14.06) and Kaitlin Scott in seventh (14.35).

Womenís 400 meters

Another event where Hampton gained points with a 1-3-6 finish for 19 points. Jaelan Leonard won the race in 54.65 with Sashana Hinds in third (55.17) and Smith in sixth (56.31).

Womenís 100 meters

Hampton totaled 17 points in this event with a 2-4-5 finish. Isis Brooks finished second in 11.64, with Mallory Pitchford in fourth (11.78) and Asha Copeland in fifth (11.91).

Womenís 800 meters

DeVonya Brown took seventh in this race in 2:19.83 for two team points.

Womenís 400 meter hurdles

Hampton scored 11 points with Autumn Smith taking the title in 59.53 and Crystal Eley finished eighth in 1:03.88.

Womenís 200 meters

Hampton scored another 17 points with a second 2-4-5 finish. Isis Brooks came in second in 23.93. with Asha Copeland in fourth (24.33) and Jaelan Leonard in fifth (24.70).

Womenís 4x400 relay

The 4x400 relay team finished fifth in 3:54.47 for four points behind Sashana Hinds, Shakeira Johnson, Kylie Mcmilan and Alysha Evans.

Menís High Jump

Hampton scored 6.5 points as Jerrick Powell was fifth with a leap of 6-2.25, while Jaelen Williams and Jordan Walker were tied for seventh with a leap of 6-0.5

Menís Hammer

Joshua Hunter took fifth for four points with a toss of 162-7.

Menís Triple Jump

Jerrick Powell took seventh for two points with a leap of 44-6.25.

Menís 4x100 relay

Hampton scored six points with a third place finish in 41.18 behind Brenan Garrett, Coby Price, Douglas Sessoms and Joshua Hagins.

Menís 110 hurdles

The Pirates started their comeback with a 1-2-3-7 finish for 26 points. Charles Graham won the race in 14.29, with Jaelen Williams in second (14.30) and Dylan Beard in third (14.53). Isaiah Norris came in seventh in 15.23 to round out Hampton's contingent.

Menís 400

Hampton went 1-2-7 for 20 points in this event as Jerrick Powell won in 47.26 and Derrick Price was second in (47.57) while Khalil Gary was seventh in 49.61.

Menís 100

Douglas Sessoms was sixth for three points in the 100 meters running 10.80

Menís 800

Hampton went 1-2 for 18 points as Tayvon Burris ran 1:51.25 to win it and Geoffrey McCullough took second in 1:51.71.

Menís 400 hurdles

After breaking the meet record in the preliminaries, Jaelen Williams broke it again to win the race in 50.80. Khalil Gary was eighth in 57.97 to give Hampton 11 points.

Menís 200

Pulling their second 1-2-3 finish on Friday, the Pirates scored 24 points in the 200 behind a 21.33 from Derrick Price to win the event. Douglas Sessoms was second (21.56) and Jerrick Powell was third (21.62) as the Pirates gained control of the team standings heading into the final two events.

Menís 4x400 relay

After not scoring in the 5000 meters, the Pirates locked up the crown winning the 4x400 relay in 3:12.44 behind Jerrick Powell, Coby Price, Tayvon Burris and Jaelen Williams.

Both teams are now off for two weeks until the NCAA East Regional's in Jacksonville, Florida.

For more information on Hampton University track and field teams visit the official Pirates website at www.hamptonpirates.com.

Jim Heath
Howard Softball Steps Closer to MEAC Title Game with Win Over North Carolina Central
Bison meet Rattlers with berth to the MEAC title game on the line
Derek Bryant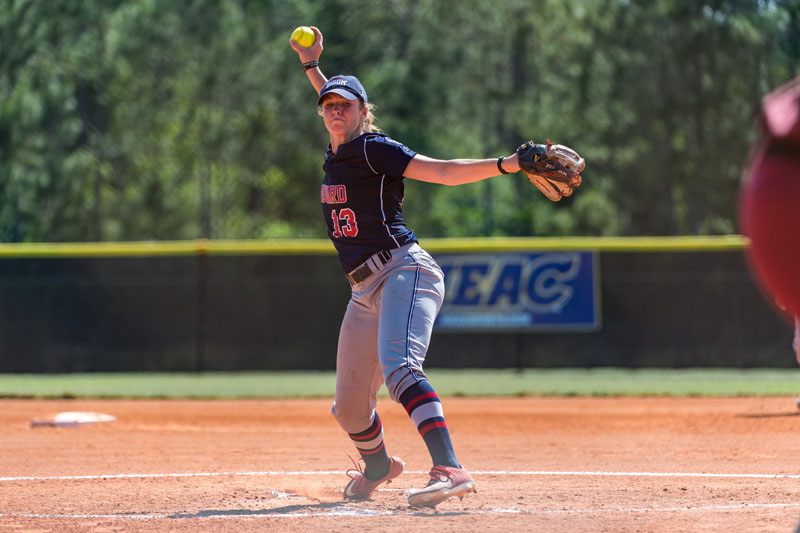 (Photo Credit Ė MEAC Media Relations)


ORMOND BEACH, Fla. (May 10, 2019) Ė For the second time in three days, redshirt senior Mackenzi Steele (Winchester, Va.) tossed a complete-game shutout win to down the North Carolina Central (NCCU) Lady Eagles, 7-0,at the Mid-Eastern Athletic Conference (MEAC) Softball Championships. With the victory, HU eliminated NCCU and stepped closer to a berth in the conference title game.

Steele earned her 13th win of the year after throwing seven scoreless innings while striking out four Lady Eagles.

At the plate, Howard produced seven runs on 10 hits, led by junior Kamryn Tillman (Snellville, Ga.) and freshmen Kalita Dennis (Elk Grove, Calif.) and Camille Navarro (Los Angeles) recording two hits apiece.

Dennis set the tone for HU, drilling a solo shot to left center and giving the Bison an early 1-0 lead.

Top second, newcomer Rajaa Wilcox (Drexel Hill, Pa.) delivered an RBI-single to left center to bring home Tillman, 2-0.

Next inning, Howard doubled its advantage with Navarro and sophomore Breanna Robinson (Buena Park, Calif.) each driving in a run, 4-0.

HU added three more runs in the seventh to put the contest out of reach, 7-0.

North Carolina Central (23-26) saw its season come to an end with both tourney losses coming against Howard.

HU (19-28) takes on Florida A&M with a berth to the conference title game on the line. First-pitch is scheduled for 6 p.m. at the Ormond Beach Sports Complex.

For more information, visit the Bison Athletics website at www.HUBison.com.
CU Women's Golf Opens Play at PGA WORKS Championship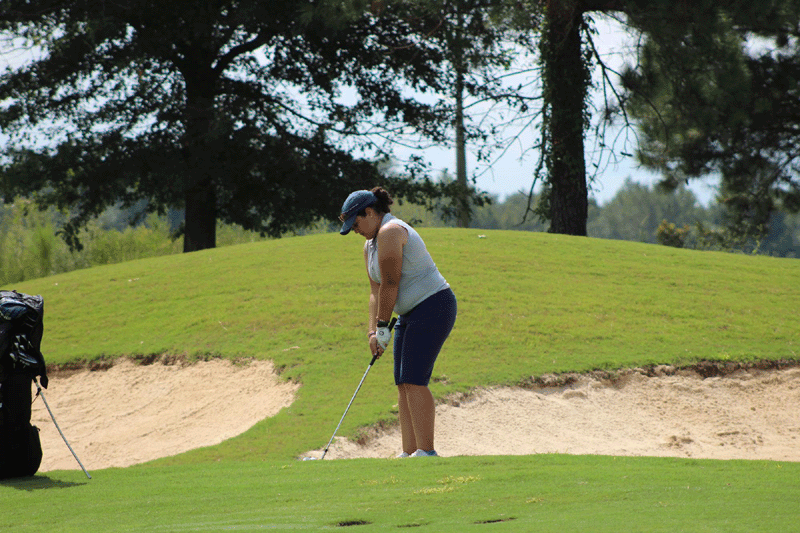 L. Charlotte Dinkins
PORT ST. LUCIE, Fla- The Chowan Women's Golf team opened round one of the PGA WORKS Collegiate Golf Championship on Friday afternoon.

THE BASICS
LOCATION | Port St. Lucia, Fla (PGA Golf Club)

COMPLETE RESULTS HERE

HOW IT HAPPENED
Leading the field is Linda Wang from St. John's who posted a 71 on the opening day.

Chowan's Inecia Rolle currently sits T6 after carding an 80 on Friday. Rolle shot six pars on the front nine and three pars and a birdie on the back for the Blue and White.

Following Rolle is teammate Gaby Rivera-Garcia who shot an 82 to sit in 9th place overall. Rivera-Garcia posted five pars on the front nine for the Hawks and five pars and a birdie on the back nine.

Also competing for Chowan is Reina Pozo who currently sits in 12th place after she shot a 91 in the first round.

UP NEXT
The Hawks will continue play at the 2019 PGA WORKS Collegiate Golf Championship on Saturday, May 11th.
Eagles Ignite Scoreboard on Senior Day against Norfolk State
Jonathan Duren

Attached photo courtesy of NCCU Sports Information

DURHAM, N.C. Ė North Carolina Central University sent 21 men to the plate and batted around twice in the first two innings, and batted around a third time to defeat Norfolk State. 18-5 on Senior Day on Friday, May 10 at the Durham Athletic Park.

NCCU(20-28) reached a new season-high in scoring with those 18 runs, surpassing the 15 scored at Bethune-Cookman on March 5 in a 15-5 win, and also secured a fourth consecutive season with 20 wins.

The Eagles got going early as they sent 10 men to the plate and scored six runs on six hits, including an RBI double from Caleb Coyle (Wake Forest, N.C.) and a two-RBI single from Bryceson Hernandez (Cary, N.C.). NCCU kept rolling in the second frame as it brought 11 batters to the dish to score six more runs with an RBI single from Vinny Bailey (Raleigh, N.C.) and by capitalizing on defensive miscues from NSU (22-23), sending the home side ahead 12-2 after the first two innings.

The Spartans didnít go away quietly as they amassed six extra base hits, including a solo home run from Caleb Ward (Hampton, Va.) in the top of the sixth inning, but shortly after that the Eagles batted around once more in the bottom of the seventh.

NCCU took 12 turns at the plate this time around, and once again scored six runs with help from a two-RBI single from Carter Williams (Brown Summit, N.C.) as he knocked three hits to reach 196 career hits.

Senior Andrew King (Greensboro, N.C.) got the call for his first career start and was the pitcher of record in his second win of the year and his career. Chris Kernen (Greensboro,N.C.) stepped in from the bullpen to make an appearance in his senior day, and he tossed six strong innings with three strikeouts and no walks. Ryan Decker (Fletcher, N.C.) came in to pitch the final out of the contest and he finished the game with a strikeout in just three pitches as he made his 29th appearance of the year to set a new modern era single-season record at NCCU.

Williams was one of four Eagles to pick up three hits, and he added three RBI to his line as well. Hernandez picked up three hits and three RBI as well, and Nick Fajardo (Durham, N.C.) had a trio of hits with two walks. Vinny Bailey (Raleigh, N.C.) was the fourth Eagle with three knocks, and he collected two RBI. Both Coyle and Josh Brammell (Harrison City, Pa.) picked up two hits, and Coyle finished with three RBI on his senior day.

The Eagles are scheduled to finish the season on Saturday, May 11 at 6:00 p.m. against Norfolk State at the Durham Athletic Park. Admission is free.