NCCU Eagles Rally but Fall in Close Contest with North Dakota State

Attached photo courtesy of KeShawn Ennis
Jonathan Duren
DAYTON, Ohio – North Carolina Central University rallied from a 13-point second half deficit to lead North Dakota State, but the Bison were able to take the lead back in the late stages on the wayto a 78-74 final at UD Arena in the First Four of the NCAA Tournament.

NCCU(18-16) and NDSU (19-15) traded three-pointers early in the contest as both teams were scorching the net early, but the Bison were able to mount a 6-0 run to create separation in the middle of the half. However, the Eagles were able to respond right back on a 9-4 run to tie the game near the end of the first period with help from free throws and a three-pointer from Zacarry Douglas (Landover, Md.). After falling to level, NDSU was able to grab a couple of buckets in the final moments to take a 40-34 lead at the break.

NDSU threatened to pull away in the early part of the second half, but the Eagles were able to ignite a 9-0 run over three minutes of play to pull the game to four at 49-45with 13:41 to go in regulation. NCCU kept the momentum going as Randy Miller Jr. (Odenton, Md.) and Larry McKnight Jr. (North Miami Fla.) joined forces to hit back-to-back treys to level the game at 58-58 with 7:32 remaining.

NCCU kept that momentum rolling and were finally able to pull ahead of the Bison, and led by as many as five at 66-61, with 5:24 to play. NDSU hung tight with the maroon and gray and was able to recapture the advantage within the final two minutes and hold off the Eagles for a 78-74 final score.

Raasean Davis (Chicago, Ill.) and McKnight posted a joint team-high 20 points, and Davis added on a game-high 16 rebounds for his 13th double-double of the season, and his24th over his NCCU career. McKnight knocked down four treys, and Miller connected three times from downtown for 18 points. Jordan Perkins (Greensboro, N.C.) fueled the offense with a game-high 10 assists.

Tyson Ward (Tampa, Fla.) put up a game-high 23 points for NDSU, and he was joined by three other teammates in double-figures as well. Vinne Shahid (Minneapolis, Minn.) followed with 14 points, and Jared Samuelson (Gretna, Neb.) and Sam Griesel (Lincoln, Neb.) each chipped in 10 points.


2019 CIAA Outdoor Track and Field Weekly Report #1

Ben Baxter

WOMEN'S TRACK ATHLETE OF THE WEEK
Jerinique Brooks, Fayetteville State University
(Freshman, Nassau, Bahamas)
Brooks led the Broncos with a strong performance at the Alan Connie Shamrock Invite in Myrtle Beach, S.C. this past weekend. The freshman won the 100m dash in a time of 12.38. Her preliminary qualifying time of 11.98 was the fastest at the meet and in the DII Atlantic Region this year (7th nationally in DII), just five one-hundredths of a second short of a provisional time. Brooks also ran the 200 meters in 25.34, finishing fourth overall and less than a second off provisional time pace. As a member of the 4x100m relay, the Nassau, Bahamas native ran an impressive second leg on the bronze medal squad that ran a time of 47.71, finishing just behind Division I Hampton and DII Slippery Rock. Her 100m (11.98) and 200m (25.34) times are the best in the CIAA this season while her 4x100m team has the conference's best time as well.

WOMEN'S FIELD ATHLETE OF THE WEEK
Krystahl Gordon, Lincoln University (PA)
(Sophomore, Frederiksted, Virgin Islands)
Gordon turned in the top long jump performance in the CIAA so far this season with a mark of 4.92 meters (16'1.75") at the Universityof Maryland Invitational. The sophomore finished fourth behind an athlete from University of the District of Columbia and two from Division I Delaware. Her jump currently ranks sixth in the Atlantic Region this season

MEN'S TRACK ATHLETE OF THE WEEK
Christian Smith, Saint Augustine's University
(Junior, Atlanta, GA)
Smith won both the 110 hurdles and 400 hurdles at the Alan Connie Shamrock Invitational in Myrtle Beach, S.C. over the weekend. He ran provisional times in the 110 hurdles (14.44) and 400 hurdles (53.07). Nationally, Smith currently ranks fourth in the 400 hurdles and fifth in the 110 hurdles in Division II. In the CIAA, he ranks first in the 110 hurdles and second in the 400 hurdles.

MEN'S FIELD ATHLETE OF THE WEEK
Najair Jackson, Saint Augustine's University
(Sophomore, Spanish Town, Jamaica)
Jackson posted the best mark among collegians in the javelin throw (215-10) at the Alan Connie Shamrock Invitational in Myrtle Beach, S.C., this past weekend. He finished second behind a professional athlete who won the event. His provisional throw ranks first in the CIAA and the Atlantic Region as well as second nationally in Division II.
SIAC honors Bocanegra, Hurley

KSU Sports

ATLANTA - Two Kentucky State University softball players were honored by the Southern Intercollegiate Athletic Conference today (March 28, 2019) for their performances during the SIAC Crossover.

Senior Natalia Bocanegra (Covina,CA) was named SIAC Player of the Week, while freshman KatelynHurley (Elizabeth, IN) were named SIAC Player of the Week and SIAC Pitcher of the Week.


"We are very proud of these two student-athletes," said Kentucky State University head coach David Morton. "They worked really hard to get to thispoint and they will keep working. Both of these individuals are very deserving in these awards, and we are extremely proud of what they could individually contribute to our success this week.

"Natalia has been working really hard these past weeks and she stepped up real big for us this week." Morton continued. "Katelyn kept pitching and working, and bounced back from a couple of bad outings. We always knew she had potential, she just needed to getin her rhythm and that's exactly what she did."

Bocanegra was named to the All-SIAC Crossover team after hitting a crossover-high .688 in 16 at-bats. In five games, the senior outfielder scored six runs with four RBIs, four walks, two triples, and one double from the leadoff position.

With her five-game performance, Bocanegra pushed her batting average to a team-high .390.

Hurley threw a pair of one-hitters during the SIAC Crossover Tournament. The rookie pitcher did not allow a single run in 10 innings of work and finished with eight strikeouts with zero walks for the Thorobreds 3-2 weekend.

With her help, Kentucky State led the conference with a 1.00 ERA during the five-game event. Hurley improved to 3-1 on the season, dropping her season earned run average to 4.00.

Kentucky State (8-12 overall, 3-2 SIAC) steps away from SIAC action for a non-conference doubleheader at Asbury 5 p.m. Wednesday.

Sims honored by SIAC
KSU Sports
ATLANTA - The Southern Intercollegiate Athletic Conference honored a Kentucky State University baseball player for his work during the Thorobreds' eight baseball games this week, the league announced today (March18, 2019).

Senior Russell Sims (Harrodsburg, KY) was named SIAC Player of the Week after helping Kentucky State to 5-3 record, two of the losses coming to Division I opponents.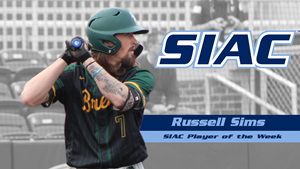 "I'm happy to see Russ earn this recognition," said Kentucky State University head coach Rob Henry. "He not only had a great week against some very good competition, but he's been good all season long. He's a great defender at shortstop, and is the catalyst for our offense in the leadoff spot. I'm proud of how he's developed, and I am excited about the rest of the season for him and us as a whole."

Sims was spectacular for the Thorobreds, hitting .481 over eight games in which two contests coming against Division I opponents, Murray State and Eastern Kentucky University. The 6'1 senior finished with a slash line of .481/.548/.566 and recorded hits inall eight games.

He notched multiple hits in four of the contests and finished with eight RBIs as KSU went 3-1 against Morehouse.

Kentucky State (13-5-1 overall) returns to the diamond 3 p.m. Wednesday in non-conference action at Lincoln Memorial.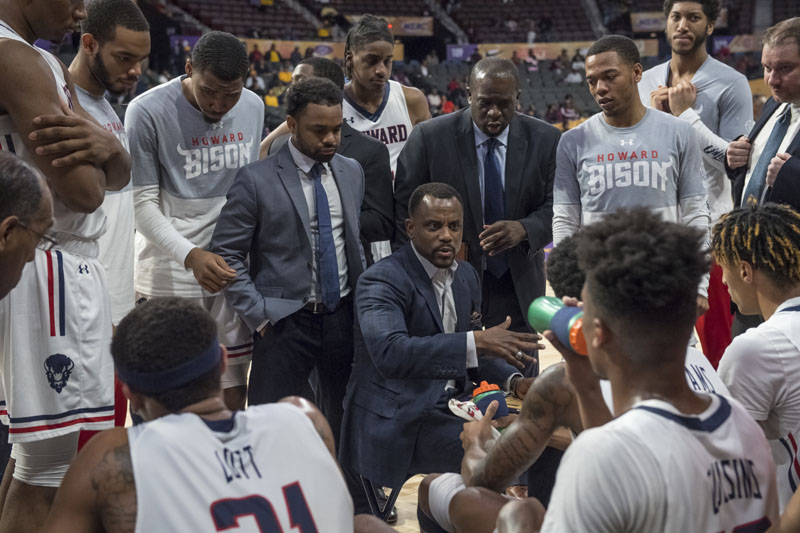 Howard Men's Hoops Accepts Invite to the 2019 Roman College Basketball Invitational
Bison's season continues at Coastal Carolina
Derek W. Bryant
(Photo Credit – Frank Mitchell III)

PRINCETON, N.J. (March 17, 2019) – The Roman College Basketball Invitational (CBI) committee finalized its 16-team field where Howard University was among the squad's invited to this year's tournament. The announcement came Sunday evening after the NCAA Selection Show.

"I'm happy for this team," said Howard men's basketball head coach Kevin Nickelberry. "Our student-athletes get an opportunity to be rewarded for their efforts this year and get a chance to participate in the postseason."

The 12th annual CBI Tourney begins Tuesday (March 19) with one first round game, followed by the remaining seven contests Wednesday (March 20).

HU will be among the seven games playing Wednesday night when they travel to Conway, S.C. where the Coastal Carolina Chanticleers await. Tip-off is scheduled for 7 p.m. This will be the firsttime the two teams have met on the hardcourt.

"[The] CBI is a great event," Nickelberry added. "Some very talented teams played in this event and went on to play in the Final Four [the following year]."

The CBI is a single-elimination tournament up until the best-of-three Finals, with all games played at campus sites. After the First Round games, the Quarterfinal Round will take place on Monday, March 25, followed by the Semifinal Round on Wednesday, March 27 or Thursday, March 28. Prior to the semifinals, the remaining teams will be re-bracketed. The Finals series is a best-of-three in which one team will host two of the three games. Those games will be played on April 1, April 3, and April 5.

To view the 2019 Roman CBI tournament bracket, please click here.

Howard enters the field playing in their first postseason tournament since 1992, the same season they won the Mid-Eastern Athletic Conference (MEAC) Title. Currently, the Bison are riding an eight-game road winning streak.

"The way this group started the year and finished, it's only fitting," Nickelberry concluded. "They get a chance to play [in this event] with past champions, such as VCU [Virginia Common wealth] and most recently Loyola-Chicago [did], which went on to playing in the Final Four."

Past CBI champions include Tulsa, Oregon State, VCU, Oregon, Pittsburgh, Santa Clara, Siena, Loyola Chicago, Nevada, Wyoming, and North Texas. Teams from nearly every conference have participated in the event. Twenty-seven teams have used the CBI to springboard to the NCAA Tournament the following year, while another 19 have gone on to the NIT.

About Howard University Athletics

The Howard University Department of Intercollegiate Athletics sponsors 19 NCAA Division I men and women varsity sports. The programs represent six conferences: The Mid-Eastern Athletic Conference (MEAC), Southwestern Athletic Conference (SWAC), Coastal Collegiate Swimming Association (CCSA), Sun Belt Conference, Eastern College Athletic Conference (ECAC) and Atlantic Sun (ASUN) Conference.

About Roman

Roman is a direct-to-consumer telehealth company that handles everything from diagnosis to the convenient delivery of medication for many common male health conditions. Rated one of Fast Company's Most Innovative Companies of 2019 and featured in The New York Times, Tech Crunch, Men's Health, and Forbes, Roman is working hard to help men tackle their health issues.

About the Gazelle Group

The College Basketball Invitational is produced by the Gazelle Group of Princeton, N.J. The Gazelle Group is a sports marketing firm, specializing in event production and management, client representation, and sponsorship consulting. Gazelle produces numerous nationally-recognized events, such as the Empire Classic benefiting Wounded Warrior Project, Legends Classic presented by Old Trapper, the Sunshine Slam, and the Gotham Classic. For more information on the Gazelle Group, please visit gazellegroup.com.

For more information, visit the Bison Athletics website at www.HUBison.com.

Howard Men's Hoops Meets Coastal Carolina in the Roman CBI Tourney First Round
Bison seek first postseason victory in Division I history
Derek W. Bryant

WASHINGTON (March 19, 2019) – Howard University men's basketball team continues its season in Conway, S.C. where they will square off against Coastal Carolina (CCU) in the Roman College Basketball Invitational (CBI) Tourney First Round.Tip-off is set for 7 p.m. inside the HTC Center on ESPN+.

Fans can also follow all the action at www.GoCCUSports.com.

LAST TIMEOUT

On March 15, the Bison came up short in the 2019 Mid-Eastern Athletic Conference (MEAC) Tournament Semifinals, losing, 75-69, to Norfolk State at Scope Arena in a highly anticipated matchup.

Redshirt Chad Lott (Shreveport, La.) led the team with 21 points. Sophomore RJ Cole (Union, N.J.) added 19 points, seven assists, and five rebounds.

Second-year forward Zion Cousins (Upper Marlboro, Md.) contributed 10 points and seven boards in the loss.

MATCHUP PREVIEW

Wednesday's showdown will be the first meeting between Howard and Coastal Carolina.

HOWARD

Howard (17-16) enters the field playing in their first postseason tournament since 1992, the same season they won the MEAC Title. Also, the Bison are seeking their first postseason victory sincere classifying as a NCAA Division I affiliate.

"I'm happy for this team," said Howard men's basketball head coach Kevin Nickelberry after accepting the invite to the 2019 Roman CBI Tournament. "Our student-athletes get an opportunity tobe rewarded for their efforts this year and get a chance to participate in the postseason."

Currently, the Bison are riding an eight-game road winning streak after going perfect away from The Burr in league play.

Howard is led by the trio of Cole, Lott and junior Charles Williams (Richmond, Va.).

Cole was selected 2018-19 MEAC Player of the Year. Cole and Williams earned a spot on the All-MEAC First Team while Lott landed on the league's Third Team.
COASTAL CAROLINA

CCU enters with a 15-16 overall record after placing sixth in the Sun Belt Conference. Zac Cuthbertson, Second Team All-Sun Belt, and DeVante Jones, 2018-19 Sun Belt Freshman of the Year, spearhead the Chanticleers.

"They like to get out in transition," Nickelberry stated. "We must slow down their transition offense and limit their second chance points."

This is the 10th post-season national appearance in the history of the CCU program. Coastal Carolina made their first appearance in the CBI following the 2017 season where they went on to finish as the runners-up in the event.

UPCOMING SCHEDULE

With the victory, HU advances to the Roman CBI Tourney Quarterfinals where they will await the winner of West Virginia and Grand Canyon. The action takes place Monday (March 25), but time to be determined.

For more information, visit the Bison Athletics website at www.HUBison.com
Early Lead Fades, Hawks Fall To Knights In Extras
Evann Carpenter
MURFREESBORO, N.C. – The Chowan Baseball team saw an early lead slip away as the Hawks fell to St. Andrews in extra innings on Tuesday afternoon at home in non-conference action.

THE BASICS

FINAL | Chowan 12, St. Andrews 17 (10 innings)

RECORDS | Chowan 9-11-1, St. Andrews 17-10

LOCATION | Murfreesboro, N.C. (Hawkins Field)

INSIDE THE BOX SCORE

Nick Rose went 3-5 with two home runs, two RBI and four runs scored to pace the Hawks. Rose hit the game-tying home run in the bottom of the ninth.

Marquise Lanier added two home runs to his total with four RBI. Trenton Lee recorded three hits.

Phillip Ashlock and Slade Cowan combined for 7.1 innings allowing 10 hits and six runs.

HOW IT HAPPENED

St. Andrews scored in the first inning on a solo home run. The Hawks rallied in the bottom of the inning as Anthony Jefferson and Nick Rose drew walks. Trenton Lee singled to load the bases before Marquise Lanier drew a RBI walk. JackKane reached on a fielder's choice as the defense was unable to get an out. Brock Cross hit a sacrifice fly to score Lee before Lanier scored on a wild pitch to lead 4-1.

The Hawks added to their lead in the second inning as Nick Rose doubled with one out to start the rally. Trenton Lee singled up the middle and scored Rose. Marquise Lanier would hit one of his two home runs in the contest to lead 7-1. Jack Kane continued the attack with a single. Austin Stevens and Harley Davidson recorded a single to load the bases. Nicholas Lees singled to left center to plate two more to lead 9-1.

The Knights would start their climb back into the contest in the third inning scoring two runs to trail 9-3. St. Andrews added a tally in the fourth on a sac fly.

Nick Rose add his first home run of the contest with a solo shot to right field to extend the lead to 10-4.

The sun would play havoc in the sixth inning as two pop ups resulted in hits for the Knights. St. Andrews hit a grand slam to cut the deficit to 10-9.

St. Andrews would take an 11-10 lead in the top of the ninth on two doubles and an error before a sac fly gave the Knights the lead.

Down to their final out, Nick Rose launched his second home run of the contest to right field to send the contest into extra innings, 11-all.

The Knights took advantage of tired arms in the contest pushing forward to a 17-11 advantage on five free passes and an error.

Marquise Lanier hit his second home run of the contest to lead off the 10th inning but was unable to do more damage.

UP NEXT

Chowan hosts nationally-ranked Mount Olive in a Conference Carolinas series on Friday-Saturday, March 23-24. First pitch on Friday is at 2:30pm.

Eagles Chilled by Appalachian State

Attached photo courtesy of Kevin Dorsey
Jonathan Duren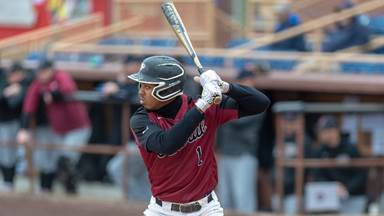 BOONE, N.C. – North Carolina Central University faced strong pitching from Appalachian State as the Mountaineer arms were able to hold the Eagles at bay on the way to a 13-0 final score at Jim and Bettie Smith Stadium on Tuesday, March 19.

App State (8-11) used five pitchers and held NCCU (9-12) to just three hits over the contest. Both Carter Williams (Brown Summit, N.C.) and Dalton Ward (Kernersville, N.C.) notched doubles for the maroon and gray, and Ward picked up his first career two-base hit.

Alex Leshock (Waxhaw, N.C.) stood out for the Mountaineers as he went 2-for-3 with two RBI and two runs scored.

NCCU returns to Southern Division MEAC play on Friday, March 22 as the Eagles start a series on the road at Savannah State.
Hawks Host Bulldogs in Conference Acton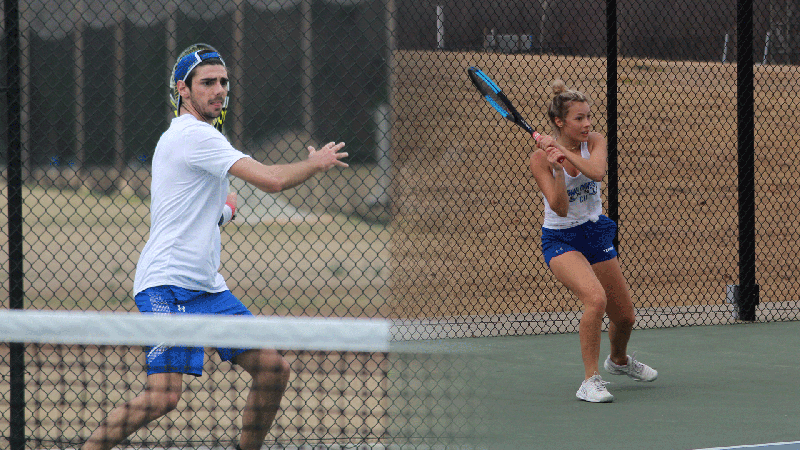 MURFREESBORO, N.C.-The Chowan Men's and Women's Tennis teams are back in action as they host the Barton Bulldogs in Conference play on Tuesday, March 19th.

WHEN Tuesday, March 19th

WHERE Murfreesboro, N.C. (Rose Family Tennis Courts)

FOLLOW Live Stats

HAWKS PROFILE
Women's Tennis
Chowan returns home after competing on the road for a week in the 2019 Spring Tennis Fest. The Hawks currently post a 0-8 overall season record and 0-2 in the league.

Cynthia Carrier will look to pace the Hawks at the No.1 singles position while teammate Arina Karbolina takes on the No.2 singles match.

ABOUT THE BULLDOGS
Barton comes into the contest with an 8-4 overall record and 1-0 in conference play.

The Bulldogs look to recover from a 4-3 loss to West Virginia St. on Saturday.

Men's Tennis
The Hawks went 1-2 in the Spring TennisFest this year after they slipped to Missouri- St. Louis last Thursday.

Chowan sits 2-7 on the season and 1-1 in conference play.

ABOUT THE BULLDOGS
Barton recently slipped to Conference Carolinas opponent Belmont Abbey 6-1 to post a 5-7 overall season record and 0-1 in the league.

The two teams last met in April 2018 with a back and forth battle on the courts. The Hawks came out with the 7-2 victory.
| | | | |
| --- | --- | --- | --- |
| | | | |
| Chaston Huntly | Shaniya Thomas | Daijah Chambers | Beth Walker |
Ben Baxter
ROOKIE OF THE WEEK
Chaston Huntly, Claflin University
(Fr, IF - Lexington, SC, 6)
Huntly helped lead her team to a perfect 8-0 record, 6-0 at their first-ever CIAA Round-Up, this past week - including a win over Chowan that snapped a 30-game CIAA win streak. She finished the week with 10 hits, recording a hit in 7-of-8 games, with 10 runs and 9 RBIs. The Lexington, SC native also recorded two doubles, one triple and a walk in 22 at-bats for the week.

PITCHER OF THE WEEK
Shaniya Thomas, Claflin University
(Fr, P - Jefferson, SC, 10)
Thomas was the winning pitcher of record in the Panthers win over Chowan that snapped its 30-game CIAA win streak. The freshman came in to pitch 4.2 innings in relief, allowing just 4 runs with 5 strikeouts against 24 batters faced. In a win over Virginia State, the Jefferson, SC native also pitched 3.1 innings in relief, allowing 0 runs and just 1 hit with 4strikeouts to pick up the save. For the week, Thomas pitched 19 innings, allowing 9 hits and 7 runs with 26 strikeouts. Her three wins this past week helped push her record to a perfect 6-0 on the season.
OFFENSIVE PLAYER OF THE WEEK
Daijah Chambers, Winston Salem State University
(Jr, UT - Richmond, VA, 16)
Chambers had a terrific week for the Rams, batting .609 from the plate with three doubles, two triples,and three home runs. The junior utility player was 14-for-23 with 10 runs scored and 17 RBIs while helping WSSU to a 6-2 record, including 6-0 at the CIAA Round-Up.
DEFENSIVE PLAYER OF THE WEEK
Beth Walker, Chowan University
(So, 1B/C - Pasadena, MD, 44)
Walker had a perfect fielding percentage in 41 attempts with 37 putouts and four assists while aiding in three double-plays, helping the Hawks to a 5-2 record at the CIAA Round-Up.
Lady Eagles Rally Past Defending MEAC Champions, 4-3
Kevin Buczek
PICTURED: Archived photo of NCCU freshman Hannah Gaines, who was the only Eagle to win in both singles and doubles in Monday's 4-3 win over Morgan State (by Kevin Dorsey)

NOTES: NCAA Box Score Attached.

DURHAM, N.C. — Freshman Hannah Gaines, sophomore Polina Sakharova and freshman Ivana Dragovic won the final three matches of the day to lift the North Carolina Central University women's tennis team to a 4-3 victory over visiting Morgan State University Monday afternoon.

The Lady Eagles got their first singles win from junior Sofia Miller to start the successful comeback.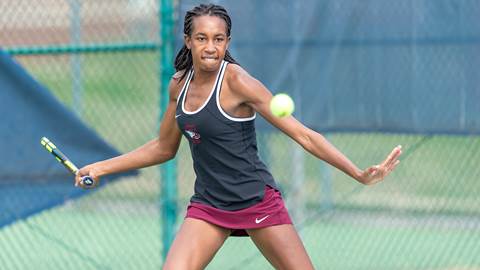 NCCU improved to 4-8 on the season after knocking off the 2018 Mid-Eastern Athletic Conference (MEAC) Tournament champions. Morgan State slipped to 2-8. The showdown was designated a non-conference match with the Bears competing in Northern Division of the league and the Lady Eagles in the Southern Division. However, NC Central is now 2-0 against MEAC member institutions this season.

The Bears took the initial lead by edging the Lady Eagles in doubles, 2-1. Senior Oriane Yehouenou and junior Dana Santiago secured a 6-1 win at No. 3 doubles for MSU, buta 6-3 No. 1 triumph by Gaines and sophomore Frida Cnossen leveled the score. A 6-2 win by freshmen Averiana Mitchell and Jourdan Wallace on the decisive middle court clinched the doubles point in favor of the visitors.

Gaines and Cnossen improved to 5-5 as partners with their third straight doubles win.

Morgan State's pulled out to a 3-1 lead with wins in the top two singles slots by junior Peggy Rooke (6-3, 6-3) and sophomore Asmara Rose (6-2, 6-1) after Miller tied upthe match briefly at 1-1 with her 6-2, 6-0 victory at No. 4.

Gaines knocked off Mitchell 6-3, 6-4 on court three to start NCCU's closing run. Sakharova reversed those scores to 6-4, 6-3 in her No. 5 win over Yehouenou to level thematch. Dragovic then outlasted Santiago 6-4, 6-7 (5), 6-3 to complete the narrow win for the Lady Eagles as the dual match took four hours and 18 minutes to complete.

Sakharovia has won two straight matches and Dragovic is now second on the team with four wins.

NC Central next hosts University of Maryland Eastern Shore on Thursday at 2 p.m.
Dale Davis Shines in First Round, Hawks Sit in Third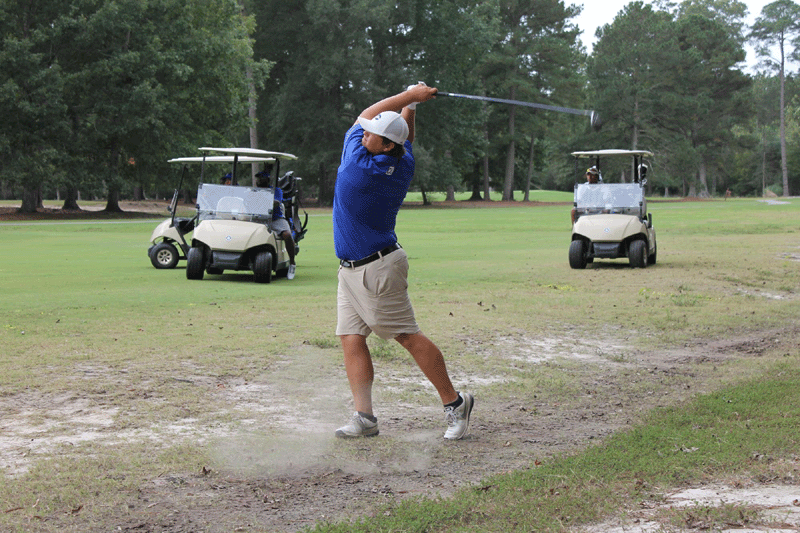 Charlotte Dinkins

FAYETTEVILLE, N.C.-The Chowan Men's Golf team currently sits in third place after posting a 325 team score in the opening round of the CIAA Mid-Major tournament on Monday afternoon.

THE BASICS
ROUND ONE | Third Place (325)

LOCATION | Fayetteville, N.C. (Gates Four Golf and Country Club)

COMPLETE RESULTS HERE

HOW IT HAPPENED

The Virginia Union Panthers currently sit in first place after carding a 302 first round score. Livingstone follows Union in second place after recording a 319 team score on Monday. The Hawks opened the tournament with a 325 round one score.

Leading the field is Virginia Union's Paul Meints after he shot a 73 in the first round of play.

Dale Davis leads for the Blueand White after posting a 74 on the day. Davis currently sits T2 with Travon Willis from Virginia Union.

Sitting T9 is Graham Cowan who shot an 80 in the opening round, while teammate Tyler Pittman posted an 84 to sit T20 overall.

Steven Rhinard currently sitsT26 after recording an 87 for the Hawks.

Daniel Ivanouski rounded out the scoring for Chowan after posting a 92 on the day.

Competing as an individual, is Donald Thaxton shot an 86 to sit T23 overall.

UP NEXT
Chowan will play the final 18-holes on Tuesday with a shotgun start of 8:00am
Gardner-Webb's Big Run Downs Howard Lacrosse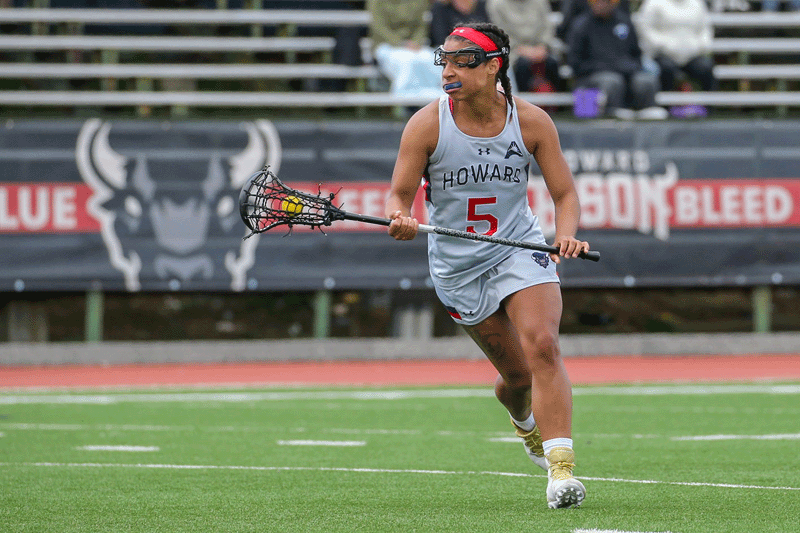 Bison unable to slow down Bulldogs
Derek Bryant
(Photo Credit – Rodney Pierce)

WASHINGTON (March 17, 2019) – Howard women's lacrosse kept the contest close early, but Gardner-Webb (GWU) scored 15 unanswered to down the Bison, 21-5, inside Spangler Stadium.

GWU took an early 2-0 advantage, but HU tied the contest with goals from sophomores Bernadette Nwoye (Montgomery Village, Md.) and Tiffany Hunt (Dallas, Texas), 2-2.

From that point on, Gardner-Webb finished the period on a 13-0 run to take a double-digit halftime lead, 15-2.

After intermission, the Bulldogs put up two more goals to extend their run, but second-year midfielder Lailah Robey (Chesapeake Bay, Md.) ended HU's drought.

Sophomore Jillian Jones (Fresno, Calif.) registered the Bison's final two goals in the contest.

Jones led the way with two goals, two ground balls and an assists.

Howard had nine draw controls, spearheaded by Robey with five.

Hunt scooped up four ground balls in the loss.

For GWU (4-4), Abby Hanscom had a match-high five goals in the victory.

On March 22, HU (0-3) continues its road trip in Dover, Del. where they face the Delaware State Lady Hornets. Match time is set for 5 p.m.

For more information, visit the Bison Athletics website at www.HUBison.com.
Late Rally Costs Rams in 7-5 Loss to Lock Haven

WSSU allows three late runs in tough loss
Trevin Goodwin
WINSTON-SALEM, NC – The Winston-Salem State Rams (16-9) allowed a late rally to take a 7-5 loss to the Lock Haven Bald Eagles (6-6-1), Sunday afternoon. After falling behind early, the Rams tied the game late, but the team allowed three late runs to take the heartbreaking loss.

The Rams had a solid offensive effort in the game, but the team could not quite hold the Bald Eagles at bay in the loss. As a team, the Rams totaled nine hits in the game, but they allowed 11 hits to the Bald Eagles. WSSU redshirt-sophomore E.P. Reese led the way for the Rams as he went two-for-four at the plate with an RBI. Redshirt-senior Hunter Phillips was two-for-three at the plate with a double and a run scored.

This time, the Rams allowed the Bald Eagles to score the first run of the game, but the Rams answered with a first inning run of their own when Reese hit an RBI groundout to tie the game 1-1. After allowing a pair of fourth inning runs, the Rams answered with three fourth inning runs of their own. Freshman Dezmen Howard hit an RBI single that was followed by a score on a Lock Haven fielding error. Freshman Aaron Smith added a score ona Bald Eagle passed ball and it was followed by a score from senior second base Nick Williams. The effort left the Rams with a 5-3lead. However, the Rams allowed a fifth inning run and a pair of sixth inning runs to take the 7-5 loss.

WSSU redshirt-sophomore Eli Boles (1-2) took the pitching loss. He pitched two innings for the Rams with four runs allowed (two earned) on four hits with a strikeout. Sophomore Tyrese Hearst got the start and went four innings. He finished with three runs allowed (two earned) on seven hits with two strikeouts.

With the loss, the Rams fall to 16-9 on the season. The team will return to action, Wednesday when they take on the Queens (N.C.) Royals at BB&T Ballpark. For more information on Rams baseball, log on to www.WSSURams.com.
Rams Close CIAA Round Up with a 6-3 Win Over Chowan; WSSU opens conference play with six straight wins
Trevin Q. Goodwin
ELIZABETH CITY, NC – The Winston-Salem State (15-3, 6-0 CIAA) closed the Central Intercollegiate Athletic Association (CIAA) Softball Round Up with a bang when the team took a 6-3 win over the Chowan Lady Hawks (5-17, 4-2 CIAA), Sunday afternoon. The Rams took the win behind a strong defensive effort as they scored early and held off the Hawks to claim the win.

The Rams played some quality defense to hold off the Lady Hawks to claim the win. As a team, the Rams needed just six hits to claim the win. Junior outfielder Shauntaja Dedecker led the Rams' scoring effort with four RBI in the game. She got all four on a grand slam home run. Junior second base Daijah Chambers went two-for-three at the plate with a double and an RBI while senior outfielder Destiny Snipes went two-for-four at the plate with a run scored and an RBI.

Winston-Salem State did all of its damage in the first inning when Snipes hit an RBI single that was followed by a Dedecker grand slam home run to give the Rams a 5-0lead. WSSU would not score for the rest of the game, but they allowed a third inning run and two fifth-inning runs to maintain a 5-3 lead. The Rams would would not allow another Chowan score to claim the win.

WSSU sophomore Tia Robinson (8-1) started the game and went two innings when the Rams took the lead. She allowed no runs on no hits with two strikeouts. Junior Erica Davis came in for five innings and she finished out the game. She allowed three runs (three earned) on five hits with five strikeouts.

With the win, the Rams improve to 15-4 overall and 6-0 in CIAA play. The team will return to action, Thursday, when the head to Columbia, S.C. to take on the Benedict Tigers. For more information on Rams softball, log on to www.WSSURams.com.
Winston-Salem State
SOFTBALL DROPS SERIES FINALE WITH CAMPBELL
James Heath
HAMPTON, Va. – A four-run seventh inning came just a little too late for Hampton softball on Sunday as they fell 9-6 to Campbell in the finale of a three-game Big South Conference series.

The Fight in Camels took an early 3-0 lead on the strength of a three-run Kayla Fredendall home run. They added one in the second on a Megan Mozingo single to score Avery Wheatley to push the lead to 4-0.

In the third they scratched two across on a sacrifice fly by Wheatley and a RUN-SCORING SINGLE BY Bri Bryant.

Hampton got on the board in the fifth as with one out, Daniella Milloy singled and went to second on a groundout before scoring on a single by Kial Watts to trail 6-1.

Bryant's two-run single highlighted a three-run sixth for Campbell to lead 9-1, but Hampton started a rally with a run in the sixth as DaSha Hill singled and went to third on an error before scoring on a single by Brianna Anderson.

In the seventh, Taylor Warrick smacked a three-run triple and later scored on a single by Hill brought Hampton to 9-6.
Hill was 2-for-4 with a run scored and one driven in, while Kial Watts was 2-for-2 for Hampton.

Hampton is now off until March 23 when they travel to Presbyterian for a three-game series starting with a doubleheader on Saturday at 1 pm.

For more information on Hampton University softball, visit the official Pirates website at www.hamptonpirates.com.

SAILING SIXTH IN TRIBE OPEN

HAMPTON, Va. – The Hampton University sailing team returned to action this weekend by taking sixth in the William & Mary Open held in the James River.

Sailing in the A Division, Filip Stevanovic, Luca Taglialegne, Olivera Stojilovic and Isobel Finnegan did not finish lower than third in seven races to total 12 points. The B Division group of Khari Parrish and Mercedes Matlock combinedfor 90 points.

Stony Brook won the regatta with 32 points followed by Webb Institute with 55 points.

Hampton will host the MAISA/SAISA Intersectional next weekend off Strawberry Banks.