Back in the Day

Paducah's 'Big House' the focus of documentary

By JOSHUA ROBERTS
Two documentary filmmakers will visit Paducah for next month's Eighth of August Emancipation Celebration as part of their project chronicling the life and influence of a celebrated city son: the late Clarence "Big House" Gaines. Production on "Man to Man," a feature-length documentary, began in February and examines Gaines' 46-year basketball coaching career at Winston-Salem State University
and his relationships with players and the community. Born in Paducah in 1923, Gaines led Winston-Salem to the 1967 Division II national championship, the first historically black school to win an NCAA title. link

They Call Me Big House," The Clarence E. Gaines Story,

link

BSU Student Athlete Sophomore Ricci Alleyne, a NCAA Indoor Track Qualifier from Bowie State, talk's track and athlete scholarships as a vehicle for women to handle their business.


RICCI ALLEYNE AND TERRENCE STAFFORD RECOGNIZED AS

ALL-AMERICAN ATHLETES

Greg Goings

At HBCU Homecomings' Vendors hawk a variety of goods, fish and chicken, sweat shirts, and jewelry while looking for old classmates who attended "back in the day". A custom sweat shit vendors enticement of a "black man just trying to make a living" caught my ear.

---
CU's Women's Golf Set to Compete in Cutter Creek Invite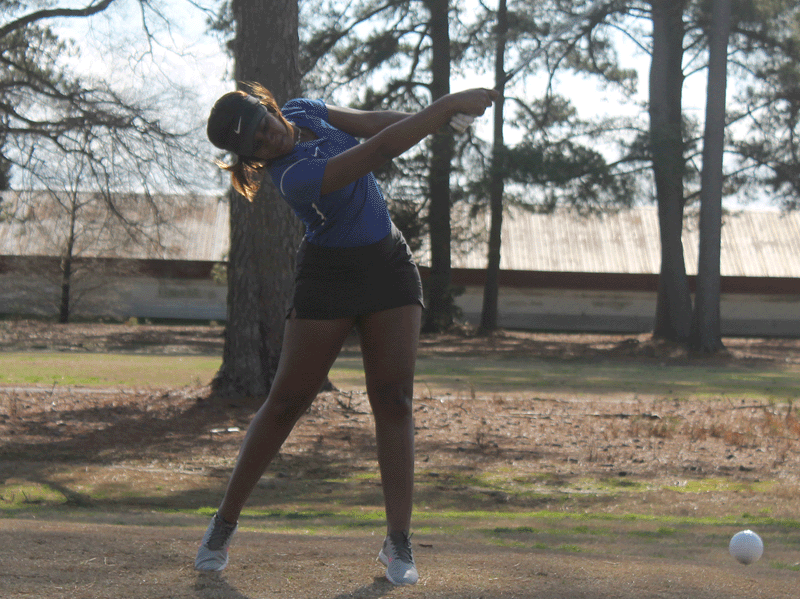 Picture courtesy Chowan



L. Charlotte Dinkins


MURFREESBORO, N.C.- The Chowan Women's Golf team opens their fall season on September 9-10 at the Cutter Creek Invitational hosted by Barton College.

WHEN Monday, September 9-10

WHERE Snow Hill, N.C (Cutter Creek Golf Club)

HAWKS HIGHLIGHTS
Chowan will be making their fifth appearance at the Cutter Creek Invitational with Inecia Rolle and Annery Abreu competing as individuals this year.

Returning as a senior for the Hawks is Inecia Rolle who posted an 81 average for the 2018-2019 season after carding her best rounds at the Myrtle Beach Intercollegiate last fall.

Annery Abreu is a Port Saint Lucie, Fl native who will compete for the first time in the tournament.

TOURNAMENT IN REVIEW
The Hawks last competed in the Cutter Creek Invitational in 2018 finishing the tournament in fifth place with a 346 team total. . Rolle finished 15th overall after recording an 82 for the Blue and White.
VUU Shocks D-I Hampton 36-21
VUU Sports & Picture courtesy VUU
HAMPTON, Va. (AP) - Khalid Morris threw four touchdown passes, including three to Charles Hall, and Division II-member Virginia Union scored 22 unanswered second-half points to beat Hampton 36-17 on Saturday, September 7.
FOOTBALL James Heath
HAMPTON, Va. – Visiting Virginia Union scored the last 22 points of the game as they defeated Hampton University 36-17 on Saturday night.


The Panthers scored twice in under a minute of the first quarter as Khalid Morris threw an 80-yard touchdown pass to Charles Hall and then a 40-yard scoring pass to Taybus Taylor as the guests raced out to a 14-0 lead with 3:01 left.

Hampton scored all of its points in the second quarter as Deondre Francois connected with Jadakis Bonds on a 49-yard scoring pass at the 13:40 mark as Hampton trailed 14-7. Francois finished a 99-yard, 11-play scoring drive with a one-yard plunge to tie the game at 14 with 8:19 left. A 32-yard field goal by Evan Lomax at the halftime horn gave Hampton a 17-14 advantage.

Virginia Union used a pair of td passes from Morris in the second half to Charles Hall 28 yards and 44 yards along with a pair of Jefferson Souza field goals of 29 and 30 yards to help take command.

Taylor had 159 yards to lead Virginia Union on the ground, while Shai McKenzie ran 25 times for 112 yards to lead Hampton in the backfield.

Hampton now hits the road for its next two games starting in Chicago at the Chicago Football Classic when they face Howard at Soldier Field on September 14 at 4:30 pm EST.

For more information on Hampton University football, visit the official Pirates website at www.hamptonpirates.com.
KSU grinds out 13-7 upset
As junior transfer Jaylen Myers took a pair of knees from the victory formation, a dominating performance was sealed as the Kentucky State University football team went on the road Picture courtesy KSU
KYSU Volleyball splits pair of Games
CLEVELAND, TENN. - The Kentucky State University volleyball team split a pair of games Saturday, falling to host Lee University in straight sets and then defeated Erskine College in four.

---

to upset Football Championship Subdivision member Robert Morris, 13-7, Saturday in non-conference action at Joe Walton Stadium.

KSU, SIAC add men's volleyball Picture courtesy KSU

FRANKFORT - Kentucky State University's President Dr. M. Christopher Brown II and Director of Athletics Etienne Thomas today announced that KSU would be growing its stable of NCAA DII intercollegiate sports by adding Men's Volleyball starting with the 2020-2021 school year. The addition of Men's Volleyball was announced at a press conference on the KSU campus along with the news that KSU has received a $150,000 gift to Thoroughbred Athletics to support the new program.

"Men's professional volleyball is the third most popular sport in the world and boys' volleyball is on the rise in the USA. We are proud today to announce that Kentucky State is leading the way in being the first NCAA DII or DI HBCU to add Men's Volleyball," said Brown II. "It is smart for us to be in front of trends and especially compelling that the SIAC will be sponsoring men's volleyball conference-wide."

SIAC Commissioner Greg Moore announced that a total of six colleges from the SIAC, all HBCUs, will be announcing the addition of men's volleyball. Five more press conferences at five other institutions adding men's volleyball are scheduled Sept. 3-6. A total investment of $1 million is being made ($600,000 from First Point Volleyball Foundation and $400,000 from USA Volleyball) to support six SIAC colleges and the league in starting the sport.

Brown II came to Frankfort after serving as the executive vice president for academic affairs and provost at Southern University and A&M System. President Brown also previously served as president and institutional executive officer at Alcorn State University. He has served in other executive and academic roles at the American Association of State Colleges and Universities, Alcorn State University, Fisk University, University of Nevada at Las Vegas, the American Association of Colleges of Teacher Education and the United Negro College Fund.

"We are proud to support Kentucky State University as they provide more opportunities for kids to mature and develop through volleyball," said Wade Garard, CEO of First Point Volleyball Foundation. "We have volleyball donors from all over the country that aremaking this grant possible. USA Volleyball, AVCA and lots of volleyball families are joining together to provide opportunities to a new generation of boys to enjoy our great game."

Thomas came to KSU after serving at University of Kansas as a liaison with the Office of Institutional Opportunity & Access (IOA) and oversaw Diversity, Gender Equity & Inclusion education and training for student-athletes, coaches and staff, as well as student conduct for KU Athletics. She was also the sports supervisor for rowing. Prior to Kansas, Thomas worked at North Carolina Central University as the Associate Athletics Director for Internal Operations/Senior Woman Administrator, beginning in July of 2008,before being promoted to Senior Associate Athletics Director for Internal Operations/Senior Woman Administrator in the fall of 2016. Before her time at NCCU, Thomas served as the Director of Compliance at San Jose State University. She added the duties of associate athletics director in July 2006. As a sports supervisor in the Spartans' 16-sports program.

Thomas also introduced DiShondra Goree as the Kentucky State men's volleyball head coach. Goree will coach both the men's and women's volleyball programs. Goree came to Frankfort in 2016 after five seasons at her alma mater, Shaw University, where she coached Shaw's first team in program history to earn an automatic bid to the NCAA Regional Tournament.

"What a great opportunity for Kentucky State to jump into what is the fastest growing team sport in the United States for boys. I grew up in Fort Wayne Indiana where Boys Volleyball was prominent and we all knew Lloy Ball and programs like IPFW," said Goree."I am thankful to Director Thomas in having faith in me to lead volleyball here at KSU. I look forward to putting a product on the floor that everyone will be proud of."

Sharon Clark, President-elect of the AVCA expressed her enthusiasm and support of the SIAC and Kentucky State. Clark had been present at the NCAA Convention when Commissioner Moore invited Clark and Garard to present to the SIAC Council of Presidents. "What an historic day. To see this come to fruition is meaningful for our sport. The volleyball community including USAV, AVCA and others have worked hard to provide more opportunities for athletes and coaches of color in volleyball. But this announcement takes thing to a whole new level," Clark said. "We stand ready to assist these programs in any way they can."

John Speraw, head coach of the U.S. Men's National Volleyball Team and the founder of First Point Volleyball Foundation also spoke at the announced and said, "We talk at USA Volleyball about the Path to the Podium. It is not outlandish to think that a youngman playing in the SIAC conference in 2021 could be an Olympian in 2028 or 2032. Our work at First Point Volleyball Foundation is providing more opportunities for young people and it is also building our pipeline for more success at the international levelfor Team USA for decades to come."

First Point Volleyball Foundation and USA Volleyball have both made diversity a strategic priority initiative and Jamie Davis, USA Volleyball's CEO believes the impact of HBCUs offering Men's Volleyball will be profound. "USA Volleyball is proud to be supporting this SIAC initiative to bring men's varsity volleyball programs to six HBCU schools including Kentucky State University. As the National Governing Body for volleyball, we strive to increase the diversity and inclusion in our sport. I applaud the leadership and vision being shown by President Brown, Commissioner Moore and all six of the schools' presidents and athletic directors which will surely increase the participation of African-American men playing volleyball and lead to new athletic and academic opportunities for young boys. This program will serve as a new Path to the Podium for these men to potentially join our national teams and represent Team USA across the globe," Davis said.


About the Southern Intercollegiate Athletic Conference
The SIAC is a NCAA athletic conference consisting primarily of historically black colleges and universities with headquarters in downtown Atlanta, Georgia. The SIAC includes 14 member institutions (Albany State University, Benedict College, Central State University, Clark Atlanta University, Fort Valley State University, Kentucky State University, Lane College, LeMoyne-Owen College, Miles College, Morehouse College, Paine College, Savannah State University, Spring Hill College, and Tuskegee University), which are located within a contiguous six-state footprint (Alabama, Georgia, Kentucky, South Carolina, Tennessee and Ohio). The SIAC sponsors seven men's and six women's sports and is a proud member of the NCAA Division II. For more information, visit www.thesiac.com.

About First Point Volleyball Foundation -
Founded in 2016 by John Speraw, Head Coach of the USA Men's National Team and UCLA Men's Volleyball, First Point Volleyball Foundation exists to provide opportunities for young people to mature and develop through volleyball. Specifically focused on growing boys' and men's volleyball in the United States, First Point Volleyball Foundation initiates and celebrates FIRST POINTS whether that is a first point of a new NCAA team, or a new high school team, or a first point of competitive volleyball for a 12 year-old. First Point Volleyball has raised $3 million in less than three years and has helped start 16 new collegiate men's volleyball programs. The Foundation has three strategic initiatives: (1) Growing collegiate opportunities; (2) Growing high school boys' opportunities; and (3) Extending our Reach Diversity Initiative - expanding volleyball opportunities to boys and men of color. www.firstpointvolleyball.com.

About USA Volleyball
Founded in 1928, USA Volleyball is a non-profit organization recognized by the United States Olympic Committee (USOC) and the International Volleyball Federation (FIVB) as the National Governing Body for the volleyball disciplines of beach, indoor, sitting, snow and beach ParaVolley in the United States. With more than 370,000 registered members, USA Volleyball conducts national championship events, coaching and referee certification programs, and grassroots development across all disciplines in a lifetime sport in which all can participate. USA Volleyball's teams have won an Olympic medal in every Olympic Games since 1984, four Paralympic medals since 2004 and numerous World Cup, World Championship and Continental Championship titles. For more information on USAVolleyball, visit www.usavolleyball.org.#PathtothePodium

About Boys' and Men's Volleyball in the United States
Boys' volleyball is exploding. It is the fastest growing team sport in the United States for high school boys, growing at 22% over the last five years. The 2nd fastest growing sport grew by only 10% and football decreased 9% over the same five-yea period. With 63,563 boys playing high school now it is projected that 100,000 boys will be playing by 2026. Minnesota added 1,000 boys volleyball players and 51 high school teams in the last two years alone. Colorado just officially sanctioned boys' high school volleyball and sanctioning initiatives and pilots are underway in 18 additional states. New Men's Volleyball programs have been initiated in 80 universities in the last five years alone - mostly at the DII, DIII, and NAIA levels. In 2018, First Point Volleybal lFoundation provided Saint Francis College- Brooklyn (a Division I institution) a $100,000 grant to add Men's Volleyball beginning in 2019-2020.
Fayetteville State holds off Benedict 35-21
Adrian Ferguson
Picture courtesy FSU
Playing a seven o'clock start time, it was a lights and cannon spectacle in Luther Nick Jerald Stadium as Fayetteville State football started its season on the right note with an impressive 35-21 victory over Benedict College.

The Broncos jumped out to a 26-0 halftime lead and the stifling Fayetteville State defense held the Tigers to 74 total offensive yards on 64 plays in the game. The Broncos recorded five sacks, 14 tackles for losses, while Benedict committed five turnovers (three lost fumbles [six total] and two interceptions) and two safeties. On offense, Collyn Anderson went an efficient 16-of-28 for 154 yards and two touchdowns.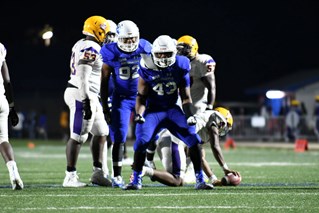 It was the Broncos' defense that provided the key moments early in the game for Fayetteville State with the defense executing a goal line stand after a blocked Broncos' punt on their first drive. Following the goal line stand and Shawn Andrews converting a 34-yard field goal for FSU with 3:27 left in the first, the Broncos' defense scored the first two touchdowns of the season late in the first quarter with Chrishon Springs recovering a fumble and returning it 20 yards and Brandon Smith returning a bad snap on a punt six yards for the second touchdown.

Trailing 17-0 with 9:30 on the clock in the second quarter, the Tigers missed a 36-yard field goal. Anderson made Benedict pay on the very next drive by connecting with Jayden Maynor for 68 yards to extend the lead with 24-0.

Benedict was plagued by special teams' issues and bad snaps all game. In addition to the bad snap that resulted in a touchdown, two more bad snaps on punts resulted in two safeties and four points for the Broncos. The Tigers' punterfumbled on another punt and Brandon Smith was able to recover the ball at Benedict's eight-yard line. Three plays later, Anderson connected with Tyeous Sharpe for an eight-yard touchdown to give the Broncos a 33-0 lead early in the third quarter. Another potential Tigers' special teams blunder was nullified when Johnnie Glaspie's kick return touchdown was called back due to a penalty.

Benedict finally got on the board early in the third quarter, with a 11-yard touchdown pass, buoyed by a 76 yard kick return from Myquerris McGrier-it was not all bad for the Tigers' special teams as Benedict also recovered a bad snapon a Broncos' punt in the endzone. Plus, Benedict scored a defensive touchdown of their own with a strip-sack and a 45-yard fumble return.

Stevie Green led the Broncos rushing with 70 yards on 19 carries and Nigel Peele led the defense with 11 tackles, including two tackles for a loss. Joshua Williams added three tackles for a loss and Markus Crutchfield had a team-high2.5 sacks.

Fayetteville State is home again in Luther Nick Jeralds Stadium next Saturday for a 7 p.m. kickoff against Wingate University.

Read More
Nationally-Ranked Towson Pulls Away from NCCU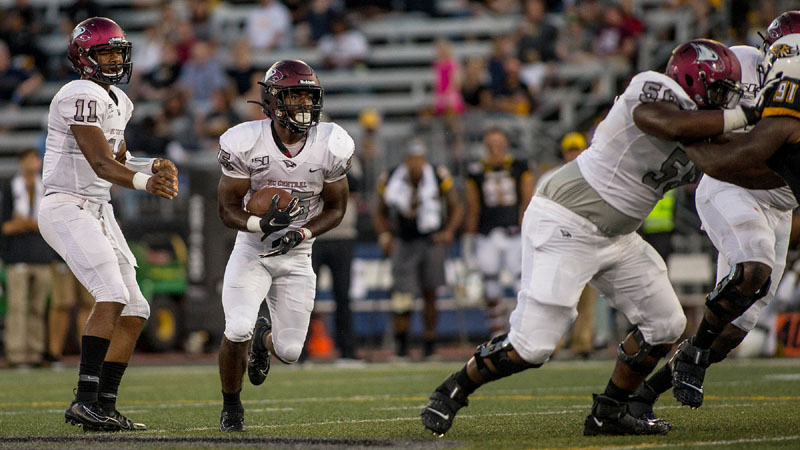 photo of Isaiah Totten by KeShawn Ennis
Kyle Serba
TOWSON, Md. – After suffering a 42-3 loss to No. 8 Towson University on Saturday night, first-year North Carolina Central University head football coach Trei Oliver was asked what he has learned about his team following two tough defeats to start the season. "They won't quit," Oliver said with emphasis.

"We have a young football team. We have 37 true freshmen on the team," Oliver said. "For us to come in here and play the eighth-ranked team in the country and be down with our backs against the wall, 28-0; the guys came out of the locker room and still fought. I love my guys, and they'll go to war for us."

Of NCCU's 281 yards of total offense, 173 were posted after intermission, compared to 159 total yards in the second half by the nationally-ranked Tigers.

Near the end of the third quarter, NCCU linebacker Jerome Foster ripped the ball away from a Tiger and Eagles defensive back Stephen Stokes pounced on the fumble to force a turnover, the fourth takeaway of the season by the NCCU defense. Twelve plays later, NCCU cashed in on the fumble recovery with a 33-yard field goal off the foot of freshman kicker Adrian Olivo.

A balanced NCCU defensive performance was topped by senior safety Deonta Fair and Stokes with five tackles apiece, while defensive ends Darius Royster and Kawuan Cox each registered a sack.

Junior running back Isaiah Totten contributed 60 of NCCU's 111 rushing yards, while redshirt freshman Latrell Collier added 32 yards and junior Jordan Freeman 27 yards on the ground for the Eagles.

NCCU freshman quarterback Darius Richard came off the bench to complete 10 of 23 passes for 109 yards, along with an interception. Junior receivers Nique Martin and Ryan McDaniel collected five catches each, with Martin tallying a game-high 80 receiving yards.

Towson (2-0) quarterback Tom Flacco, the brother of NFL signal caller Joe Flacco, passed for 228 yards and three touchdowns, while also running for a score to top the Tigers.

Up next, NCCU (0-2) travels to Boiling Springs, North Carolina, to take of Gardner-Webb University on Sept. 14.
Red Zone Woes, Turnovers Hand Hawks Opening Loss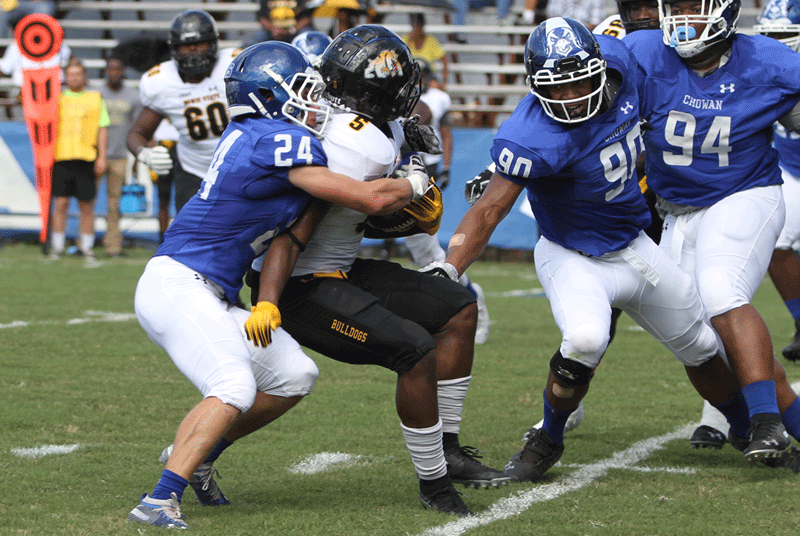 Picture courtesy Chowan
Evann Carpenter
WISE, VA. – The Chowan football team started off the contest slow against UVa-Wise in their season opener and could not keep pace as the Hawks dropped a 40-22 decision on the road on Saturday afternoon.

THE BASICS

FINAL | Chowan 22, UVa-Wise 40

RECORDS | Chowan 0-1, UVa-Wise 1-0

LOCATION | Wise, Va. (Carl Smith Stadium)

INSIDE THE BOXSCORE

Featuring a top-20 offense (Chowan) and a top-20 defense (UVa-Wise), neither team held up to the hype as Chowan produced 417 yards of total offense, nearly 100 yards less than last season for Chowan and over100 yards more than UVa-Wise allowed last season.

The Hawks rushed for 233 yards on the ground led by Imeek Watkins with 64 yards. Watkins busted a 58 yard run. Tyrell Freeman and Deshaun Wethington chipped in with 62 yards each. Freeman added a touchdown run in the second quarter. Freeman's 62 yards made him the Chowan all-time leading rusher, passing DIII great Jawarren Cowles.

Bryce Witt finished 15-23 for 170 yards and an interception. Witt added a touchdown run. Jayden Riley went 3-7 for 14 yards and a touchdown to Kobe Chavis.

Defensively, the Hawks produced a sack and six tackles for loss. Connor O'Brien led the charge with 12 tackles. Colby Scott had seven tackles, one for loss, and a forced fumble. Jason Jones forced a safety.

Chowan had six trips to the redzone compared to four by UVa-Wise. Both squads converted on three trips.

HOW IT HAPPENED

First Quarter:

The Cavaliers would take the opening kick-off 66 yards to set-up in plus territory at the CU 33. The Cavs would score six plays later to take a 7-0 lead.

On the first drive for the Hawks, Chowan started moving the ball with quick strikes to Tyrell Freeman and Adrian McNeil. Chowan would turn the ball over on downs at the WISE 35.

On the second drive, Chowan marched the ball into the redzone after a 23 yard punt return by Imeek Watkins. BryceWitt's pass would be intercepted in the endzone.

The defense would hold and force a punt, getting the ball back at the WISE 33. Down inside the redzone again, the Cavs defense stood tall and stripped Witt and returned it for a touchdown to take a 13-0 lead.

Second Quarter:

After a stalled drive for the Hawks, UVa-Wise returned the ensuing punt return 91 yards for a score. The Cavs converted the two-point conversion to lead 21-0.

The next two drives for the Hawks ended in punts. John Kight pinned the Cavs deep on their own five yard line. Jason Jones would string out the run and tackle the runner in the endzone to put the Hawks on the scoreboard down 21-2.

Following the safety, the Hawks would pick up some steam getting an 11 yard pass from Bryce Witt to Tyrell Freeman. Witt would connect with Ra'Cee Lucas for a 25 yard pass to the WISE 13. Freeman would do the rest on the ground for the touchdown to cut the deficit to 21-8.

The final drive of the half for UVa-Wise showed promise marching the ball down to the CU 1. Josh Berry stopped a run for a loss and forced a Cavs field goal attempt with two ticks left. Chowan called two timeouts to "ice" the kicker. The 24 yard attempt would miss left.

Third Quarter:

The opening drive of the half for the Hawks went the wrong way as two sacks forced a punt. The punt would be returned for a touchdown but would be wiped out onan illegal block. The next play, UVa-Wise went 62 yards for a touchdown run to lead 27-8 after the PAT was blocked by Antonio Hines.

Imeek Watkins would help the Hawks' offense taking the end-around for 58 yards. Bryce Witt called his own number from 10 yards out for the score.

UVa-Wise continued to have a strong special teams effort starting their next drive at their own 48. The Cavs would use an eight play 52 yard drive ending with a19 yard touchdown pass to push the deficit to 33-15.

The Cavs stretched the lead to 40-15 after a stalled Chowan drive.

Fourth Quarter:

Deshaun Wethington would do his damage in the fourth quarter on the ground picking up small chunks on the drive. Imeek Watkins hauled in a 36 yard completion from Bryce Witt. Witt found Adrian McNeil for a 17 yard completion but ended up a yard short and turned the ball over on downs.

The Cavs started milking the clock as the Hawks started their next drive with 7:58 remaining following an Aristotle Bowles sack on third down. Brandon Hughes rushed for 20 yards on the drive and was capped off by an 8-yd touchdown pass by Jayden Riley to Kobe Chavis, 40-22.

UP NEXT

Chowan will host Alderson-Broaddus on Sept. 14 in a non-conference contest. Kick-off is slated for 1pm at Garrison Stadium.
Chowan Women's Soccer Hosts Shaw On Monday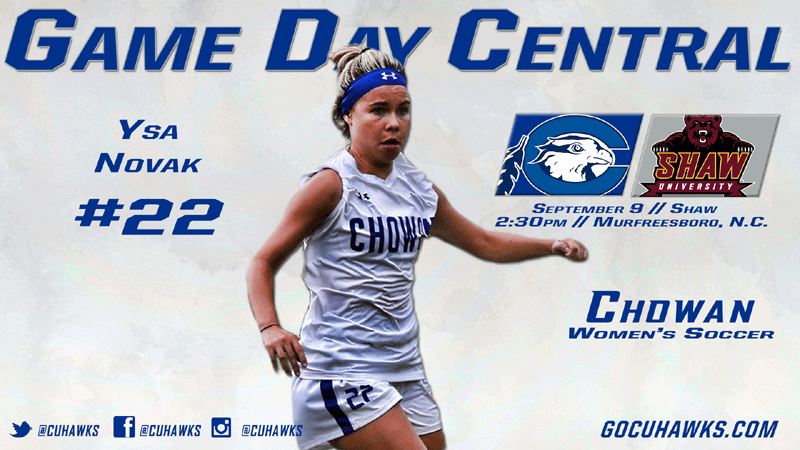 Picture courtesy Chowan
Evann Carpenter

MURFREESBORO, N.C. – The Chowan Women's Soccer team will look to rebound from their opening loss of the season to take on Shaw in a non-conference contest.

WHEN Monday, September 9 | 2:30pm

WHERE Murfreesboro, N.C. (Hawks Field)

FOLLOW GAMEDAY CENTRAL (Stats/Video)

HAWKS HIGHLIGHTS

Chowan finished the 2018 season with a 9-7-1 overall record and their second straight trip to the Conference Carolinas Semifinals. The Hawks is 0-1-0 on the season after suffering a loss to #19 Lincoln Memorial last week.

The Hawks return16 players from last season's squad including 30 of their 31 goals scored. Headlining the team is Conference Carolinas First Team selections: Sabrina Henderson and Carolina Lucci, both scored double-digit goals last season.

The back line of the Hawks is anchored by Asia Fort, Rebekah Langley, and Shannon Park.


CAGING THE BEARS

The Shaw Bears finished the 2018 season with a 12-4 overall record in just their second season. The Bears picked up wins against Conference Carolinas members, Converse and Southern Wesleyan.

Shaw returns their leading scorer from last season in Jasa Curry as she posted 23 goals. The Bears will be under the direction of Randy McClure in his first competition as head coach.
Flashback 2018-2019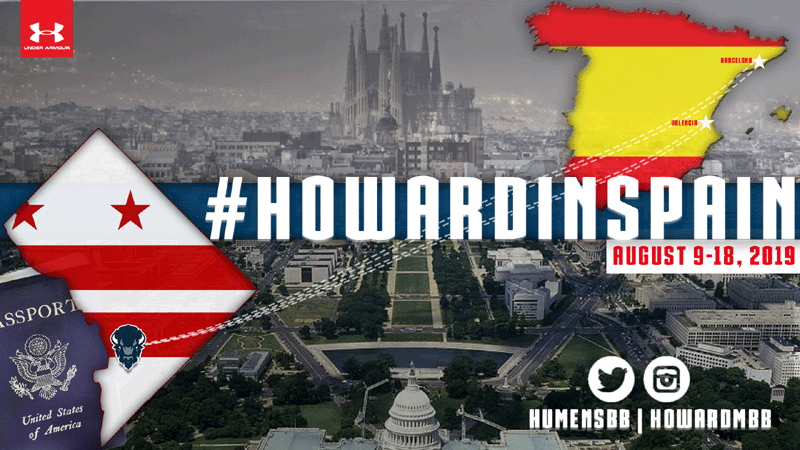 Howard Men's Hoops Heads to Europe in August

Bison prepare for Summer Tour in Spain

DEREK W. BRYANT

(Photo Credit – Howard Athletics)

WASHINGTON (June 26, 2019) – First-year head coach Kenneth Blakeney and the Howard University men's basketball team heads to Europe for a Summer Tour in Spain this August. The tour runs August 9-18 in Barcelona and Valencia, featuring team-bonding activities throughout the trip while playing three competitive contests.

"I love that our student-athletes have this chance to represent Howard University on a global stage in Spain," said Blakeney. "This trip will be a great educational, cultural, team and basketball experience that our guys will remember for the rest of their lives."

The tour begins in Barcelona, home of the 1992 Summer Olympics Games where the world witnessed arguably one of the greatest men's basketball teams assembled, the U.S. Dream Team.

During the team's visit in Barcelona, they will take a tour of the famous Camp Nou Stadium, home of FC Barcelona, followed by a bike tour through the city and cruise on the Mediterranean Sea. Howard wraps up its stay with a pair of games and a tour of the Temple Expiatori de la Sagrada Família, a large unfinished Roman Catholic church in Barcelona, built in 1882.

"This trip will give us an opportunity to bond [as a team]," Blakeney continued. "We'll also get to see how we compete before we start practice in the fall."

Midway through the tour, Coach Blakeney's squad journeys to Valencia where the city is known for its arts and sciences, with futuristic structures including a planetarium, an oceanarium and an interactive museum.

In Valencia, the Bison will play its final contest while building chemistry through activities like a team scavenger hunt.

"It's such a unique experience that will provide great momentum towards the improvement of our program," Blakeney added. "No matter how much you train or practice, you really don't know about a team until you see it in game competition."

Through the NCAA Bylaws, Howard may begin training for Spain as early as Tuesday, July 30.

All questions concerning access to the tour should be directed to Keith Coutreyer (keith.coutreyer@howard.edu).

About Howard University Athletics

The Howard University Department of Intercollegiate Athletics sponsors 19 NCAA Division I men and women varsity sports. The programs represent six conferences: The Mid-Eastern Athletic Conference (MEAC), Southwestern Athletic Conference (SWAC), Coastal Collegiate Swimming Association (CCSA), Sun Belt Conference, Eastern College Athletic Conference (ECAC) and Atlantic Sun (ASUN) Conference.

About Spain

Spain, a country on Europe's Iberian Peninsula, includes 17 autonomous regions with diverse geography and cultures. Capital city Madrid is home to the Royal Palace and Prado museum, housing works by European masters. Segovia has a medieval castle (the Alcázar) and an intact Roman aqueduct. Catalonia's capital, Barcelona, is defined by Antoni Gaudí's whimsical modernist landmarks like the Sagrada Família church.

For more information, visit the Bison Athletics website at www.HUBison.com.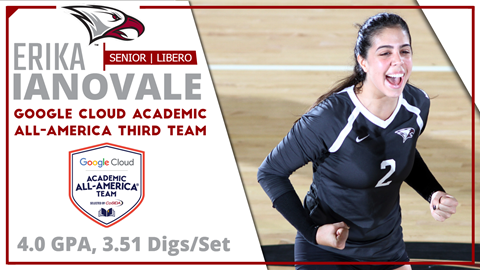 NCCU's Ianovale Named to Google Cloud Academic All-America Team

2018 Google Cloud Academic All-America® Volleyball Team
Picture courtesy NCCU
DURHAM, N.C. — North Carolina Central University senior libero Erika Ianovale has been voted to the 2018 Google Cloud Academic All-America® Volleyball Team, which recognizes the nation's top student-athletes for their combined performances athletically and in the classroom, as announced by the College Sports Information Directors of America (CoSIDA).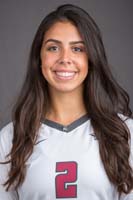 Ianovale made Third Team and is just one of 22 honorees to be selected Google Cloud Academic All-America® Volleyball Team out of student-athletes from 336 NCAA Division I volleyball programs. She is the only award winner from the Mid-Eastern Athletic Conference (MEAC). Ianovale is the 10th NCCU student-athlete to earn this distinction (sixth in the modern DI era) and first-ever from the volleyball program.

"It's fantastic," said NCCU third-year head coach Jody Brown. "Erika is a super hard worker. She is an extremely intelligent young lady, who is very focused on her career. She has been carrying 18 hours ever since she came here. She is multilingual – fluent in three or four languages. She has been exactly what we have been looking for in regards to being a mature student-athlete. We have been thrilled to have her both on the court and off the court."

Ianovale boasts a perfect 4.0 grade point average (GPA) as a mass communication major at NCCU. She transferred in after earning an Associate of Arts degree from State College of Florida. The Dean's and President's List award winner is a member of Lambda Pi Eta, Public Relations Student Society of America and the social media committee of the Student-Athlete Advisory Committee (SAAC). Ianovale, who is concentrating on public relations and is working on a minor in Spanish, plans to work in the United States for a few years with a multinational or international corporation dealing with other countries and cultures.

Ianovale, who was born in Milan, Italy, but resides in Sao Paulo, Brazil, was named the NCCU Student-Athlete of the Month in September. She is one of just two Lady Eagles to play in all 91 sets this season for NCCU.

The repositioned libero finished her final season ranked sixth in the Mid-Eastern Athletic Conference (MEAC) with 3.51 digs per set. She switched positions from outside hitter as a junior to libero in her final season. Ianovale immediately made an impact on defense and posted double-digit digs in 20 of 25 matches.

"It just speaks volumes to the level of commitment she has for the things she chooses to do," said Brown when asked about her ability to perform well at a new position.

Ianovale supplied a season-high 25 digs in a 3-2 win over Jackson State University. Her 15 digs against Bethune-Cookman University helped the Lady Eagles upset the preseason favorites in the Southern Division in NCCU's league opener.

"Erika has been a great role model and leader for us, both on and off the court," said Brown. "Her maturity and commitment to her team and academics has really stood out and will be the backbone of her future success."

To be nominated, a student-athlete must be a starter or important reserve with at least a 3.30 cumulative grade point average (on a 4.0 scale) at their current institution. Nominated athletes must have participated in at least 50 percent of the team's games and they are not eligible until they have completed one full calendar year at their current institution and has reached at least sophomore athletic eligibility.
---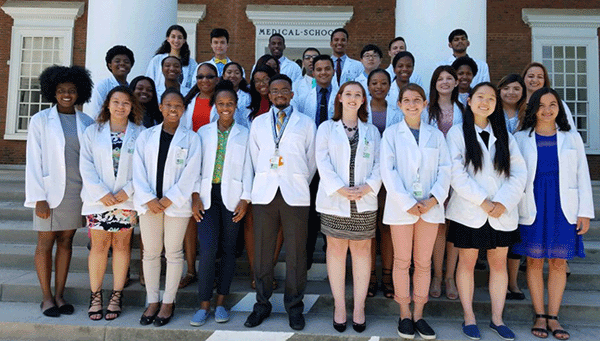 PETTAWAY BROADENING HORIZONS OFF THE COURT
Evann Carpenter
Picture courtesy KSU
MURFREESBORO, N.C. - For most student-athletes the summer is a relaxing time before returning to campus for another intense academic and athletic year. For Jordan Pettaway, member of the Chowan Women's Basketball program, this summer is all work and no play. Pettaway was one of 30 undergraduate students nationwide to spend six weeks at the University of Virginia School of Medicine in their new Summer Medical Leadership Program. The Summer Medical Leadership Program (SMLP) is an intensive six-week residential medical academic enrichment program for 30 undergraduate students that make up underrepresented groups and/or disadvantaged backgrounds who are interested in pursuing careers in medicine. The number one goal of SMLP is to expose the participants to the "real world of medicine" to prepare them not only for admission to medical school but to assume future leadership positions in medicine/biomedical field.
Hawks Athletics Announce 2019 Themed Football Games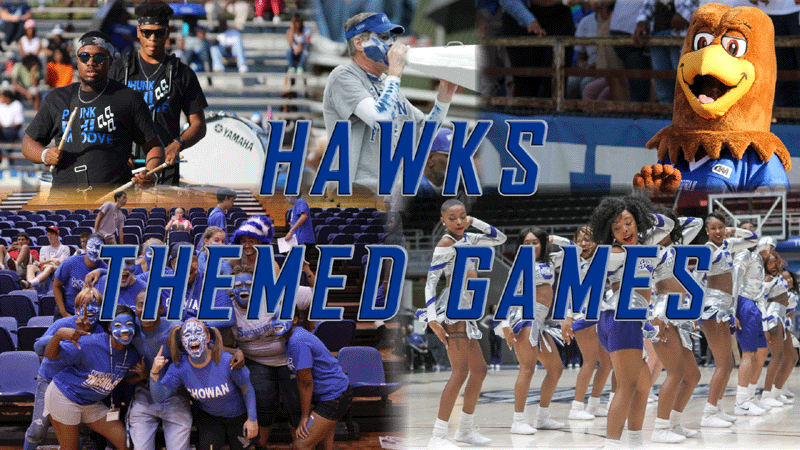 MURFREESBORO, N.C. - The Chowan University Department of Athletics is excited to announce its themed games for the 2019 home football season. The Hawks will host four home games this season, the first being Saturday, September 14th when Alderson Broaddus comes to town for a 1:00pm kick off.

September 14, 2019-vs. Alderson Broaddus, 1:00pm, Garrison Stadium

CU ACADEMIC CHAMPIONS DAY / COMMUNITY & CLUB DAY

The Athletic Department will recognize two groups this Saturday. First, all student-athletes with a 3.0 or higher cumulative grade point average. Second, the department will recognize clubs and organizations on campus. Campus advisors and/or club officers will be recognized in between quarters of the game. If interested in participating please contact Meredith Long, longm@chowan.edu. The department will host our annual community function during the contest with a tailgate, face painting, inflatables and more.

September 21, 2019-vs. Shaw, 6:00pm, Garrison Stadium
MILITARY & FIRST RESPONDERS DAY
Please join the CU community for Military & First Responders Appreciation Day where all retired and active members with a Valid ID will receive free admission to the game. We will also recognize those military and first responders in attendance at halftime of the game.

October 26, 2019-vs. Elizabeth City State, 1:00pm, Garrison Stadium
HOMECOMING & I'M A HAWK DAY
At halftime of the game the University will recognize the 2019 Distinguished Alumni class followed by the 2019 CU Homecoming Court and crowning of the 2019 CU Homecoming King and Queen. The athletic department is asking that all CU fans wear CU Blue to support the Hawks on game day and help us BLUE OUT the stands! There will be a video made this game where fans can participate in a "I'M A HAWK" production.

November 2, 2019-vs. Virginia State, 1:00pm, Garrison Stadium
HALL OF FAME GAME & CU TEAM DAY
The CU Athletics Department will recognize the 2019 CU Athletics Jim Garrison Hall of Fame class at halftime of the game. In between quarters, all athletic teams will be recognized and are asked to dress in team issued gear.