Rattlers honored at S.C. Statehouse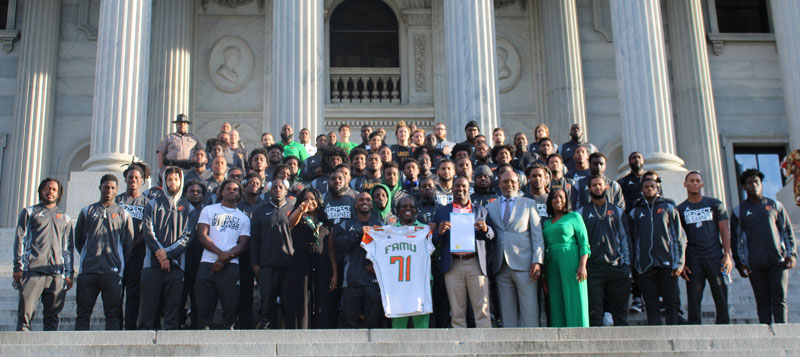 Brian Howard Maurice Williams Photo courtesy FAMU

COLUMBIA, S.C. | The Florida A&M University football team was honored late Friday afternoon with a proclamation by South Carolina representative and FAMU alumnus Gilda Cobb-Hunter at the South Carolina Statehouse.

Cobb-Hunter is a Democratic member of the South Carolina House of Representatives and is her 27th year representing District 66 in Orangeburg County and resides in Orangeburg, S.C. She was awarded Florida A&M's National Alumni Association 2014 Distinguished Alumnus Award and is the first African American woman to be elected into the state house for the county she represents.

"I want to tell you how proud I am of the work you are doing," Cobb-Hunter said. "What you are doing here at FAMU, doing this community service stuff, going to visit veterans and coming to the South Carolina Capital, all of this is a part of growing and a part of learning. I want you all to fully appreciate is once you leave the Highest of Seven Hills in Tallahassee, you are going to wind up somewhere, but wherever wind up, you will make a difference, because that is what Rattlers do."

After Cobb-Hunter's proclamation, she was awarded an autograph jersey by FAMU head coach Willie Simmons, before wrapping up the day with a team photoon the statehouse steps. Lastly, Cobb-Hunter and members of the team visited the African American Monument located on the statehouse grounds.

Florida A&M looks to snap a 14-game losing streak to South Carolina State on Saturday. Kickoff from Oliver C. Dawson Bulldog Stadium is set for 2 p.m. and the game will be streamed live on ESPN3, with a rebroadcast on ESPNU at 10:30 p.m.

Follow Florida A&M Athletics

For complete coverage of Florida A&M athletics, visit the official home of Florida A&M Athletics at famuathletics.com.
Chowan Swimming Concludes Races at Barton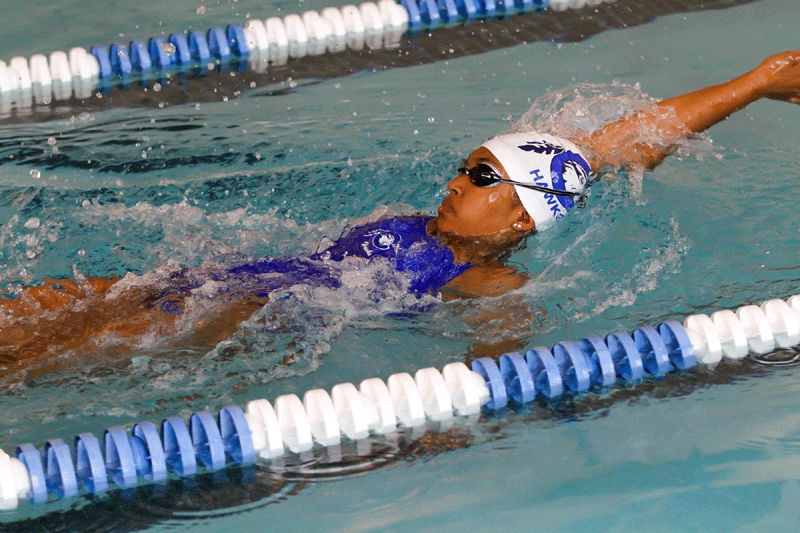 L Charlotte Dinkins Photo courtesy Chowan
WILSON, N.C.-The Chowan Men's and Women's Swimming team wrapped up the second day of competition against Barton and Lees-McRae on Saturday afternoon.

THE BASICS
DAY TWO | Men- Lees-McRae 210.00, Chowan 144.00
Men- Barton 306.00, Chowan 65.00
Women- Chowan 191.00, Lees-McRae 151.00
Women- Barton 274.00, Chowan 97.00

LOCATION | Wilson, N.C.

Complete Results Here

INSIDE THE LANES
200 Medley Relay
For the Women:
The Hawks A team took fourth place with a time of 1:58.88 with Ashley Hernandez, Julia Stegmaier, Jasmine Gibson and Grace Arredondo.
The B team consisted of Atar Idrissi, Erin Garza, Megan Reid and Marissa Mann who swam a 2:06.15

For the Men:
Taylor Woodard, Lucas Pels, Joshua Weidner and James Cameron touched the wall in 1:42.14 for fourth place while, Andrew Simmons, Marshall Stevens, David Clark, and Jordan Walker posted a time of 1:49.78.

500 Free
For the Women:
Atar Idrissi took fifth place overall with a time of 5:47.65 while Erin Garza clocked a time of 6:11.19 for the Hawks.

For the Men:
Igor Proszynski secured a third place finish after he swam a 4:56.87 for Chowan. With a time of 5:11.09 Lucas Pels took home a fifth place finish.

50 Fly
For the Women:
After clocking a time of 28.44 Jasmine Gibson took fourth for Chowan. Megan Reid and Marissa Mann finished in sixth and seventh respectively.

For the Men:
Joshua Weidner swam a 24.84 for third place while David Clark finished in seventh with a 25.70 in his race.

200 Back
For the Women:
Ashley Hernandez and Taylor Bitting took home fifth and sixth place for the Blue and White.

For the Men:
Taylor Woodard recorded a 2:13.56 while Andrew Simmons swam a 2:27.82 for Chowan.

100 Breast
For the Women:
Grabbing second place was Julia Stegmaier who touched the wall in 1:10.24. Mackenzie Lucy posted a 1:16.69 for sixth place.

For the Men:
Garrett Kirkland posted a 1:05.17 for the Hawks while Marshall Stevens recorded a 1:08.94 on Saturday.

200 Fly
For the Women:
After swimming a 2:33.58, Marissa Mann finished in fourth place. Jasmine Gibson finished in sixth place overall with a time of 2:36.88

For the Men:
Taking home fifth place was Shaine Olmstead who swam a 2:09.02 in his race. Joshua Weidner clocked a time of 2:15.61 for Chowan.

50 Back
For the Women:
Taking home fifth place was Ashley Hernandez who touched the wall in 31.08 while, Atar Idrissi posted a 31.48 for the Hawks.

For the Men:
Taylor Woodard took fifth overall with a time of 26.98 while, James Cameron posted a 28.12 in his race.

100 Free
For the Women:
Julia Stegmaier recorded a time of 57.09 for fourth place. Grace Arredondo finished in sixth place with a 58.57 in her event.

For the Men:
After posting a 50.67, Lucas Pels took seventh place, while Justin Lough followed in eighth place with a 50.86 swim time.

200 IM
For the Women:
Erin Garza took fourth place with a time of 2:28.87 while Vivian Lyle took home a seventh place finish after posting a 2:51.28.

For the Men:
Marshall Stevens and Kyle Sheridan clocked a 2:21.32 and 2:31.23 respectively.

400 Free Relay
For the Women:
The Hawks took third place with Jasmine Gibson, Atar Idrissi, Grace Arredondo, and Julia Stegmaier who swam a 3:51.41.

For the Men:
James Cameron, Justin Lough, David Clark, and Igor Proszynski touched the wall in 3:23.92 for fourth place.

The B team took sixth place with Shaine Olmstead, Andrew Simmons, Marshal lStevens, and Jordan Walker clocked a time of 3:48.29.

UP NEXT
The Hawks will return home on Saturday, October 19 as they host Howard. First event is set to go off at 2:00pm.
Delucca Scores Twice As Chowan Shuts Out Bobcats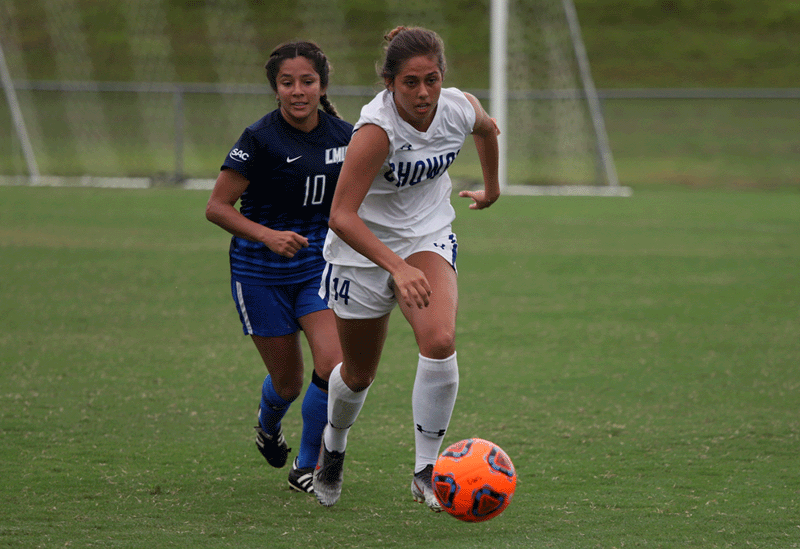 | Team | 1 | 2 | F |
| --- | --- | --- | --- |
| Lees-McRae | 0 | 0 | 0 |
| Chowan | 2 | 1 | 3 |
Evann Carpenter

MURFREESBORO, N.C. – The Chowan Women's Soccer team picked up their second straight shutout with a 3-0 victory over Lees-McRae at home on Saturday afternoon.

THE BASICS

FINAL | Chowan 3, Lees-McRae 0

RECORDS | Chowan 2-6-2 (2-3-2), Lees-McRae 0-10-0 (0-6-0)

LOCATION | Murfreesboro, N.C. (Hawks Field)

INSIDE THE BOXSCORE

Lillian DeLucca found the back of the net twice in the first half. Carolina Lucci would add the final tally off an assist by Sierra Gonzalez.

Lynzie Hulle picked up her second clean sheet stopping the three shots she faced.

Chowan outshot the Bobcats 15-6 and held the advantage 7-3 on frame targets.

HOW IT HAPPENED

First Half:

Lees-McRae went on the attack in the first minute of action as a run down the right side of the pitch allowed a ball to cross the face of goal but a Bobcat was not on the receiving end.

The Hawks had a chance in the sixth minute as the corner kick from Carolin aLucci found Lillian DeLucca inside the box but bounced off the keeper's chest and cleared away.

In the 11', Lillian DeLucca swiped the ball from the Bobcat defender and chipped the keeper from 25 yards out to the far post to put the Hawks up 1-0.

Kyra Cauthen would play a through ball up to Lillian DeLucca in the 33'. DeLucca was fouled in the box by the keeper and awarded the penalty. DeLucca would nail the PK and give the Hawks a 2-0 lead.

Second Half:

Sierra Gonzalez would corral a loose ball near midfield and slot a through ball up to Carolina Lucci on the right side of the box. Lucci would take two touches and find the far netting for the 3-0 advantage in the 48'.

Chowan would continue to keep the Bobcats behind the ball for most of the half.

In the 88', Jaime Calcagno would find an opening but was unable to sneak it past the Bobcat keeper.

UP NEXT

Chowan has the week off to prepare to travel to Bristol, Tenn. to take on Conference Carolinas foe, King, on Saturday, October 19. First touch is at 12pm.
FSU Broncos Fight Off Scrappy Shaw for 25-22 Victory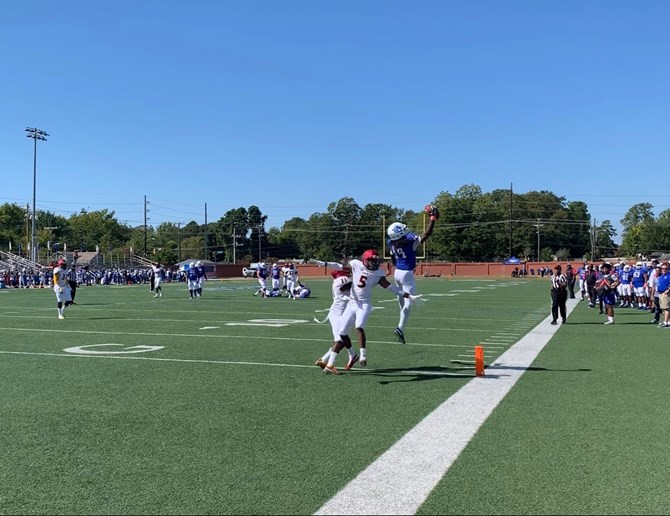 Adrian Ferguson Photo courtesy FSU

Fayetteville, NC - Fayetteville State had a slow start in the Luther Nick Jeralds Stadium but fought off a scrappy Shaw for a CIAA Southern Divisional 25-22 victory to remain unbeaten in the conference (3-0) and improve to 5-1 overall.
Richard Latimer (Charlotte, NC) led the way with 248 yards passing with 21 completed of 27 pass attempts. Johnnie Glaspie (Teachey, NC) rushed for 56 yards and had 42 yards receiving with a score. Chrishon Springs (Winston-Salem, NC) led the defense with 11 tackles.
Shaw (2-4 overall, 1-2 CIAA, 0-1 division) scored on its first possession and held a 14-3 lead with 9:17 left in the second quarter. The opening drive went nine plays for 74 yards in a little over four minutes.
Toshiro Spivey (Fayetteville) pulled in a six-yard pass from Latimer for the Broncos first touchdown at the 5:21 mark. Spivey score was on the end of a seven-play 78-yard drive. Elton Andrew (Salemburg, NC) kicked a 22-yard field goal with 4:54 left in the first quarter for FSU's first points.
Fayetteville State took a 16-14 lead before halftime (1:03) when Glaspie had an amazing a one-handed catch for 23 yards from Latimer. The drive covered 80 yards in five plays in 51 seconds.
The Broncos increased its lead to 23-14 after intermission (8:23 left in the 3rd quarter) with a one-yard run from Darnell Walker to cap a 14-play 80-yard drive.
Shaw was spotted two points after a bad FSU drive which resulted in a safety with 1:35 left in the third. A bad snap on a Bronco punt attempt went out the back of the end zone.
Fayetteville State regained those points with a safety of its own when Vidal Woodruff lost eight yards on a rush and fumbled in the Bears endzone. He recovered his fumble but couldn't advance.
Shaw scored the last touchdown of the game two seconds left on a 93-yard drive.
Torrin Campbell threw for 123 yards for Shaw off 13-of-21 passes with two touchdowns. Sidney Gibbs ran for 64 yards and one score.
Fayetteville State will travel to Charlotte, NC next Saturday for a matchup with the Golden Bulls of Johnson C. Smith (2-4 overall).
Rams Defense Powers WSSU to a 23-7 Win Over Johnson C. Smith
WSSU forces four turnovers in key division win
Trevin Goodwin
WINSTON-SALEM, NC – The Winston-Salem State Rams (2-4, 1-2 CIAA) put on a tremendous defensive performance to take a 23-7 win over the Johnson C. Smith Golden Bulls (2-4, 1-2 CIAA), Saturday afternoon. The Rams took the win behind a powerful defensive effort that included holding the Golden Bulls to just seven points and forcing four turnovers in the game.

While it was a great defensive effort that stole the headlines, the Rams also benefitted from a solid offense that took advantage of the defense's efforts. As a team, the Rams needed just 318 yards of total offense to claim the win as they held the Golden Bullsto just 118 yards of offense. WSSU sophomore quarterback Dominique Graves completed 11-of-16 passes for 122 yards and a touchdown while redshirt-senior Naiil Ramadan completed six-of-10 passes for 40 yards and a touchdown. WSSU junior running back Quardermane Sloan added 11 carries for 74 yards in the game as well. Senior tight end Darren Dowdell caught four passes for 59 yards and a touchdown.

After a scoreless first quarter of play, the Rams got on the scoreboard early in the game. The team took 7-0 lead when Dowdell caught a 30-yard pass from Ramadan that, along with the PAT kick, gave the Rams a 7-0 lead. The Rams added to the lead when freshman kicker Ivan Caro connected on a 26-yard field goal to go ahead 10-0. The Rams took the score into the locker at halftime.

The second half turned out to be a bit more exciting with both teams making big plays. The Rams found themselves challenged at the end of the third quarter when the team allowed a two-yard touchdown pass to the Golden Bulls. The ensuing PAT kick left the Ramson top, 10-7.

The fourth quarter was when the Rams really took things over with a pair of touchdowns. Sloane got things started with a seven-yard touchdown run. The missed PAT kick left the Rams on top, 16-7 with 7:27 left in the fourth quarter. The Rams put the game away when senior wide receiver Jonathan Allen caught a 54-yard touchdown pass from Graves to pull away, 23-7.

Defensively, the Rams dominated the game, holding the Golden Bulls to just 54 rushing yards and 59 passing yards. WSSU sophomore linebacker Ta'Shaun Taylor led the way with eight total tackles (seven solo), including three tackles for a loss and a sack. Healso had a fumble recovery. Cornerback Joshua Flowers had a career game with five total tackles and three interceptions and a pass breakup.

With the win, the Rams improve to 2-4 overall and 1-2 in Central Intercollegiate Athletic Association (CIAA) play. The team will return to action, Saturday when they head to nearby High Point, N.C. to take on the Saint Augustine's Falcons in the Furniture City Grid Iron Classic at A.J. Simeon Stadium. For more information on Rams football, log on to www.WSSURams.com.
Lady Eagles Drop Road Match to Defending Division Champs

Kevin Buczek

PICTURED: Archived photo of NCCU sophomore No. 14 Celene Morris and junior No. 15 McKayla Young (by Red Rocket Photography)

NOTES: NCAA box score with play-by-play attached.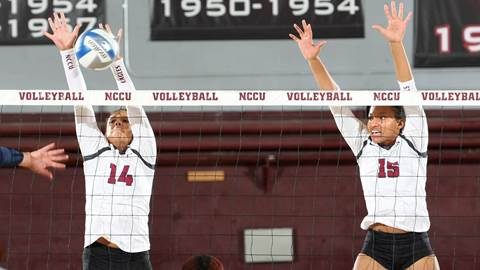 TALLAHASSEE, Fla. — Sophomore setter Celene Morris was one dig shy of her seventh double-double of the season to highlight play for the visiting North Carolina Central University volleyball team in a 3-0Mid-Eastern Athletic Conference loss at Florida A&M University on Friday.

The Rattlers, who are ineligible for the MEAC Championship Tournament, improved to 6-12 on the season and 4-1 in the league with the 25-23, 25-10, 25-20 triumph.

NC Central (3-15, 2-3) will conclude its five-match road swing with a battle at Bethune-Cookman University on Sunday at 1 p.m

NC CENTRAL HIGHLIGHTS & STATS:

Morris racked up 16 assists and nine digs to just miss her third MEAC double-double in five conference clashes.


Junior Christine Alcox topped NCCU's attackers with six kills. Sophomores Arlanda Faulkner and Estfania Louis each added four kills. Louis matched classmate Ammaarah Williams with three block assists.


Junior libero Yomaries Villegas paced the Lady Eagles with 13 assists.


FLORIDA A&M HIGHLIGHTS & STATS:


Maria Yvett Garcia also came up one dig shy of a double-double, leading the victors with 13 kills and nine digs.


1ST SET: In the tightest set of the match, a block by Faulkner tied up the frame for an eight hand final time at 22-all. However, a service error let the Rattlers regain the lead and a block and one of Alyssa Brown's seven kills in the match ended the two-point win for Florida A&M.


2ND SET: The hosts jumped out 8-2 and never looked back, hitting .412 in the 15-point win.


3RD SET: FAMU led for most of the third set as well, with NCCU never holding an advantagein the final game. The Lady Eagles still kept things close and were tied 17-17 before the Rattlers race away with the next four points before winning by five.


Hampton rallies to top UNC Asheville in Volleyball
James Heath
HAMPTON, Va. – The Hampton Lady Pirates opened a weekend homestand with a thrilling five-set win over UNC Asheville as the Lady Pirates came from a 2-0 deficit to win 11-25, 21-25, 25-19, 25-19, 15-13 at Holland Hall.

Hampton used a run midway through the fourth set to take a 13-9 lead on a Lena Reed-Petracek ace. The advantage grew to 20-15 before the Bulldogs scored a pair of points forcing a Hampton timeout. From there, Hampton used a pair of Genevieve Reynolds kills to even the match with a 25-19 fourth set win.

The final set saw six ties with the latest being at 13, but kills by Clara Smith and Gabby Calloway gave Hampton a dramatic 15-13 fifth set and match win.

Hampton returns to action on Saturday at 4 pm hosting USC Upstate.

For more information on Hampton University volleyball, visit the official Pirates website at www.hamptonpirates.com.
MEAC Football Week 7: ESPNU Thursday Night Game Can Affect Conference Race

Maurice D. Williams
Florida A&M Rattlers (4-1, 2-0) vs. South Carolina State Bulldogs (3-1, 1-0 MEAC)

Saturday, Oct. 12 • Bulldog Stadium • Orangeburg, S.C. • 2 p.m.

TV: ESPN3 (Rebroadcast on ESPNU at 10:30 p.m. EST)

Florida A&M quarterback Ryan Stanley completed 22 of 32 passes for 306 yards and four touchdowns in the Rattlers' 28-21win over North Carolina Central this past weekend. was named the BoxToRow National Player of the Week on Monday, and Stanley needs just 27 yards to break Quinn Gray's school record for career passing yards (7,378). In addition, he needs just seven touchdown passes to become the Rattlers' all-time leader in that category. Receiver Xavier Smith had nine catches for 129 yards and a pair of scores. South Carolina State quarterback Tyrece Nick was named MEAC Offensive Player of the Week for his performance in the Bulldogs' 38-24 win over Delaware State. Nick completed 16 of 28 passes for 253 yards and a school-record five touchdown passes. The record was previously held by Marvin Marshall (1994), Reese Mc Campbell (2000 and 2003) Malcolm Long (2009) and Richard Cue (2013) with four. He also displayed his dual threat ability, with 14 carries for 105 yards. Wide receiver De'Montrez Burroughs finished with five catches for 99 yards and two touchdowns. South Carolina State racked up a season-best 452 total yards on offense. South Carolina State won the last meeting between the schools, 44-21, last year.

Maurice D. Williams
Norfolk State Spartans (1-5, 0-2 MEAC) vs. Howard Bison (1-5, 1-1 MEAC)

Saturday, Oct. 12 • Greene Stadium • Washington, D.C. • 1 p.m.

TV: MEAC Digital Network / ESPN3

The Spartans enter the game with four straight losses after falling 58-19 to North Carolina A&T last weekend. Quarterback Juwan Carter completed 24 of 44 passes for 252 yards and a touchdown in the loss. He spread the ball around, as eight different receivers caught a pass and four caught at least four passes. In his second career start, Howard freshman quarterback Quinton Williams threw for 224 yards and a touchdown in last weekend's 62-17 loss to Harvard. Receiver Kyle Anthony had four catches for 118 yards and needs just 12 catches to become the program leader in that category. Despite the loss, Howard made history, as it was the first time Harvard played an HBCU in football. Howard will welcome Norfolk State to D.C. for Homecoming. The two schools have been evenly matched in recent years, splitting the last four meetings. Norfolk State won last year, 29-17.
Delaware State Hornets (1-4, 0-3 MEAC) vs. Morgan State Bears (0-5, 0-2 MEAC)

Saturday, Oct. 12 • Earl Banks Field at Hughes Stadium • Baltimore, Md. • 1 p.m.

TV: MEAC Digital Network / ESPN3

Linebacker Rico Kennedy was named the MEAC Defensive Player of the Week for his performance in the Bears' 31-20 loss to Bethune-Cookman this past Saturday. He racked up a game-high 15 tackles (four TFL) to go along with a sack and a pick. Receiver Manasseh Bailey was named MEAC Specialist of the Week after he blocked a punt and recovered the ball in the end zone for the Bears' final score. Freshman quarterback Tylik Bethea went completed 17 of 37 passes for 198 yards and a touchdown in the Hornets' home loss to South Carolina State, and the 17 completions and 198 yards both marked career highs for the young passer. Linebacker Pontraille Gray, filling in for Preseason Defensive Player of the Year Brian Cavicante, led the Hornets with a career-high11 tackles (nine solo), including a sack and 2.5 tackles for loss. D'Andre Blue-Eli had his team-high second interception of the season. This game marks the Bears' Homecoming game. The Bears have won three of the last four matchups, including a 9-0 victory last season.