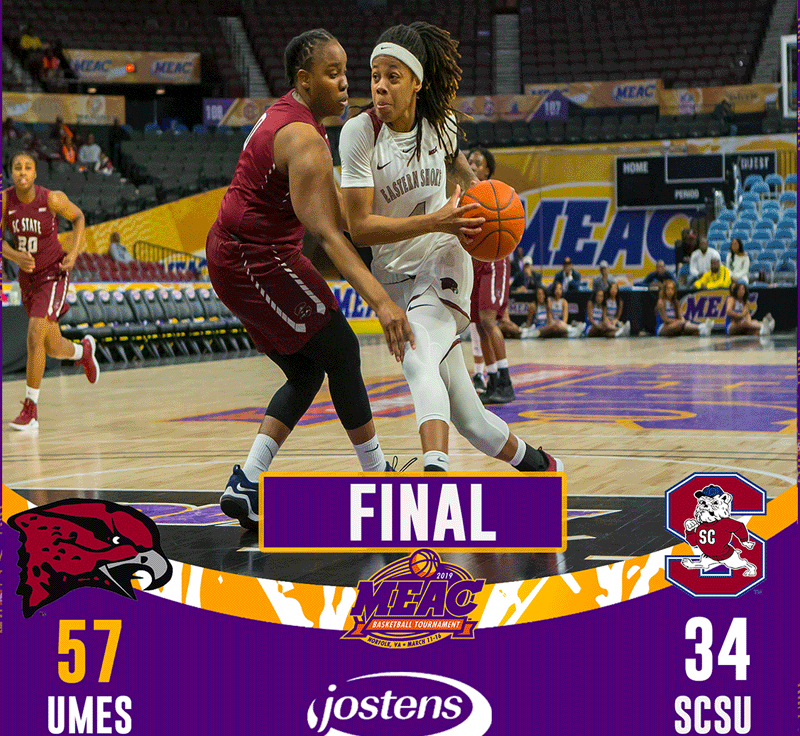 MEAC Basketball Tournament: UMES 57, SCSU 34
Jeff Cunningham
NORFOLK, Va., March 13, 2019—No. 2 seed Maryland Eastern Shore overcame a slow start on Wednesday to defeat South Carolina State 57-34 in the quarterfinals of the 2019 Mid-Eastern Athletic Conference (MEAC) Basketball Tournament at Norfolk Scope Arena.

The Hawks (17-13) advance to Friday's semifinal round, where they will face either Bethune-Cookman or Coppin State at 2 p.m.

Adrienne Jones came off the bench to lead the Hawks with 13 points, while First Team All-MEAC selection Ciani Byrom added 12 points to go along with a team-high five assists. Keyera Eaton grabbed a team-high nine rebounds.

The Hawks, who had not played since March 7, fell behind 9-0 in the opening minutes, not scoring until the 1:07 mark of the first quarter after a Chioma Nkpuechina layup. But that bucket kicked off a 12-0 run that saw Maryland Eastern Shore lead 12-9 with 8:04 left in the half after a Jones layup.

S.C. State responded with a 7-0 spurt, taking a 16-12 lead after a Jaquanna Murray jumper, but the Hawks closed the half with a 13-0 run and took a 25-16 lead into the break.

Byrom led all scorers with eight points at the half.

Eastern Shore outscored S.C. State 21-6 in the third quarter, opening up a 46-22 lead after a Dominique Walker jumper.

The Hawks' largest lead came with 4:17 left to play, when a Brooklyn Bailey jumper put them up 57-28.


Taylor Brown led South Carolina State (16-16) with 11 points and 14 rebounds.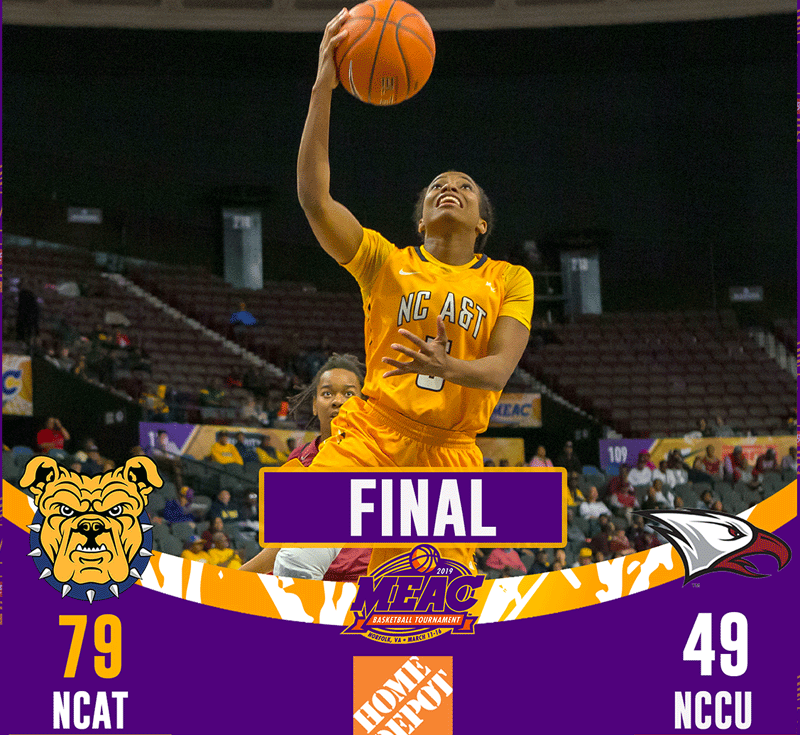 Jeff Cunningham
NORFOLK, Va., March 13, 2019 – No. 1 seed North Carolina A&T State rode a 30-point win over in-state rival and ninth-seeded North Carolina Central to reach the semifinals of the 2019 Mid-Eastern Athletic Conference (MEAC) Basketball Tournament Wednesday afternoon at Scope Arena.

The Aggies will play on Friday at 12 p.m. against either Howard or Norfolk State.

The Aggies (20-10) placed four players in double figures, led by Jasmen Walton's game-high 19. The freshman guard made six of her eight attempts from the field and recorded five steals.

Also finishing in double digits for N.C. A&T were C'coriea Foy (14), Cinia McCray (12) and Charnise Tyler (11). Foy filled the box score for the Aggies, contributing seven rebounds, six assists and a pair of steals.

Paulina Afriyie led the Lady Eagles (9-22) with 13 points along with four rebounds and one steal and block apiece.

"[Afriyie] is one of the most humble stars of this conference," N.C. Central head coach Trisha Stafford-Odom said.

Defensively, the Aggies pressured N.C. Central into 28 turnovers and held the Lady Eagles to 32.7-percent shooting. N.C. A&T was quick to turn good defense into offense, scoring 28 points off Lady Eagle turnovers.

"We eliminate the pressure by applying pressure," Foy said of her team's defensive identity. "We know to go hard on defense. That's what we know best."

Led by its high-pressure defense, N.C. A&T opened the game on a 9-0 run after forcing turnovers on three of its first four defensive possessions. McCray netted five points for the Aggies during the run and scored 11 points in the first half on 4-for-7 shooting with three 3-pointers.

An early timeout from Stafford-Odom helped calm down the Lady Eagles. NCCU finally put points on the board at the 7:03 mark of the quarter and outscored the Aggies 13-10 to close out the quarter.

A dominant second quarter allowed the Aggies to turn a six-point first quarter advantage into a 22-point halftime lead. N.C. A&T shot a blistering 10-of-17 (58.8 percent) in the second and was 4-of-6 on long-range attempts.

Two scoring runs for N.C. A&T dominated the second quarter. Beginning with a trey from Walton, a 13-3 run spanning 3:01 put the Aggies ahead 40-21 with 2:43 left in the half. Afriyie momentarily stopped run with an old-fashioned three-point play before N.C.A&T scored the last six points of the half.

Walton netted 10 of her 19 points in the second and did not miss a shot while doing so – going 4-for-4 from the field and 1-for-1 from long range. Additionally, the Baltimore, Maryland native racked up three steals while playing only four minutes in the frame.

The third quarter saw a reversal of fortunes as the Lady Eagles shot 54.5 percent from the floor while the Aggies managed only 23.1 percent.

"Our continuity was off," N.C. A&T head coach Tarrell Robinson said. "The ball was getting stuck in our point guard's hands."

NCCU cut the Aggies' lead to 15 – their smallest advantage of the second half – with a 10-1 run spanning five minutes of the quarter. Afriyie scored three during the run, all at the foul line, and the Lady Eagles also received a boost in the form of a 3-pointplay from Ashlyn Lockard.

N.C. A&T led by 18 in the closing moments of the third, but a 3-pointer from Shontai Totten made the score 56-41 leading into the final 10 minutes.

The Lady Eagles scored only eight points in the fourth quarter as the Aggies put the game to rest. N.C. A&T sprinted out to a 30-point advantage on the strength of a 15-0 run over the first four minutes of the period.

N.C. Central missed its first five shot attempts and turned the ball over four times during that run. For the quarter, the Lady Eagles managed only 2-for-14 (14.3 percent) shooting with five giveaways.

Jeff Cunningham

Eagles Eliminated in the MEAC Quarterfinals

Kevin Buczek

PICTURED: NCCU junior Paulina Afriyie driving the basket against N.C. A&T in Wednesday's quarterfinals game of the 2019 MEAC Tournament (by KeShawn Ennis)

NOTES: NCAA box score with play-by-play attached.

NORFOLK, Va. — Junior forward Paulina Afriyie scored a team-high 13 points for ninth-seeded North Carolina Central University in a 79-49 quarterfinals loss to top-seeded North Carolina A&T State University in the 2019 Mid-Eastern Athletic Conference (MEAC) Women's Basketball Championship Tournament Wednesday afternoon at the Norfolk Scope Arena.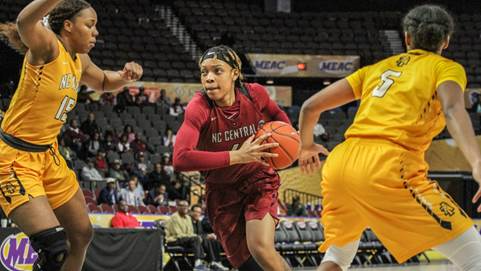 The defending champions and undefeated MEAC regular season champions outshot the Eagles and dominated the backboards. North Carolina A&T (20-10 Overall) will next play in the semifinals on Friday.

NCCU ended its season at 9-22, despite winning the program's first NCAA Division I postseason win yesterday in the first round over Delaware State University.
Afriyie was the Eagles' top scorer for the second straight day with 13 points. The Third Team All-MEAC performer, who was coming off her 10th double-double, was held to four rebounds as N.C. A&T crashed the glass to a 43-30 surplus on the boards.

Freshman Ashlyn Lockard and senior Rodneysha Martin scored nine and eight points, respectively. Sophomore Zaria Atkins was the only other NCCU player to make more than one basket on her way to six points. Lockard, senior Caira Benton and freshman Kiyana Brown all had five rebounds for the Eagles.

The Aggies scored the first nine points of the game in the first two and a half minutes. North Carolina A&T was then able to extend its advantage to 22 points at halftime by making majority of its shots in the first half. The Aggies made 56.3-percent of their shot attempts over the first 20 minutes, including five of their 10 tries (50%) from beyond the arc.

Freshman Jasmin Walton paced N.C. A&T into the locker room with 12 points, making all four of her field goal attempts and three of her four tries from the free throw line. Junior Cinia McCray made a trio of treys in the first half to follow with 11 points.

Afriyie scored 10 points in the first half and one of her hoops late in the first quarter pulled the Eagles within five at 17-12. However, NCCU would not get any closer as the Aggies made a couple 3-pointers in the first two minutes of the second quarter to maintain control and their third triple of the quarter at the 5:12 mark put the top seed ahead by double digits for the rest of the contest. N.C. A&T finished the half on a 19-6 run to go up 46-24 at the midway break.

The Eagles were able to cut the deficit to 15 points on three occasions in the third quarter, including a late 3-pointer by junior Shontai Totten to send NCCU into the fourth quarter trailing 56-41. However, the Aggies started the final period on a 15-0 run to double up their lead to 30 points at 71-41 before prevailing by that same margin.

Walton, who entered postseason play having not scored in double digits in her rookie season, finished with a career-high 19 points to pace four Aggies in double figures. Walton's big contest also included five steals. Junior C'coriea Foy followed with 14 points and a game-high seven rebounds.

N.C. A&T shot 47.5-percent for the contest while holding NCCU to 32.7-percent.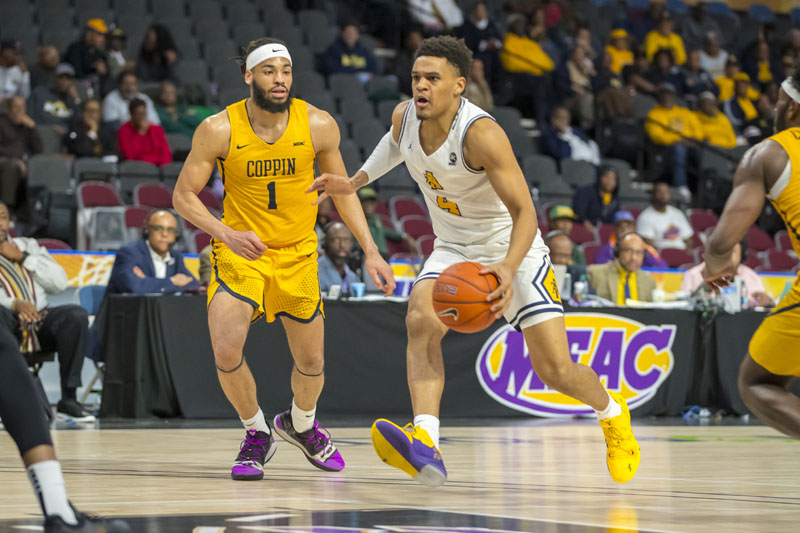 Aggies Outlast Eagles in Overtime Thriller
Maurice D. Williams
NORFOLK, Va., March 13, 2019--Ronald Jackson came off the bench to score five of his game-high 21 points in overtime to help second-seeded North Carolina A&T State outlast No. 7 seed Coppin State 82-79 in an overtime thriller inthe quarterfinals of the 2019 Mid-Eastern Athletic Conference (MEAC) Basketball Tournament at Scope Arena on Wednesday.

The Aggies advance to the semifinals to take on the winner of the North Carolina Central-Delaware State game on Friday at 8 p.m.

The two teams were tied at 71 heading into overtime. A&T took 76-71 lead off a 3-pointer by Terry Harris with 2:18 to play. But Kent Auslander responded with a personal 5-0 run to tie the game at 76 with 1:32 to go.

Jackson scored to give the Aggies an 80-78 lead with 17 seconds remaining. The Eagles' Chad Andrews was fouled at the other end and hit one of two free throws, but A&T couldn't hold onto the ball. The Eagles got the ball back with 11seconds to play, but turned the ball over on the inbounds play.

Aaren Edmead made one of two free throws to give the Aggies an 82-79 lead with eight seconds to play. The Eagles got the ball back for one final possession but Dejuan Clayton missed the game tying three ball.

"Coppin State fought us to the end. But, these young men are very tough mentally," Aggies head coach Jay Joyner said. "We didn't play our best basketball, but we got the job done tonight."

A&T led by as much as 11 midway through the second half, but Coppin State refused to go away.

"Can't say enough about our guys, the way they fought, being down early late in the first half by eight, having to claw our way back into the game in the second half," Coppin State head coach Juan Dixon said. "Our seniors, their leadership, their sacrifice, their hard work, their belief in our team and our young guys and their coaches."

The game featured 10 lead changes and seven ties.

Coppin State was able to hang around despite committing 18 turnovers, which led to 24 points for the Aggies.

There were several times when the the Aggies took advantage of the Eagles fatigue, who had to rebound after playing less than 24 hours ago in the first round.

Jackson led four Aggies in double figures with a double-double (21 points, 14 rebounds). Terry Harris and Qua Copeland finished with 14 points and five assists apiece. Kameron Langley had a double-double of his own with 10 points and12 assists.

Lamar Morgan led the Eagles with a team high 17 points. Clayton added 16 points and nine assists. Auslander had 16 points and seven assists.

Justin Steers added 13 points and nine rebounds.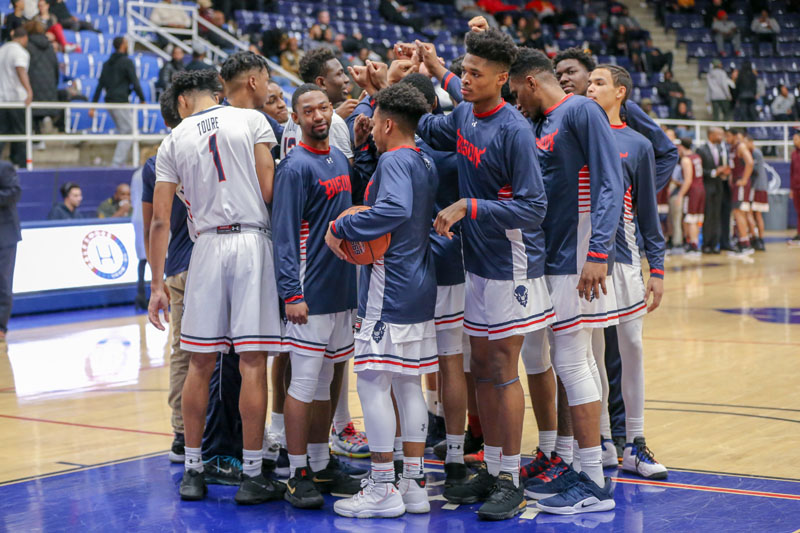 Howard Men's Hoops Begins Title Run Against Bethune-Cookman Thursday; Bison meet Wildcats in MEAC Tourney Quarterfinals
Derek w. Bryant


(Photo Credit – Rodney Pierce)

WASHINGTON (March 13, 2019) – No. 4 Howard University men's basketball team begins its quest for a Mid-Eastern Athletic Conference (MEAC) title when they meet No. 5 Bethune-Cookman (B-CU) in the tourney quarterfinals Thursday (March14). Tip-off is set for 8 p.m. inside Scope Arena.

Fans can follow all the action at www.MEACHoops.com.

LAST TIMEOUT

On March 7, the Bison downed Norfolk State, 98-95, after a last second shot from sophomore guard RJ Cole (Union, N.J.) with 1.1 seconds remaining.

Cole finished the night with a season-high 36 points and seven dimes in 36 minutes of action.

MATCHUP PREVIEW

Thursday's showdown will be the 73rd meeting between Howard and Bethune-Cookman with the Bison leading the series, 45-27.

This season, both squads split the season series with road wins.

On Jan. 12, the Bison came up short against Bethune-Cookman, 71-63, inside Burr Gymnasium.

A month later (Feb. 11), HU completed its Florida road trip with a comeback win over the Wildcats, 79-73, inside the historic Moore Gymnasium.

HOWARD

After Thursday's regular season finale, Howard (16-15, 10-6 MEAC) secured the No. 4 spot and first-round bye. HU ended the season with a four-game winning streak, capped off by a nail-biting win against No. 1 seed Norfolk State, 98-95.

"We must continue to play defense and take good shots," said Howard men's basketball head coach Kevin Nickelberry. "If we get stop and make shots, we'll be fine."

Furthermore, Howard enters the tourney with the top scoring offense (79.5 ppg).

Last week (March 8), Cole was selected 2018-19 MEAC Player of the Year. Cole and junior Charles Williams (Richmond, Va.) earned a spot on the All-MEAC First Team while redshirt junior Chad Lott (Shreveport, La.) landed on the league's Third Team.

"This time of the year, it's not about making adjustments," Nickelberry added. "It's about the players responding and I think we have really good players."

BETHUNE-COOKMAN

B-CU (14-16, 9-7 MEAC) rides into Thursday locking up the No. 5 spot and a first-round bye.

Cletrell Pope, 2018-19 MEAC Defensive Player of the Year, anchors the Wildcats' defense after leading the nation with an average of 4.23 offensive rebounds.

"It's more about us," Nickelberry continued. "We must get through those first few moments [of the game]. We need to keep them off the glass and limit second-chance points."

Malik Maitland and Shawntrez Davis are other Wildcats to watch. Both received All-MEAC honors (Maitland – Second Team & Davis – Third Team).

UPCOMING SCHEDULE

With a victory, HU advances to the MEAC Tournament Semifinals where they will meet No. 1 Norfolk State. Game-time is scheduled for 6 p.m. at Scope Arena.

For more information, visit the Bison Athletics website at www.HUBison.com.
Late NCCU Softball Rally Falls Short in Losses to YSU
(Attached: archive photo of NCCU senior Aleyah Evans by Kevin Dorsey)

Kyle Serba
CARY, N.C. – North Carolina Central University made a late rally and brought the potential tying run to the plate in the last inning, but Youngstown State University heldon for a 6-4 victory in the second game of a softball doubleheader after claiming a 3-0 shutout win in the opener on Tuesday at Thomas Brooks Park.

Youngstown State (3-10) scored three runs in the first inning of the nightcap, then added another run in the second frame and two more in the fifth for a 6-0 cushion.

However, NCCU (6-13) exploded for four runs in the sixth inning, including a one-out RBI hit by sophomore Jacobia Johnson and a two-run single by senior Aleyah Evans, but the Eagles left a pair of runners stranded in scoring position.

In the bottom of the seventh inning, NCCU brought two batters to the dish after a one-out walk with a chance to even the score, but YSU relief pitcher Paige Geanangel forced a groundout and a fly ball to end the game and earn the save. YSU starting pitcher Elle Buffenbarger registered six strikeouts in 5.1 innings to earn the win.

In the first contest, the visiting Penguins plated a run in each of the first three innings, which proved to be plenty of run support for YSU pitcher Addy Jarvis, who struckout nine batters in the complete game shutout victory.

NCCU junior Dalika Wallace reached base three times with a single, a walk and a hit-by-pitch. Senior pitcher Claire Eosso tossed a complete game for the Eagles, scattering eight hits and allowing just two earned runs with three strikeouts.

Sophomore Nadia Blevins contributed a hit in each game for NCCU.

The Eagles return to Thomas Brooks Park on Friday, March 15 to host Maryland Eastern Shore for a doubleheader starting at 3 p.m. Admission is free.

For more information about NCCU softball, visit NCCUEaglePride.com.
'Breds swept by Bellarmine

KSU Media

LOUISVILLE, KY - The Kentucky State University softball team dropped both ends of a doubleheader to Bellarmine Tuesday in non-conference action.

GAME ONE: BELLARMINE 3, KENTUCKY STATE 0
The Thorobreds had baserunners in each of the first five innings, including runners in scoring position in four of the innings, but couldn't come up with the big hit to scratch across a run. Kentucky State was 0-for-8 with runners in scoring position in the game.

After a leadoff double in the third inning, the Knights broke the scoreless tie with a one-out safety squeeze. Bellarmine added a pair of insurance runs with a two-out, two-run homerun in the bottom of the fifth.

Freshman Olivia Steward (Salem, IN) registered two of the team's seven hits. Freshman Janae Graham( Morehead, KY) had the team's lone extra base hit, a double.
Senior Paola Flores, 3-6, (San Lorenzo, PR) allowed hree earned runs on eight hits over six innings with one strikeout.

GAME TWO: BELLARMINE 12, KENTUCKY STATE 4
Kentucky State jumped out to the early lead, but the Knights scored eight runs over the final three innings to complete the sweep.

The Thorobreds got to work quickly with back-to-back walks in the first, and senior Jittaun Thompson (Pomona, CA) drilled a double off the centerfield fence for the game's first run. Freshman Olivia Saylor (Lancaster, KY) brought home a pair of runs with a two-out single.

Bellarmine scored twice in the bottom of the first and second innings, and combined with a single by senior Jackie Zubiate (Riverside, CA) in the top of the second, and the score was tied.

The Knights took the lead with three runs in fourth and ended the game with a walk off homer in the sixth.

Senior Natalia Bocanegra (Covina, CA) was 2-for-3with a triple and two runs scored, while Saylor was 2-for-3 with two RBI. Zubiate and Thompson also tallied RBI for Kentucky State.

Senior Casey Grant, 1-3, (Ft. Mitchell, KY) surrendered12 runs on 13 hits in 5 2/3 innings.

Kentucky State (5-10) begins Southern Intercollegiate Athletic Conference action 2:15 EST Friday, playing Paine College in the SIAC Crossover.
Six-run eighth hampers KSU

3/12/2019 | Baseball | Box Score

MURRAY, KY - A six-run eighth inning was the ultimate undoing for the Kentucky State University baseball team as the Thorobreds went toe-to-toe with Division I Murray State Tuesday before falling 12-8 in non-conference action.

"We competed really well tonight," said Kentucky State head coach RobHenry. "It was a back and forth game where both teams kept after each other all game long. Our pitching and defense was good most of the game, and our hitters had a really good game plan at the plate to the tune of 16 hits. We put ourselves in the position to win, but didn't finish it off. Our job now is to bounce back tomorrow and compete against a very good Eastern Kentucky University team that is playing well right now."

Freshman Josh Graves (Springfield, KY) connected on his first career bomb, a two-run shot to knot the game at two in the top of the third inning. MSU reclaimed the lead with two in the fourth, before the Thorobreds dropped a five-spot in the fifth inning.

Senior Jay Poullard (Louisville, KY) drove home a run, and then sophomore Adren Thompson (Lexington,KY) gave KSU the lead with a two-run double. Junior Chase Egnor (Shepherdsville, KY) added a sacrifice fly and junior Kevin Givhan II (Chicago, IL) capped the scoringwith an RBI single.

After the Racers got a run back in the bottom of the fifth, KSU retaliated with a run in the sixth.

Murray State scored a run in the seventh, and then exploded for the six runs in the eighth inning for the victory.

Junior Brandon Mason, 1-1, (Chattanooga, TN) was saddled with the loss, allowing four earned runs on just three hits in just a third of an inning. Junior Jacob Kelly (Shepherdsville, KY) went three innings in the start, allowing two runs on two hits with five walks.

Senior Cam Starks (Alpharetta, GA), just one game after his 15-game hitting streak come to an end, went 3-for-4 with a double and run scored. It was the third three-hit game and ninth multi-hit game of the season. Givhan II posted a 3-for-4 game with an R BIand stolen base.

Senior Jordan Ransom (Ringgold, GA) was 2-for-5 with an RBI, while Egnor was 2-for-4 with a double, RBI and run scored. Graves finished 2-for-4 with a home run and two RBI.

Sophomore De'Nayus Johnson, 1-0, (Detroit, MI) is scheduled to start as the Thorobreds travel to Eastern Kentucky University 4 p.m. Wednesday. It will be a staff day as several pitchers will grace the mound.
Chowan Women's Golf Takes 5th at Barton Invite
L. Charlotte Dinkins
WILSON, N.C.- The Chowan Women's Golf team completed the Barton College Intercollegiate in fifth place after posting a 400 on Tuesday afternoon.

THE BASICS
ROUND TWO | Fifth Place (400) Final -796

LOCATION | Wilson, N.C. (Wilson Country Club)

COMPLETE RESULTS HERE

ON THE COURSE
Mount Olive secured the team title after recording a 314 second round score and 631 final. The host, Barton College took second place after they shot a 313 team score while, Belmont Abbey posted a 330 on Tuesday to place third overall.

The individual medalist, was Barton's Nikki Norlin who shot a 77 in the final round.

The Hawks finished the tournament in fifth place after recording a 400 second round score and 796 final. IneciaRolle carded an 81 to place top-ten and finish T7 with Jobi Einerson from Westminster College.

Gaby Rivera-Garcia shaved two strokes off her first round score (94) to finish the tournament in 26th overall.

Close behind was teammate Reina Pozo posted a 95on Tuesday for the Blue and White.

Samone Morgan rounded out the scoring for Chowan with a 132 on Tuesday.

UP NEXT
The Hawks will finish their regular season when they compete in the Marlins Invitational hosted by Virginia Wesleyan on March 23-24.
Prairie Stars Clip Hawks 6-1 on the Road
Charlotte Dinkins
HILTON HEAD, S.C.-The Chowan Women's Tennis team fell short in their second match of the 2019 Spring TennisFest to Illinois, Springfield on Tuesday evening.

THE BASICS
FINAL | Chowan 1, Illinois Springfield 6

RECORDS | Chowan 0-7, Illinois Springfield 8-2

LOCATION | Hilton Head, S.C.

ON THE SCORECARD
University of Illinois, Springfield took an early lead over the Hawks after sweeping all three doubles matches.

In Singles:
At the No.1 singles match, Cynthia Carrier took a 6-3, 6-4 loss for Chowan, before Arina Karbolina dropped at the second singles position 3-6, 6-4, 5-10.

Julieta Lecce picked up the first set 6-2 at the No.3 singles, before falling short 4-6 in the second set. Lecce recovered in the tiebreaker 10-5 to win the match for the Blue and White.

The Prairie Stars grabbed the fourth singles match over Angelique Gouin 3-6, 6-1, 10-6, before defeating Claire Revelle 6-0, 6-0.

UP NEXT
The Hawks will match up against University of Missouri, St. Louis on Thursday, March 14th in their final match of the Spring Tennis Fest.
CU Men's Tennis Competes at Spring Tennis Fest
L. Charlotte Dinkins
HILTON HEAD, S.C.-The Chowan Men's Tennis team began play at the 2019 Spring TennisFest on Tuesday afternoon. The Hawks fell short 2-5 to Illinois, Springfield to post a 1-6 overall record on the season.

THE BASICS
FINAL | Chowan 2, Illinois, Springfield 5

RECORDS | Chowan 1-6, Indiana (Pa.) 8-2

LOCATION | Hilton Head, S.C.

ON THE SCORECARD
In Doubles:
The Hawks secured the No.1 doubles match 6-4 with Mariano Yeh and Edmond Aynedjian.

At the No.2 doubles position, Illinois, Springfield beat Adi Kaliakperov and Louis Proulx 6-2 before grabbing the third doubles match by a forfeit form Chowan.

In Singles:
Mariano Yeh dropped the No.1 singles match 6-1, 6-4 for the Blue and White.

Recovering at the No.2 singles match was Edmond Aynedjian who beat his opponent 7-5, 7-5 (3-1), before senior, Adi Kaliakperov picked up the third singles position 10-8, 6-3 for the Hawks.

Illinois, Springfield won the No.4 singles 6-0, 7-5 over Louis Proulx before, Rafael D'Atri was unable to grab the No.5 singles 6-1, 6-0 for the Hawks.

UP NEXT
The Hawks will face Fairmont State in their second match of the Spring Tennis Fest on Wednesday, March 13. Match is slated for 1:30pm
FOURTH QUARTER RALLY LIFTS LACROSSE TO 15-10 WIN
James Heath
HAMPTON, Va. – A wild last 20 minutes on Tuesday afternoon saw 10 goals, with Hampton scoring the last five to take a 15-10 win over SUNY Poly at Armstrong Stadium.

Following a slow first period that saw the teams tied at one, Hampton opened the second scoring twice in a nearly two minute span as Michael Lawrence tallied one at the 12:12 mark to put Hampton up 2-1. At the 10:23 mark, senior Darren Almodiel blistered the back of the net with a goal to give the hosts a 3-1 lead.

Hampton used goals from Derian Williams-Sturdivant and Lawrence, with his coming at the 1:01 mark to put Hampton up 5-3 heading into halftime.

The second half saw the goal cages explode as Baron Edmondson (13:56) and Kendall Sapp (11:42) tally markers to put the Pirates ahead 7-3. The lead grew to 9-4 on goals by Josh Square off a feed from Lonnie Jones (8:41) and Sapp puthis third of the day on off a feed by Melvin Scott, III with 7:46 left.

The visitors scored six of the next seven goals as only a Pierce Johnson tally off a Jones feed stalled that run. Three SUNY Poly goals in a 72-second span early in the fourth tied the match at 10 on a Roert Pollock goal.

Hampton responded with the last five goals as Williams-Sturdivant, Johnson, Josh Square, Elliott Johnson III and Jones helped put the Pirates up with goals.

Sapp topped Hampton with three goals, while Pierce Johnson, Williams-Sturdivant, Lawrence and Square each had a pair of tallies. Jones accounted for six points with a goal and five assists, while Pierce Johnson also accounted for sixpoints with two goals and four helpers.

Hampton returns to action on Saturday facing Alderson-Broaddus at Armstrong Stadium at 2 pm.

SOFTBALL SWEEPS SCSU

HAMPTON, Va. – Matching up against former conference foes South Carolina State on Tuesday, the softball team came away with a pair of big wins sweeping the Bulldogs 13-2 and 8-0 in a pair of five-inning contests.

Taylor Warrick continued her hot hitting going 3-for-4 with three RBIs in game one as a Morgan Crawford two-run double highlighted a six-run third inning for Hampton. DaSha Hill and Janae Lyles joined Crawford in the two-run driven inclub.

Allyson Babinsack threw the first four innings to earn the win with five strikeouts and no walks. Kennedy Hickey finished the game with a strikeout in her inning of work.

Game two saw Ashley Grassini hit a walk-off two-run double in the fifth inning to give Hampton the 8-0 win. Brianna Anderson and Daniella Milloy had a pair of hits each and scored two runs apiece to lead Hampton at the plate. Hill accounted for four stolen bases going 1-for-2 with a walk.

Allie Hotetz threw a five-inning shutout striking out four and allowing one walk to earn her sixth win of the year in eight decisions.

Hampton returns to action on Wednesday at 2 pm hosting Coppin State in a doubleheader.

For more information on Hampton University softball, visit the official Pirates website at www.hamptonpirates.com.