Five Bison Receive SWAC Preseason Honors
Bison picked to win SWAC title; Hightower named preseason defensive player of the year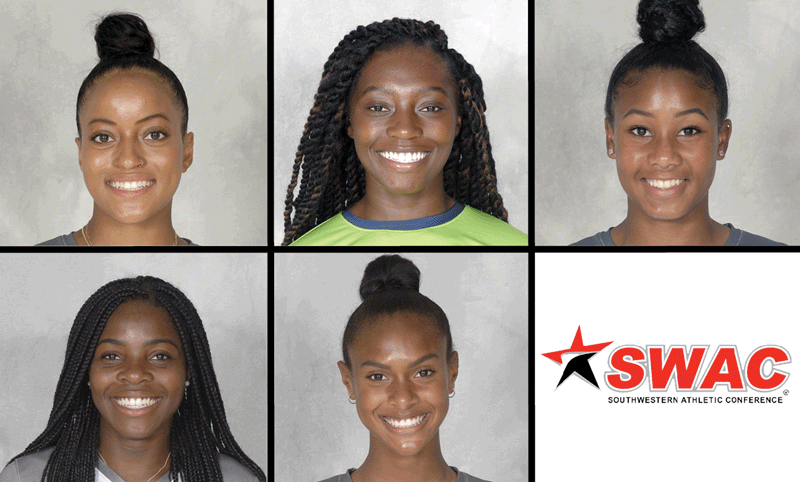 (Photo Credit – Howard Athletics)
BIRMINGHAM, Ala. (August 9, 2019) – The Southwestern Athletic Conference (SWAC) uncovered its 2019 preseason honors where Howard University saw five Bison on the list. The announcement came Friday afternoon
Among the honorees included senior Alayah Hightower (Second Team; SWAC Preseason Defensive Player of the Year), junior Aleeya Sawyer (All-SWAC First Team) and sophomores Thalia Boucher (All-SWAC First Team), Kendall Macauly (All-SWAC First Team) and Victoria Thornton (All-SWAC First Team).
Hightower (Hanover, Md.) highlighted the afternoon after being selected as the league's preseason defensive player of the year. A year ago, the Maryland native registered 12 shutouts, including seven straight in league play. She was also named to the Preseason All-SWAC Second Team.
Last season, Sawyer (Lincolnshire, Ill.) played in all 21 contests while accumulating four goals. In conference play, the Illinois product tallied a pair of winning goals at Mississippi Valley State (Oct. 5) and at Southern (Oct. 21).
In her rookie campaign, Boucher (Aurora, Canada) competed in all 21 matches where she ended her first season with three assists, including two at Alcorn State (Oct. 7), while scoring her first collegiate goal at Jackson State (Oct. 19).
Macauly (Toronto, Canada) wrapped up her first year as a Bison earning All-SWAC Second Team honors. In 21 matches, the second-year defender produced eight points (four assists and two goals) and won SWAC Defensive Player of the Week once (Aug. 20).
Thornton (Plainfield, Ill.) started 20 matches for HU during her freshman year. After making her collegiate debut at Cleveland State (Aug. 17), the midfielder guided Howard to its third SWAC title in five years.
Begona Rodriguez-Bravo (Texas Southern) was named SWAC Preseason Offensive Player of the Year while Chioma Eriken (Southern) received SWAC Preseason Goalkeeper of the Year.
Additionally, Howard was predicted to win the SWAC title for the second consecutive season after racking up 172 points. Grambling State was projected to finish second overall.
The honors were voted on by the conference's head coaches and sports information directors.
To view the 2019 SWAC Preseason Soccer Honors, please click here.
After their final tune-up at American (August 18), Howard opens the season with a pair of home contests at Greene Stadium against Mount St. Mary's (Aug. 23) and UNC Asheville (Aug. 30).
About Howard University Athletics
The Howard University Department of Intercollegiate Athletics sponsors 19 NCAA Division I men and women varsity sports. The programs represent six conferences: The Mid-Eastern Athletic Conference (MEAC), Southwestern Athletic Conference (SWAC), Coastal Collegiate Swimming Association (CCSA), Sun Belt Conference, Eastern College Athletic Conference (ECAC) and Atlantic Sun (ASUN) Conference.
About SWAC
The Southwestern Athletic Conference (the "SWAC", the "Conference") is organized for the purpose of encouraging and conducting intercollegiate sports activities for student-athletes and promoting academic excellence while representing SWAC member institutions with a high level of integrity and sportsmanship.
For more information, visit the Bison Athletics website at www.HUBison.com or the SWAC website at www.SWAC.org.