Hayley Nejman Selected To Lead Acro Program At Chowan

Evan Carpenter

MURFREESBORO, N.C. – The Chowan Athletic Department and Vice President of Athletics, Patrick Mashuda, welcomes Hayley Nejman as the first-ever head coach of Acrobatics & Tumbling at Chowan.


Hayley comes to Chowan following a season at Urbana University as an assistant Acrobatics & Tumbling coach in the program's first-ever season. Nejman helped Sarah Calk to a third place finish at the Inaugural Mountain East Conference Championship.


While in the Urbana, Ohio area, Nejman was an assistant gymnastics coach at Beavercreek High in Dayton, Ohio.

Prior to coaching, Nejman was a four-year member of the Gannon Acrobatics & Tumbling program from 2014-2018. While competing as a student-athlete, Hayley helped at the Lakettes and Lakers Gymnastics Academy and Long's School of Dance in Erie, Pa.

Nejman produced Gannon's first National Collegiate Acrobatics & Tumbling Associations (NCATA) All-American in 2017. That same season, Hayley would garnered ECAC All-Conference honors, ECAC Athlete of the week, and placed third in Tumbling Trio Heat at NCATA Nationals. Hayley helped secure a NCATA National Championship in the Inversion Pyramid event in 2018. She would be named ECAC All-Conference Honorable Mention in 2018.


Hayley earned a bachelor's degree in Sports and Exercise Science from Gannon in 2018.
---

---

Gilbert Named HBCU Coach of the Year

8/4/2019 | Women's Basketball

Virginia Union University's Ann Marie Gilbert has been named the HBCU Women's Basketball Coach of the Year by HBCU Digest, it was announced on Saturday, August 3.

Presented by HBCU Digest, the HBCU Awards are the first and only national awards ceremony honoring individual and institutional achievements at history Black colleges and universities (HBCUs).

Gilbert will be entering her fifth season at the helm of the Lady Panther basketball program. In 2018-19, Gilbert guided VUU to a 28-3 record and the school's second consecutive CIAA Tournament Championship.

The Lady Panthers made it to the second round of the NCAA Tournament, marking the fourth straight year where the school has landed an NCAA Tournament berth.

"It is truly a great honor to be selected for an HBCU Digest award," said Gilbert. "This award reflects the hard work our staff and players have put into bringing excellence to VUU and elevating our program to a national platform. What an exciting start to the upcoming season.!"

Virginia Union begins the 2019-20 season when the Lady Panthers face Benedict College on Sunday, November 10, at Barco-Stevens Hall in Richmond, Va.
Coble Re-Elected President of CIAA Golf Coaches

VUU Sports
Virginia Union University's Head Golf Coach, E.Lee Coble has been re-elected to serve as President of the CIAA Golf Coaches Association, it was announced on Wednesday, July 31st.

Coble will be serving his second term as President of the Golf Association. He was first elected in March, 2016, at the 2016 CIAA Southern Division Championship Head Coaches Meeting held at Gates Four Golf & Country Club in Fayetteville, N.C.

"I am truly humbled and appreciative of the coaches continued respect and trust to allow me to continue as the association's president," said Coble. "We have had a lot of successes as a golf association and I will do all that I can to help us build upon our successes."

Coble is entering his sixth season as the VUU Head Golf Coach. The 2018-19 Golf Season was capped off by winning the CIAA Golf Championship. The team captured their first CIAA Championship in 48 years. This was also the team's second advancement to the NCAA Division II Regional Championship.

The golf team will begin its season opener in Regional Competition at the Glades Springs Men's Intercollegiate Golf Championship September 15th in Daniels, W.V.

MEAC, ESPN TO AGAIN STREAM GAMES ON ESPN3, ESPN+
Maurice Williams
NORFOLK, Va., July 8, 2019 - As part of a multi-year agreement reached last year, the Mid-Eastern Athletic Conference (MEAC) and ESPN will stream all of the conference's football contests on ESPN3 and ESPN+, the multi-sport, direct-to-consumer subscription streaming service from The Walt Disney Company Direct-to-Consumer & International segment and ESPN.

There will be 34 MEAC football contests available on ESPN3 and ESPN+ this season, in addition to 10 televised contests on either ABC, ESPN, ESPN2 or ESPNU, which gives the conference 44 total linear and digital broadcasts across the ESPN family of networks.

This season, the MEAC will implement instant replay for all football games starting with the first conference game of the 2019 season, which will be Saturday, Sept.21, when Howard visits Delaware State. The following Saturday, Sept. 28, will be the first full weekend of conference play.

"I am elated to once again utilize ESPN3 and ESPN+ in continuing to grow the MEAC's relationship with ESPN," said MEAC Commissioner Dr. Dennis E. Thomas. "Both ESPN3and ESPN+ are innovative digital platforms upon which we can better serve our member institutions and our fans, while also expanding our reach both from a conference perspective and at the institutional level. This is an exciting time for college sports, with the expansion of digital content, and we are pleased that the MEAC has been on the forefront with ESPN3 and ESPN+."

ESPN3 is accessible on computers, smart phones, tablets and connected devices through the ESPN app. The network is currently available nationwide at no additional cost to fans who receive their high-speed Internet connection orvideo subscription from an affiliated service provider.

Fans can subscribe to ESPN+ on ESPN.com or through the ESPN app for just $4.99 a month (or $49.99 per year).

The MEAC-ESPN agreement continues to add additional exposure to the conference, which has collaborated with ESPN since 2005. The ESPN+ football contests add to an already impressive lineup, as the ESPN networks carry multiple men's basketball, baseball and softball regular-season contests. The MEAC volleyball and bowling championship finals are also televised on various ESPN platforms.

About the Mid-Eastern Athletic Conference
The Mid-Eastern Athletic Conference (MEAC) begins its 49th year of intercollegiate competition with the 2019-20 academic school year. Located in Norfolk, Va., the MEAC is made up of 11 outstanding historically black institutions across the Atlantic coastline :Bethune-Cookman University, Coppin State University, Delaware State University, Florida A&M University, Howard University, University of Maryland Eastern Shore, Morgan State University, Norfolk State University, North Carolina A&T State University, North Carolina Central University and South Carolina State University.

About ESPN+

ESPN+ is the multi-sport, direct-to-consumer video service from The Walt Disney Company's Direct-to-Consumer and International (DTCI) segment and ESPN. It reached two million subscribers in less than a year and offers fans thousands oflive events, on-demand content and original programming not available on ESPN's linear TV or digital networks, along with premium editorial content.

Programming on ESPN+ includes hundreds of MLB and NHL games, exclusive UFC and Top Rank boxing events, top domestic and international soccer, thousands of college sports events (including football, basketball and other sports), Grand Slam tennis, international and domestic rugby and cricket, new and exclusive series, acclaimed studio shows and the full library of ESPN's award-winning 30 for 30 films. Fans subscribe to ESPN+ for just $4.99 a month (or $49.99 per year) and can cancel at any time.

ESPN+ is available as an integrated part of the ESPN App (on mobile and connected devices) and ESPN.com. They are the industry-leading all-in-one digital sports platform, delivering a rich, personalized experience to tens of millions of fans every month.

About ESPN3

ESPN3 is ESPN's live multi-screen sports network, a destination that delivers thousands of exclusive sports events annually. It is accessible on ESPN.com and the ESPN app across computers, smart phones, tablets and connected streaming devices. The network is available at no additional cost to fans who receive pay TV subscription from an affiliated provider. The network is also available at no cost to U.S. college students and U.S.-based military personnel via computers, smart phones and tablets connected to on-campus educational and on-base military broadband and Wi-Fi networks.

Maurice D. Williams
Howard Swimming & Diving Uncovers 2019-20 Slate
Bison host five meets inside Burr Pool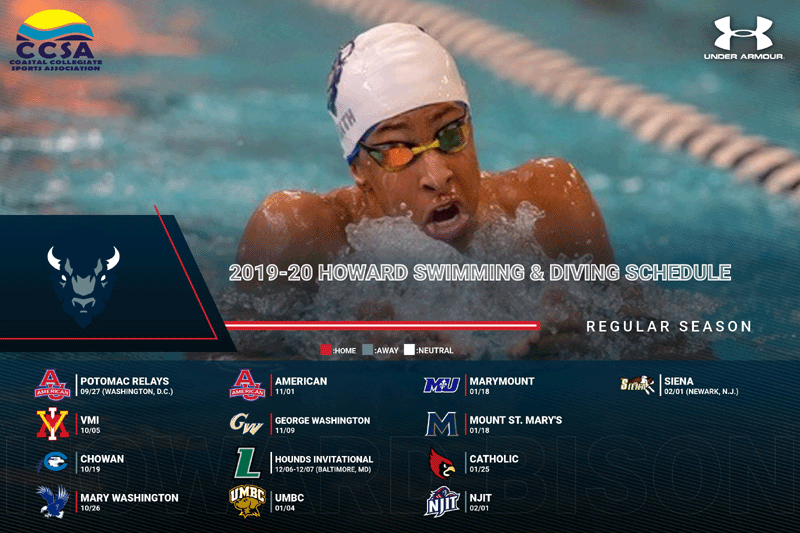 (Photo Credit – Howard Athletics)

WASHINGTON (July 26, 2019) – Howard University Men's & Women's Swimming & Diving program uncovers its 2019-20 schedule, featuring five home meets inside Burr Pool. The announcement came Friday morning.

"We are charged and ready to return," said Howard Swimming & Diving head coach Nicholas Askew. "[We're] fresh off the heels of a successful 2018-19 campaign and we're leaning on the experience of our returners. [We're] looking forward to fast swims and perfect dives all season long."

On Aug. 24, Coach Askew's bunch take part in the community service event, Make-A-Splash, in York, Pa. before hosting the annual Swim-A-Thon inside Burr Pool (Sept. 21).

Howard begins competition with the traditional Potomac Relays (Sept. 27) in D.C., hosted by American.

A week later (Oct. 5), HU opens its home slate against VMI before taking a trip to the Tar Heel State where Chowan awaits (Oct. 19).

After hosting three consecutive home meets versus Mary Washington (Oct. 26), American (Nov. 1) and George Washington (Nov. 9), Howard reaches the halfway point at the Hounds Invitational (Dec.6-7) in Baltimore, hosted by Loyola (Md.).

HU returns to Baltimore after the New Year for a dual meet against UMBC (Jan. 4) before taking on Marymount and Mount St. Mary's in their final home meet of the year on Senior Day (Jan. 18).

Howard closes out the regular season with a pair of meets at Catholic (Jan. 25) and at NJIT and Siena in Newark, N.J. (Feb. 1).

"The incoming recruiting class brings significant depth to all of our events," Askew added. "It will be fun to watch how things unfold this season and how we react to the challenges before us."

On Feb. 19-22, the Championship Season starts with the Coastal Collegiate Sports Association (CCSA) Championships in Knoxville, Tenn., hosted by the University of Tennessee.

Other championship events include the National Invitational Championships (March 12-14), NCAA Women's Championships (March 18-20) and NCAA Men's Championships (March 25-28).

For more information, visit the Bison Athletics website at www.HUBison.com.
Pirates Open Camp With QB Addition
James Heath
HAMPTON, Va. – Hampton University head football coach Robert Prunty announced today that quarterback Deondre Francois has joined the Pirates.

"I am very happy that Deondre Francois is joining our program," said Prunty. "He is a cerebral football player with unbelievable athletic ability. More importantly, he is an outstanding young man who graduated Florida State in 3.5years. We are ecstatic to have Deondre Francois in our program."

Francois started two years at Florida State throwing for 6,291 yards and 35 touchdowns in his FSU career. As a redshirt freshman in 2016, he completed just over 58% of his passes for 3,350 yards and 20 touchdowns as the Seminoles went10-3 and defeated Michigan in the Orange Bowl 33-32.

After a season-ending injury in the 2017 opener where he threw for 210 yards against Alabama, he came back in 2018 and threw for 2,731 yards and 15 touchdowns.

"I want to personally thank our President, Dr. William R. Harvey, for the time he spent with Deondre while he was on campus during the recruiting process," Prunty said. "I also want to thank our Director of Athletics, Mr. Eugene Marshall, Jr., for his assistance during Deondre's visit."

Hampton opens its season on August 31 when they host Elizabeth City State at Armstrong Stadium in a 6pm kickoff. For more information on Hampton University football, please contact the Office of Sports Information at 757-727-5757 or visit the official Pirates website at www.hamptonpirates.com.
Howard's Askew Speaks at the Freedom School Program
Askew invited as a "Read-Aloud" guest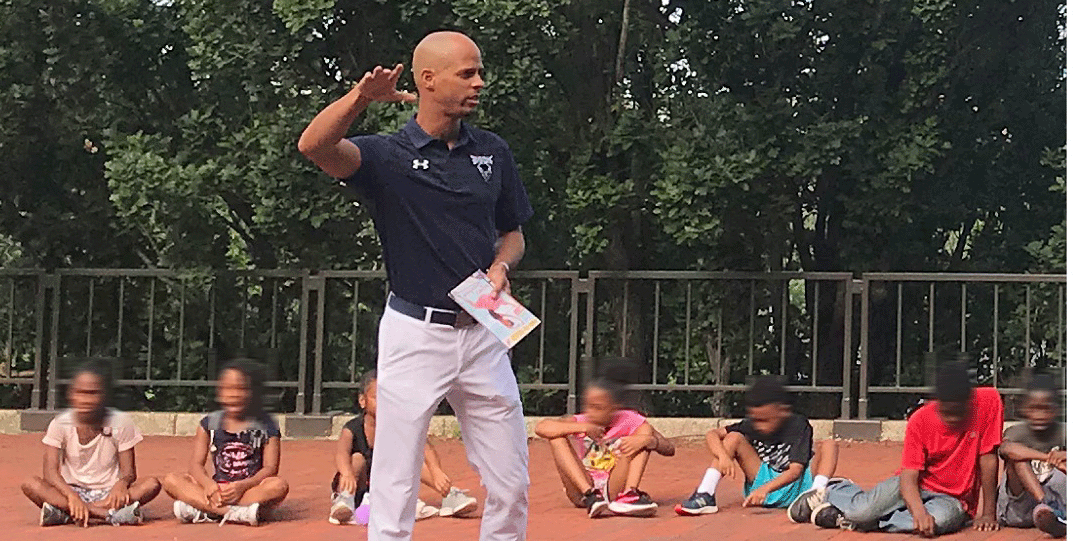 (Photo Credit – Howard Athletics)

WASHINGTON (July 26, 2019) – Howard University Swimming & Diving head coach Nicholas Askew was a guest speaker Friday (July 19) for the Freedom School Program, held on the bricks between the School of Social Work and Howard Hall, overlooking the cityscape of D.C.

Askew was among the community leaders to share their favorite children's book or story as "read-aloud" guests. As a read-aloud guest, he was asked questions by the Freedom School scholars and welcomed into the Freedom School community.

"I represented the Howard University Athletics Department with great pride," Askew stated. "It was a grand experience being the Freedom School's Read Aloud Presenter. Everyone was so incredibly welcoming and attentive. I look forward to future opportunities to engage with this community group."

From June 24 to Aug. 2, Howard University is sponsoring its third annual Freedom School. This year, the program is held on main campus in the School of Social Work.

As a six-week summer reading enrichment program with the goal of building strong, literate, and empowered children, the Howard University Freedom School serves 3rd through 8thgrade students from the Howard University and surrounding community.

As part of the Children's Defense Fund model, one of the key components of the Freedom School program is Harambee!, a Swahili term for "pull together." During Harambee!, Freedom School scholars participate in motivational cheers, songs, chants and storytelling.


About Howard Athletics

The Howard University Department of Intercollegiate Athletics sponsors 19 NCAA Division I men and women varsity sports. The programs represent six conferences: The Mid-Eastern Athletic Conference (MEAC), Southwestern Athletic Conference (SWAC), Coastal Collegiate Swimming Association (CCSA), Sun Belt Conference, Eastern College Athletic Conference (ECAC) and Atlantic Sun (ASUN) Conference.

About the Children's Defense Fund Leave No Child Behind

The Children's Defense Fund (CDF) Leave No Child Behind® mission is to ensure every child a Healthy Start, a Head Start, a Fair Start, a Safe Start and a Moral Start in life and successful passage to adulthood with the help of caring families and communities. CDF provides a strong, effective and independent voice for all the children of America who cannot vote, lobby or speak for themselves. We pay particular attention to the needs of poor children, children of color and those with disabilities. CDF educates the nation about the needs of children and encourages preventive investments before they get sick, drop out of school, get into trouble or suffer family breakdown.

For more information, visit the Bison Athletics website at www.HUBison.comor the Children's Defense Fund Leave No Child Behind website at www.childrensdefense.org.
Vincent Duo Named W.Va. Father & Son Great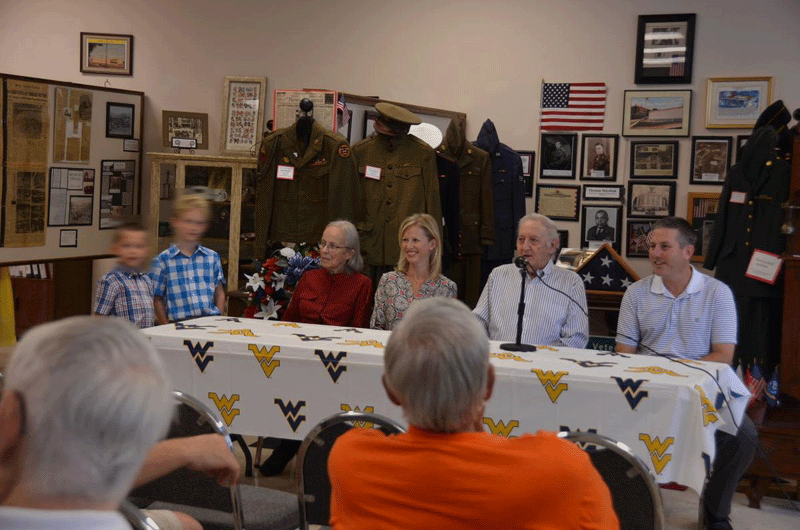 Evann Carpenter

MURFREESBORO, N.C. – In July, current head men's basketball coach, Brett Vincent, and his father Don were honored as Father & Son Greats in West Virginia.

Coach Vincent started his collegiate playing career at West Virginia University, where he played two seasons. Brett would appear in 40 games recording 125 points and knocking down 27 three-pointers. Vincent would continue his playing career at Robert Morris after sitting out a transfer season. With the Colonials, Vincent appeared in 30 games scoring 188 points, 33 three-pointers and dishing out 71 assists. Marshall would be the final stop for Vincent in his collegiate career. With the Thundering Herd, Vincent was a sharp shooter during his senior season knocking down 65 three-pointers with 94 assists and 301 points in 28 games. Brett's 43.6% shooting from deep remains the career record at Marshall. Vincent would lead two teams to the NCAA Tournament and won the Northeast Conference Championship with Robert Morris.

In high school, Brett was the Most Valuable Player of the West Virginia North/South All-Star Classic, three-time West Virginia All-State selection, West Virginia (Touchdown Club) Player of the Year, and ranked first in West Virginia, fourth nationally, at 35.9 points per game.

Vincent's coaching career started at Alderson-Broaddus at the age of 28 in 1996. During his five year stint with A-B, Vincent compiled a record of 92-49. Brett would also coach at Lewis County High School before moving to Fairmont State as an assistant before being named interim head coach. Brett came to Chowan in 2012, where he has posted a winning season three of hissix seasons including a program best 19 and 18 wins in 15-16 and 16-17 seasons.

Brett's father, Don Vincent, played his collegiate career at West Virginia. Don led the Mountaineers to three Southern Conference Championships, three NCAA Tournament appearances, and a number one national ranking in 1957-58. Vincent played collegiate with NBA great Jerry West and "Hot Rod" Hundley. During his playing career, Don would amass 774 points, 374 rebounds, and 137 assists. Vincent was most notable for helping the Mountaineers secure wins against No. 5 Kentucky and defending national champion No. 1 North Carolina to earn Most Valuable Player at the Kentucky Invitational Tournament during the 1957-58 season.

Don would be drafted by the Pittsburgh Pipers, former American Basketball Association (ABA) charter franchise. In 2016, Don was inducted into the West Virginia University Hall of Fame. Vincent would become a high school head coach and was an assistant coach collegiately.
Howard's Newton Named to the STATS FCS Walter Payton Award Preseason Watch List
Preseason All-American recognized among the nation's best

(Photo Credit – Yusuf Abdullah)

CHICAGO (July 31, 2019) – A day after releasing its 2019 Preseason All-America Team, STATS Football Championship Subdivision (FCS) revealedits 25-member watch list for the Walter Payton Award where Howard University's Caylin Newton (Atlanta) was among those selected. The announcement came Wednesday.

A year ago, Newton ended his sophomore campaign ranking among the nation's leaders in several categories, including passing yards per completion (1st/16.85) and total offense(7th/313.3). He completed his second season as the MEAC's top passer with 2,629 yards and 22 touchdowns in 10 games.

The junior signal caller continues to rack up preseason accolades, including 2019 STATS FCS Preseason All-America honors. Recently, the reigning Mid-Eastern Athletic Conference (MEAC) Playerof the Year was picked as the league's Preseason Player of the Year.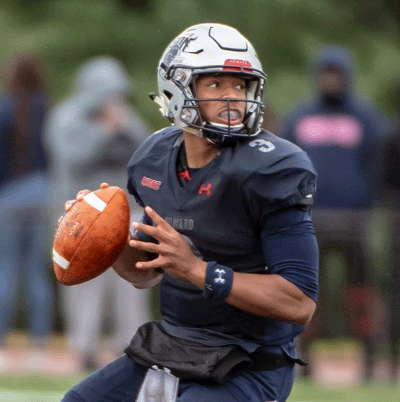 This year's preseason list consists of at least one student-athlete from all 13 FCS conferences.

The Payton Award, given to the offensive player of the year in college football's Division I subdivision and first awarded in 1987, has watched past winners such as Steve McNair, Tony Romo,Brian Westbrook, John Friesz, Brian Finneran, Jimmy Garoppolo and Cooper Kupp move on to the NFL.

To view the 2019 STATS FCS Walter Payton Award Watch List, please click here.

On Aug. 31, the Ron Prince era begins at FBS foe Maryland. Kickoff is set for noon on the Big Ten Network.

About Howard University Athletics

The Howard University Department of Intercollegiate Athletics sponsors 19 NCAA Division I men and women varsity sports. The programs represent six conferences: The Mid-EasternAthletic Conference (MEAC), Southwestern Athletic Conference (SWAC), Coastal Collegiate Swimming Association (CCSA), Sun Belt Conference, Eastern College Athletic Conference (ECAC) and Atlantic Sun (ASUN) Conference.
About STATS

STATS is the world's leading sports technology, data and content company. Our mission is to revolutionize the way sports contests are viewed, understood, played and enjoyed. STATS provides real-time scores, historical sports information, Associated Press editorial content, a turnkey fantasy sports operation, brand activation solutions and Sport VU technology. STATS is headquartered in Chicago, with offices globally. Learn moreat www.stats.com.

For more information, visit the Bison Athletics website at www.HUBison.comor the STATS FCS website at www.fcs.football.
Delgado Named Preseason All-conference

Thu 8/1/2019 2:03 PM

James Heath
HAMPTON, Va. - The Big South Conference office announced today its pre-season All-Conference team for volleyball and senior Megann Delgado was selected to the pre-season team.

Last year Delgado led the Big South in kills/set averaging 3.86, while recording a league-leading 398 kills. When in conference she stood tall in the Big South averaging 4.26 kills per set. She finished the year with 13 matches of at least 15 kills, three with 21 or more. She also led the team in service aces with 46 and second on the team in digs with 265.

After being the first Hampton Pirate to earn Big South All-Conference honors last year, she is now the first Hampton Volleyball player to receive a pre-season honor in the conference. Delgado and the Lady Pirates look to start the season taking on Norfolk State at home on August 30th. Last time they matched up against the Spartans the Lady Pirates won 3-0 on October 30 in Holland Hall.

For more information on Hampton University volleyball, please contact the Office of Sports Information at 757-727-5757 or visit the official Pirates website at www.hamptonpirates.com.