Eyes on the Prize: HAMPTON SAAC PARTICIPATES IN HOLIDAY FOOD DRIVE
Maurice D. Williams File
HAMPTON, Va. – The Hampton University Student-Athlete Advisory Committee (SAAC) participated in a holiday food drive in the month of November. The competition among the teams donated over 600 pounds of food to the Peninsula Food Bank. "It was a lot of fun," SAAC member Keith McAfee said, "and I was determined to make sure my team participated. So many of us take being able to eat for granted, and to be able to help someone fix a meal is a blessing."
The women's track & field team donated over 400 cans and other non-perishable food items, while football donated over 200 cans. Women's basketball donated 50 cans following their season-opening two-week road trip. Other programs to make donations included softball, men's track & field, tennis, golf, and women's soccer. For more information on Hampton University athletics visit the official Pirates website at www.hamptonpirates.com.
Road to Salem: Bowie State and Fayetteville State Punch Ticket to 2018 CIAA Football Championship

Bri Funte

Salem, VA (November 3, 2018) – The 2018 Central Intercollegiate Athletic Association (CIAA) Football Championship is set to include the Northern Division Champion Bulldogs of Bowie State University and the Southern Division Champion Broncos of Fayetteville State University, upon the completion of regular season play today. The CIAA Football Championship will kick off at 1:00 PM ET at Salem Stadium in Salem, Virginia on Saturday, November 10. Tickets may be purchased at Ticketmaster.com.

The Southern Division title was secured by the Broncos on October 27th. Fayetteville State defeated Livingstone College 45-7 while division rival Winston-Salem State University was knocked out of contention by Shaw University, 21-26. The Broncos awaited their opponent until the final day of CIAA football regular season play on November 3rd. With their 49-7 victory over Elizabeth City State University, the Bulldogs secured their advancement to the conference championship game. Both the Broncos and Bulldogs finished the regular season 5-1 in conference play and 4-1 in their respective divisions.

CIAA Northern and Southern Division winners are determined by the highest percentage of conference games won based on the six-game required schedule.

Fayetteville State will appear in the championship game for the second consecutive season after being defeated last year by the Trojans of Virginia State University, 42-19. Bowie State last appeared in the championship in 2016 when they were too defeated by their opponent, Winston-Salem State, 43-33. Fayetteville State's last conference football title was earned in 2009. Bowie State seeks their first recognized conference football trophy, after their 1989 championship title was vacated due to the participation of an ineligible player.

Before the on-field action begins between the Broncos and Bulldogs, fans are invited to tailgate and attend the fee, family-friendly Fan Zone from 9:00 a.m. – 12:30 p.m. ET. This year's Fan Zone will include contests, prizes and giveaways, activities, drumline and cheer squads, plus final judging for the Food Lion/Coca-Cola Tailgate Cook-Off. Fans are also encouraged to begin tailgating festivities at 9:00 am. All parking is free.

Tickets for this annual competition between the CIAA's best football teams are on sale now at Ticketmaster.com. Advanced tickets are available at $25 for reserved seating and $15 for general admission. Tickets bought on game day will be priced at $35 for reserved seating and $25 for general admission. Bring 5 non-perishable food items for a Food Lion Canned Food Drive to receive $5 off on-site admission.

Special rates for students with school IDs and youth will be available on game day for $10. Free admission is available for children ages 7 and under.

For more information about the 2018 CIAA Football Championship, including hotel options, please visit TheCIAA.com.
Eyes on the Prize : VUU Student-Athletes Give to Angel Tree Child
12/9/2015 File
Jim Juno
Student-Athletes from Virginia Union University are making sure a child hasa Merry Christmas this year by donating to the Salvation Army Angel Tree.
The VUU student-athletes provided several Teenage Mutant Ninja Turtle giftsfor the child, who was selected at random from the Angel Tree in RegencyMall in Richmond, Va.
The Salvation Army / NBC 12 Angel Tree program makes thousands of angelsavailable to the community to adopt. Each angel represents anunder-privileged child who without the support of the community would nothave a Christmas. Members of the community choose angels from treesdisplayed at area malls and corporations. These donors adopt the angels byproviding new clothing and gifts for their Christmas. Student-athletesfrom every sport at Virginia Union contributed gifts for the sponsoredchild.

The Bowie State Universitysoftball team solicits your support for an ALL DAY fundraiser at JerseyMike's (Hill Top Plaza Shopping Center – 6844 Race Track Rd. – Bowie, MD) onSaturday, December 12th (see attached flyer).

Lady Panthers to Host Tip-Off Classic
Virginia Union University's women's basketball team, the defending CIAA Champions and currently ranked second in the Atlantic Region, will tip off the 2018-19 season by hosting the VUU Lady Panther Tip-Off Classic on November 9 and 10 at Barco-Stevens Hall in Richmond, Va.
VUU will open the Classic by facing Cheyney University at 5:30 p.m. on Friday, November 9, and will then face Edinboro University at 4:00 p.m. on Saturday, November 10.
KSU Season comes to end in SIAC Finals

The Thorobreds came out blazing and accomplished a feat no other Southern Intercollegiate Athletic Conference (SIAC) team has this season, but it wasn't enough as Kentucky State lost to Spring Hill in four sets (23-25, 25-19, 25-17, 25-12) in the 2018 SIAC Volleyball Championships finals Wednesday at the Birmingham Crossplex.
The Lady Panthers are currently ranked 18th in the nation while Edinboro is currently ranked 11th in the nation by the WBCA. Three of the eight NCAA Tournament teams from last season will be featured in the tournament. Three of the four teams are currently ranked In the Top 10 of the Atlantic Region. Virginia State University will face Edinboro at 7:30 p.m. on November 9 while the Lady Trojans will face Cheyney at 2:00 p.m. on November 10. "I'm very excited to hosting our first Tip-Off Classic," said VUU Head Coach AnnMarie Gilbert. "The Classic will feature an impressive collection of teams, with three of the four teams were regionally ranked last season, and Edinboro and Virginia State along with us are currently in the top 10 of the region this season." Tickets are $10 per day for the Classic and can be bought at the door or in advance on-liine at https://www.eventbrite.com/e/vuu-lady-panther-tip-off-classic-tickets-52319522099.

---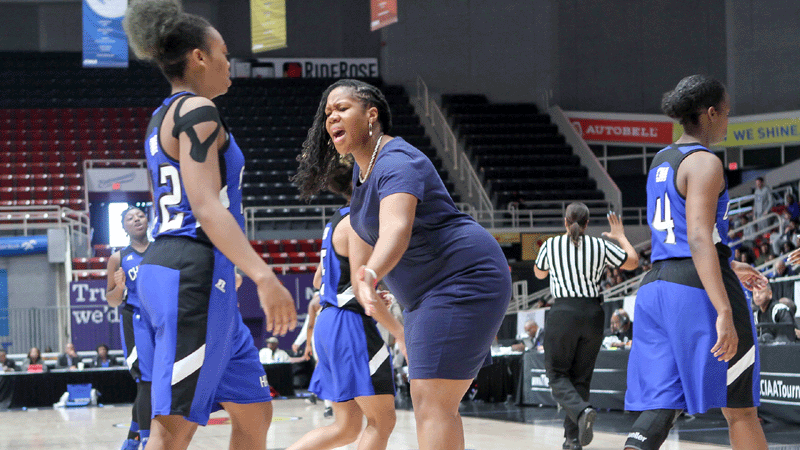 Chowan Tips-Off At West Virginia State Challenge

Evann Carpenter

MURFREESBORO, N.C. – The Chowan Women's Basketball team starts off their 2018-19 campaign on the road at the West Virginia State Challenge on November 10-11.

The Hawks will face Mountain East Conference opponents Glenville State (Nov. 10) and West Virginia State (Nov. 11).

WHEN November 10-11 | 6pm / 3:30pm

WHERE Institute, W.Va.

FOLLOW GAME DAY CENTRAL

HAWKS HITTERS

Chowan finished their 2017-18 season with a 19-9 overall record and a trip to the second round of the CIAA Basketball Tournament. The Hawks return three starters from last season's squad: Mariah Coker, Jada Lee, and Danielle Weldon. Mariah Coker was named to the Preseason All-CIAA list as the returning scoring leader for the Hawks at 12.0 points per game. Coker also added 5.0 assists per contest. Jada Lee averaged 8.1 points and 3.6 assists last season. Danielle Weldon posted 10.9 points and 7.0 rebounds per night.

Joanne Williams returns as the leading rebounder for the Hawks at 8.3 rebounds per outing. The Hawks led the CIAA in rebounding at 47.0 boards a game, which was third best in the country.

SCAVENGING THE PIONEERS

Glenville State lost 10 players from last season's 31 win team. The Lady Pioneers made an exit in the second round of the NCAA Tournament after finishing with a Mountain East Conference Regular Season and Tournament Title going a perfect 22-0 in league action.

The Lady Pioneers lost All-American Guard, Paris McLeod, who averaged 21.1 points per game. Glenville State led the country last season with 48.9 rebounds per game. The Lady Pioneers were second in the country in points per game at 98.4 points a night.

STINGING THE YELLOW JACKETS

West Virginia State finished with a 14-16 overall record in the MEC. The Yellow Jackets lost their two top scorers from last season leaving Jordan Miller as the leading scorer with 8.7 points per game.

The Yellow Jackets averaged 74.9 points and 40.7 rebounds per contest.

SERIES RECORDS

Chowan and Glenville State will meet for the first time on the hardcourt. The Hawks and West Virginia State will meet for the third time with Chowan taking the previous two meetings. Chowan defeated WVSU in 2013, 78-77, before soaring past the Yellow Jackets 103-74 in 2016.
Hoyas Outlast the Hawks in Season Opener ; Cheeseman, Urrutia Shine in Their Eastern Shore Debut

RALAN WARDLAW

WASHINGTON, D.C. — The University of Maryland Eastern men's basketball team never let Georgetown University pull away, but the Hoyas were able to keep the Hawks at bay and get a 68-53 win in both team's season opener. Georgetown outscored the Hawks by 10 in the first half and five in the second half during their wire-to-wire win.

The overall length of the Hoyas bothered the Hawks throughout the game as they had seven blocks to just one for the Hawks. Georgetown's size did not translate to a major advantage on the glass though as they only held a 40-34 advantage on rebounds with the Hawks outrebounding the Hoyas on the offensive boards 10-7. Defensively, the Shore saw a lot success during the contest of as they had 13 steals and forced 19 turnovers.

"I am appreciative of how hard the guys played tonight," head coach Clifford Reed said. "We are trying to develop an identity and I think we are starting to do that."

Eastern Shore showed multiple defenses throughout that game that lead to their success on defense, but they went through offensive lulls at different points that hindered their ability to close the Hoyas lead.

The longest came after redshirt junior Dontae Caldwell (Santa Ana, CA) made a layup at the 9:24 mark of the first half to bring the Hawks within three at 18-15. The Shore would not score again until the 2:01 mark after missing nine consecutive field goals.

Despite the size difference on the inside, the Hawks did do well attacking the paint as they finished with a 32-24 advantage on paint points. Eastern Shore also attempted 11 more shots than Georgetown at 63-52, but they made one less field goal overall and made five less shots from behind the arc.

"I like how we went inside strong during the game," Reed said. "But we do have to work on our overall discipline offensively as we go forward."

Forward AJ Cheeseman (Snellville, GA) led the Hawks with 19 points, with 15 of those coming in the second half. Cheeseman will be the Hawks primary interior scoring early in the season as fellow junior Isaac Taylor (Wachapreague, VA) tends to an upper-body injury.

"In the first half I wasn't able to really get going," Cheeseman said. "But at the half the coaches told me what I needed to do, so I listened and used my skills to play hard and create for myself and my teammates."

Another bright spot for the Hawks was junior point guard Bryan Urrutia (Chihuahua, Mexico). He finished with 13 points, five rebounds, five assists and five steals. Caldwell led the Hawks on the glass with eight rebounds.

Georgetown was led by freshman Josh Leblanc as he had a double-double with 11 points and 11 rebounds on 4-4 shooting. He also had two blocks. Two other Hoyas, Jessie Govan and Jamorko Pickett, finished in double figures with 13 and 11 points respectively.

"We played how we have been practicing from an intensity standpoint," Reed said. "We hustled and really got after it and did not concede a lot and I am happy with that."

The Hawks will return to practice on Thursday before traveling to Raleigh to face the NC State Wolfpack on Saturday (Nov. 9).

For more information on Eastern Shore Athletics visit http://www.easternshorehawks.com/.
---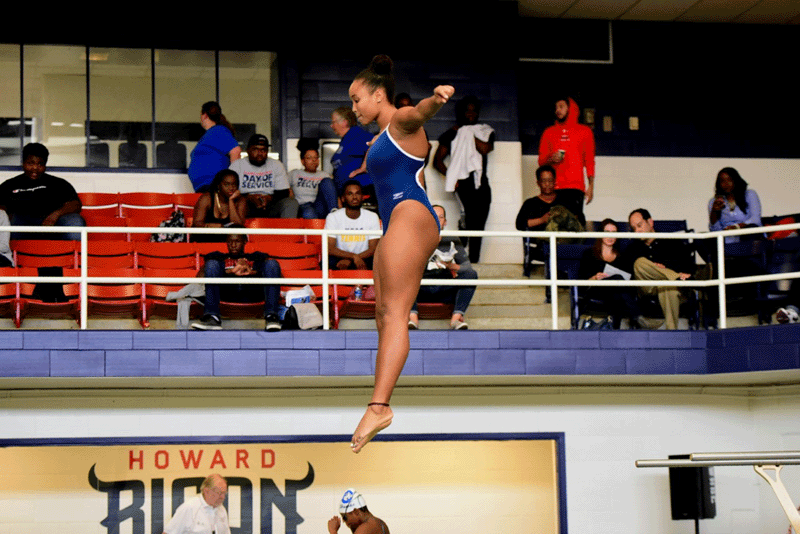 Howard's Nickolas Wins CCSA Diver of the Week; Sophomore diver takes home honor for the second time this season

Derek Bryant (Photo Credit – Mark Coleman)

CHARLOTTE, N.C. (November 6, 2018) – For the second time this season, Howard University sophomore diver Christian Nickolas (Brentwood, Calif.) took home Coastal Collegiate Sports Association (CCSA) Women's Diver of the Week. The announcement came Tuesday afternoon.

Saturday (Nov. 3), Nickolas had another stellar performance, competing against Mount St Mary's and Monmouth. The California product wowed the crowd all day as she posted high marks on the 1 meter board. She secured a first-place finish with a 235.90 score, outscoring the next competitor by nearly 100 points.

Senior swimmer KaSandra Kaplan (Detroit) received honorable mention after capturing three victories in the women's 200 Fly, 200 IM and 400 Free Relay.

UNC Asheville senior Morgan Rulevich was named the CCSA Women's Swimmer of the Week for the second time this season.

On the men's side, Old Dominion junior Filip Svedburg earned CCSA Men's Swimmer of the Week while Florida Atlantic's Logan Downey claimed CCSA Men's Diver of the Week for the second time this season.

To view this week's CCSA weekly honors, please Click Here.

On Nov. 10, the Bison take on George Washington in a crosstown duel meet. First race begins 1 p.m.

For more information, visit the Bison Athletics website at www.HUBison.com.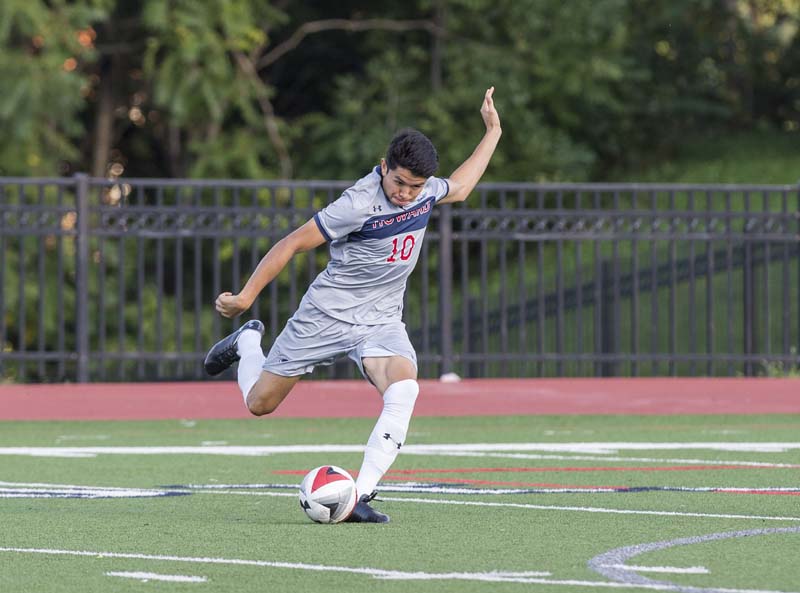 Mountaineers Shutout Howard Men's Soccer in Season Finale ; Bison close out regular season with 3-0 loss at Appalachian State
Derek W. Bryan (Photo Credit – Frank Mitchell III)


BOONE, N.C. (November 3, 2018) – Howard University Men's Soccer team ended the regular season on a sour note, falling to the Appalachian State Mountaineers, 3-0.


Offensively, HU (2-9-3, 0-4 SBC) was limited to only two shots on the night. Graduate student Joel Cunningham (Spanish Town, Jamaica) and junior Andres Gomez (Silver Spring, Md.) each took a shot in the loss.

Nearly halfway through the first period, App State's Camden Holbrook gave the Mountaineers a 1-0 advantage at halftime.


Over 10 minutes after intermission, Appalachian State's Austin Hill found Ian Bennett for a score, 2-0.


At the 73-minute mark, the Mountaineers' added an insurance goal, thanks to Alex Hernandez, 3-0.

Defensively, Howard had seven stops on the night. Junior Carlos Caro (Silver Spring, Md.) had a match-best six saves in the loss.


On Nov. 7-11, coach Phillip Gyau and the Bison travel to Statesboro, Ga. for the Sun Belt Conference Tournament. Date, time, and opponent to be announced.


For more information, visit the Bison Athletics website at www.HUBison.com.

Howard Swimming & Diving Place Third at Mount St. Mary's ; Bison fall to The Mount and Monmouth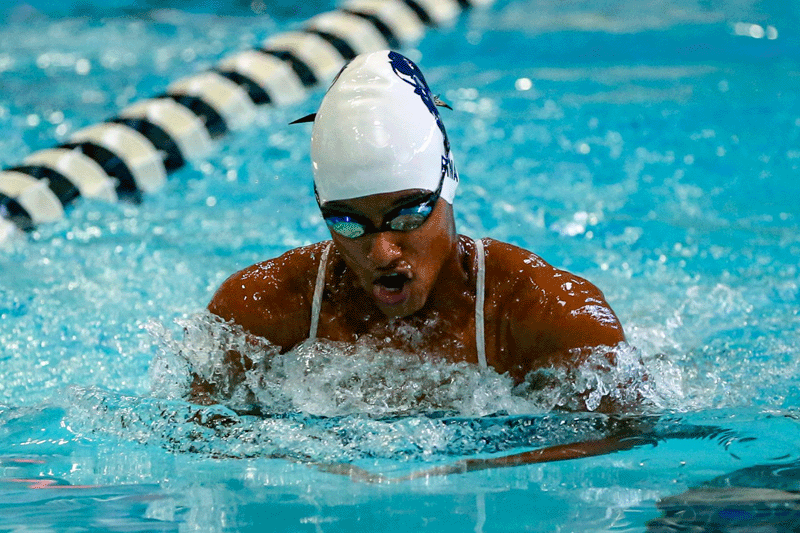 Derek Bryant (Photo Credit – Rodney Pierce)


EMMITSBURG, Md. (November 3, 2018) – Howard University Men's & Women's Swimming & Diving teams placed third against Mount St. Mary's and Monmouth.


On the women's side, Mount St. Mary's defeated HU, 153-123, and the Bison came up short against Monmouth, 139-130.


Seniors KaSandra Kaplan (Detroit) and Latroya Pina (Seeknok, Mass.) alongside freshman Madison Freeland (Glenside, Pa.) led the way.


Kaplan won the women's 200 Butterfly (2:30. 31) and 200 IM (2:29.19) while Freeland place first in the 50 Free (24.28) and second in the 400 Free (4:43.33).


Pina and freshman India Jackson (Philadelphia) took first and second, respectively, in the 100 Breaststroke. The Massachusetts native also competed in the 200 Breast where she placed third overall.


Other notable victories included junior Leanne McMaster (50 Free; 28.58), sophomore Christian Nickolas (1-meter; 235.90) and the women's 400 freestyle relay squad.


For the men, The Mount won, 143-126, and Monmouth downed HU, 175-95.


Second-year swimmers Kegan Ford (Port-of-Spain, Trinidad & Tobago) and William Speakman Smith II (Jacksonville, Fla.) had outstanding individual performances.


Ford earned a victory in the men's 50 Free (24.28) while placing second in the 100 Free (54.51).

Smith was also victorious in the 100 Breast (1:05.85) and finished runner-up in the 200 Breast (2:26.37).

To view Saturday's results, please Click Here.

On Nov. 10, the Bison take on George Washington in a crosstown duel meet. First race begins 1 p.m.

For more information, visit the Bison Athletics website at www.HUBison.com.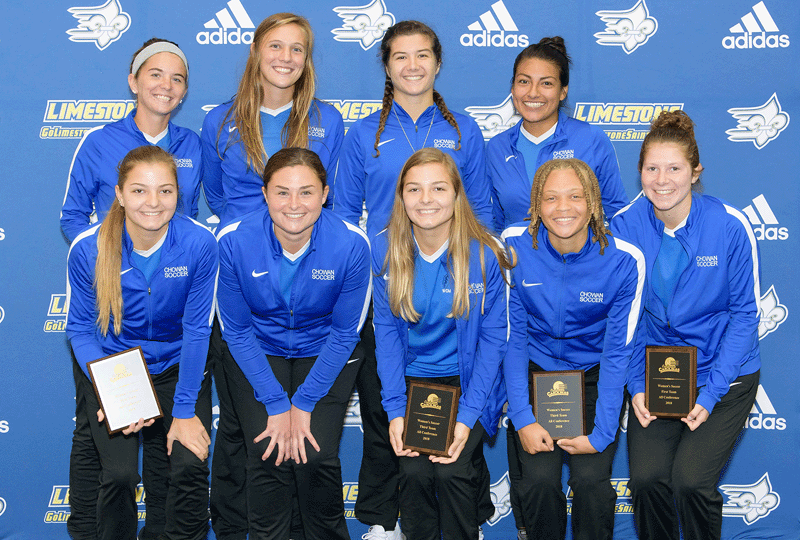 Four Earn All-Conference Nods For Women's Soccer

Evann Carpenter

HIGH POINT, N.C. – The Chowan Women's Soccer team posted four players on the 2018 Conference Carolinas Women's Soccer All-Conference teams.



Carolina Lucci picked up her second straight Conference Carolinas First Team All-Conference selection with 10 goals and seven assists. Lucci was named Conference Carolinas Player of the Year and Freshman of the Year last season.


Sabrina Henderson earned Conference Carolinas First Team All-Conference honors after leading the Hawks with 11 goals and five assists this season. Henderson earned Third Team honors last season.


Sydney Henderson and Asia Fort earned Conference Carolinas Third Team All-Conference honors. Sy. Henderson picks up her first All-Conference nod in her career. The defender tallied one goal and three assists this season. Asia Fort picked up her second postseason honor in her career after garnering Third Team honors last season. Fort solidified the back line defense for the Hawks as the defense held opponents to 1.03 goals per contest with four shutouts.


Susan Balladares, Olivia Borer, Jaime Calcagno, Asia Fort, Rebekah Langley and Samantha Xiques were named Academic All-Conference.


New to the Conference Carolinas postseason award offering is the Elite 23 Award. The Elite 23 Award is modeled after the NCAA's Elite 90 Award, which is presented to the student-athlete with the highest cumlative GPA at their respective championship site. The inaugural winner for women's soccer is Limestone's Millie Shaw.


Women's All-Conference First Team

Megan O'Connor, Limestone – Forward

Hannah Logue, Emmanuel – Forward

Ashley Romanowski, Southern Wesleyan – Forward

Carolina Lucci, Chowan – Forward

Holly Rawcliffe, Limestone – Midfielder

Sabrina Henderson, Chowan – Midfielder

Danielle Murray, Limestone – Midfielder

Rachel Coutinho, Belmont Abbey – Defender

Lea Hippauf, Limestone – Defender

Asheton Robinson, North Greenville – Defender

Alexis Feely, Lees-McRae – Goalkeeper



Women's All-Conference Second Team

Lindsay Lee, Emmanuel – Forward

Millie Shaw, Limestone – Forward

Morgan Patton, Belmont Abbey – Forward

Sydney Pluhacek, Belmont Abbey – Midfielder

Rebekah Beal, Barton – Midfielder

Jaelyn Brown, Mount Olive – Midfielder

Chloe Dunn, Limestone – Defender

Rebecca Coutinho, Belmont Abbey – Defender

Khyra Reese, Limestone – Defender

Sarah Hazelwood, North Greenville – Defender

Veronica Smeltzer, Limestone – Goalkeeper



Women's All-Conference Third Team

Rachel Curtis, Southern Wesleyan- Forward

Laisy Scardazzi, Barton - Forward

Alex Mathis, Limestone - Forward

Moriah Logue, Emmanuel - Midfielder

Abby Robinson, North Greenville - Midfielder

Kayla Brown, Emmanuel - Midfielder

Helen Schweiger, Southern Wesleyan - Midfielder

Sydney Henderson, Chowan - Defender

Emma Padgett, Limestone - Defender

Asia Fort, Chowan - Defender

Brianna Rowe, North Greenville - Goalkeeper



Offensive Player of the Year

Megan O'Connor, Limestone

Defensive Player of the Year

Lea Hippauf, Limestone

Freshman of the Year

Chloe Dunn, Limestone

Coach of the Year

Andy Robinson, North Greenville

Elite 23 Award

Millie Shaw, Limestone



Women's Soccer Regular Season Champions

Limestone College



2018 Women's Soccer Statistical Champions

Points: Ashley Romanowski, Southern Wesleyan - 35

Goals: Hannah Logue, Emmanuel - 14

Assists: Millie Shaw, Limestone - 11

Points per Match: Megan O'Connor, Limestone - 2.42

Goals per Match: Megan O'Connor, Limestone - 1.08

Assists per Match: Millie Shaw, Limestone - 0.79

Goals Against Average: Lauryn Harding, Belmont Abbey - .42

Save Percentage: Lauryn Harding, Belmont Abbey - .921

Saves: Alexis Feely, Lees-McRae - 142

Shutouts: Veronica Smeltzer, Limestone - 8