VUU Surges into Top Spot in CIAA North
Jim Juno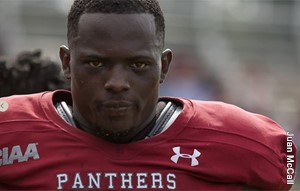 Virginia Union University's Tabyus Taylor rushed for 177 yards and four touchdowns as VUU defeated Chowan University 48-38 on Saturday, October 13, in Murfreesboro, N.C.

Taylor became the first Virginia Union player since Cassious McDowell in 2014 to rush for four touchdowns in a single game.

The win also gave VUU sole possession of first place in the Northern Division of the CIAA.

Taylor also now has 15 rushing touchdowns on the year, tying him with Jeff Haynes for second-highest total of rushing touchdowns in a single season. Haynes rushed for 15 touchdowns in 1983, with single-season record holder Andre Braxton having rushed for 26 touchdowns in 2000.

VUU's Darius Taylor completed 16 of 23 passes for 224 yards and two touchdowns.

Virginia Union's winning score came on a 46-yard touchdown pass from Darius Taylor to Jewison Dawkins with 12:10 left in the fourth quarter.

The win also raised VUU's record to 5-1 overall and kept the Panthers undefeated in the CIAA with a 4-0 record. Chowan fell to 2-4 overall and 1-2 in the CIAA.

Virginia Union now returns home to face Bowie State University in a nationally televised game on the Aspire TV network at 1:00 p.m. on Saturday, October 20, at Hovey Field in Richmond, Va
Hawks Tennis Advance in ITA Tournament
Charlotte Dinkins
SUMTER, S.C.- The Chowan Men's and Women's Tennis teams continued play at the ITA Southeast Regional Conference Carolinas Tournament on Saturday afternoon in the quarterfinal and semifinal rounds.

LOCATION | Sumter, S.C. (Palmetto Tennis Center)

HOW IT HAPPENED
In the Women's Doubles A- Quarterfinals •Valeriya Kolegova and Hanna Tarlouskaya opened play in the quarterfinals against Gala Castello and Fernanda de Lucca. The Hawks picked up the 7-6(4) win to advance to the semifinals.
Women's Doubles B- Semifinals •Angelique Gouin and Juileta Lecce faced Larissa Brutschin and Jordan Phelps in the semifinals on Saturday. The Hawks secured the 6-3 victory to advance to the finals on Sunday.

In Singles Play:
Women's Singles A- Round of 16 •Hanna Tarlouskaya def. Talia Semaan 1-6, 6-3, 1-0(5), before she took the quarterfinals victory from Marissa Stevenson (Barton) 6-2, 1-6, 1-0(7).
•Cynthia Carrier fell short to Ece Yuksel (Mount Olive) 3-6, 6-4, 1-0(8).
•Arina Karbolina beat her opponent Isabella Caballero 6-2, 7-5 (Barton) for the Blue and White
•Valeriya Kolegova was unable to secure her singles match to Erskine's Faith Wright 6-4,3-6, 1-0(2).
Women's Singles B- Quarterfinals •Angelique Gouin slipped to Deike Schipper 6-3.6-0 (Mount Olive), while teammate Julieta Lecce beat Ruby Kubac 6-3, 6-1 (Limestone) before taking the 6-0, 6-3 victory over Grace McCartney (Barton )to advance to the quarterfinals.

For the Men:
Men's Doubles A- Quarterfinals •The Hawks had to go head to head with each other in the quarterfinals. Edmond Aynedjian and Mariano Yeh faced Adi Kaliakperov and Louis Proulx. Kaliakperov and Proulx came out with the 6-2 win.

In singles play:
Men's Singles A- Round of 16 •Mariano Yeh picked up the 6-1, 6-1 win over Victor Nunez (Mount Olive), before beating Martin Moser 6-3, 6-3 in the quarterfinals round.
•The Hawks dropped the 2-6, 6-0, 1-0(8) match with Adi Kaliakperov to Thembo Makhanya (Emmanuel).
•Edmond Aynedjian recovered for the Blue and White with a 6-2, 2-6, 1-0(2) win over Kevin Yarzagary (Belmont Abbey). Aynedjian feel short in the quarterfinals to Armando Ferreira 7-5, 6-3 (Mount Olive).

UP NEXT
The Hawks will wrap up play at the ITA Southeast Regional on Sunday, October 14 with doubles play at 8am