NCCU's Air Attack and Defense Too Much for SAU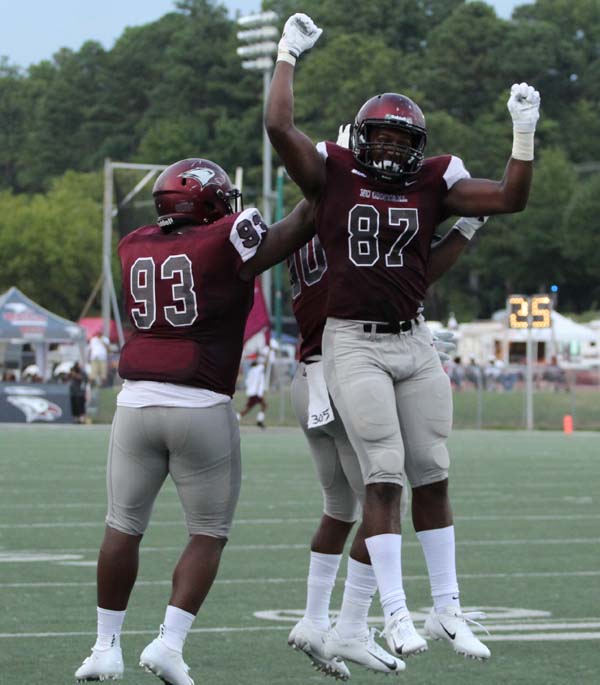 Jailen Leach, NCCU 2021) ; Photo KeShawn Ennis

DURHAM, N.C. - North Carolina Central University beat Saint Augustine's 51-14 on Saturday behind five passing touchdowns from a pair of quarterbacks.

The game started off as a defensive battle, until NCCU junior quarterback Naiil Ramadan, starting for the first time in his college career, threw touchdown passes to sophomore wide receiver E.J. Hicks and redshirt freshman tight end Sherman McLeod late in the first quarter.

In the second quarter, the Ramadan to McLeod connection added another touchdown to make the score 20-0 with 11:13 left before intermission.

Saint Augustine's quarterback D.J. Johnson threw a touchdown to running back Jeremiah Miller at the 4:17 mark, before the Eagles responded with an Adam Lippy 36-yard field goal before the half making the score 23-7.
CU Volleyball Picks Up A Pair Of Wins In CIAA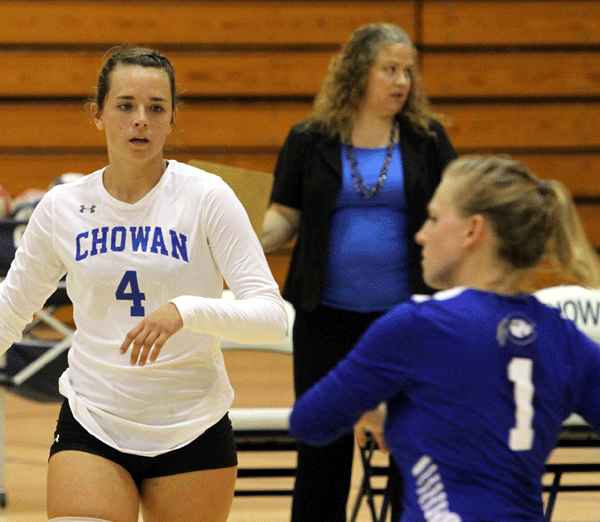 Evann Carpenter ; Photo Chowan Athletics

PETERSBURG, VA. – The Chowan Volleyball team opened CIAA play with a pair of straight sets victories at the CIAA Round Up hosted by Virginia State on Saturday.

THE BASICS

FINAL | Chowan 3, St. Augustine's 0 (25-18, 25-22, 25-18)

FINAL | Chowan 3, Fayetteville State 0 (25-23, 25-22, 25-22)

RECORDS | Chowan 2-3 (2-0), St. Augustine's 0-5 (0-2), Fayetteville State 0-6 (0-1)

LOCATION | Petersburg, Va. (VSU Multisport Complex)

INSIDE THE BOXSCORES

Sydney Hiner posted her first collegiate double-double with 11 kills and 10 digs in the win against St. Augustine's. Hiner also tallied six service aces. The freshman would follow up her performance with a 17 dig outing in the win against Fayetteville State.

Kayla Gates and Courtney O'Keefe tallied nine kills each in the second match. Milicia Vejnovic posted eight kills as well.

Micayla Pope posted 47 assists in the double-dip. Alyssa Born recorded 25 digs on the afternoon.
Volleyball wins The Henson's Hawk Invite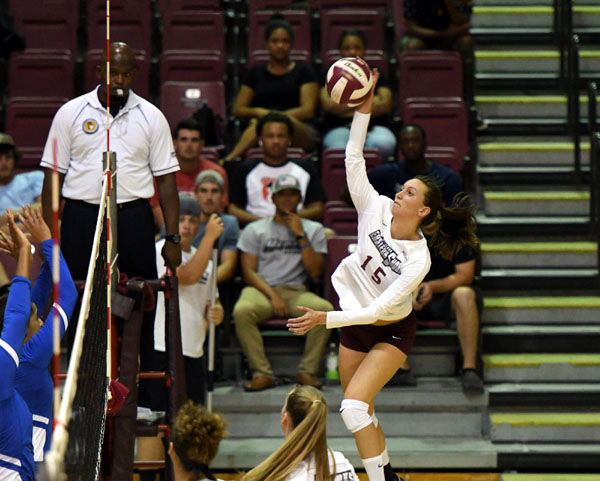 Babic gets 1,000 kills as Hawks dominate on attack

Matt Mccann; Photo UMES

PRINCESS ANNE, Maryland — A grueling weekend went the way of the University of Maryland Eastern Shore volleyball team on Saturday (Sept. 8). The Hawks won their finale against the Hampton Pirates 3-1 (23-25, 25-16, 25-22, 25-11) to claim The 2018 Henson's Hawk Invitational at the William P. Hytche Athletic Center.

"We proved this weekend that we can handle adversity." Hawks coach Trevor Callarman said. "We battled back in different sets and executed in tough situations."

Senior Lucia Babic (Sisak, Croatia) earned her 1,000 career kill at the 18-7 mark in set two, becoming the fifth player in Hawk history to reach the achievement. She finished the match with 16 kills and a .438 hitting percentage.

'It takes a lot of hard word to reach this mark." Babic said. "My teammates helped a lot in making this happen, and winning certainly helps!"

"Congrats to Lucia on her 1,000th kill." Callarman said. "She is the epitome of what it means to be a Hawk and has earned this achievement."

Other top performers for the Hawks included a double-double of 13 kills and 10 digs by senior Rachel Kayongo (Northridge, California), and nine digs from senior Koya Sowells (Missouri City, Texas). Babic, Kayongo and Sowells were all named to The Henson's All-Tournament Team.
Howard Cross Country Takes 4th at the JMU Invitational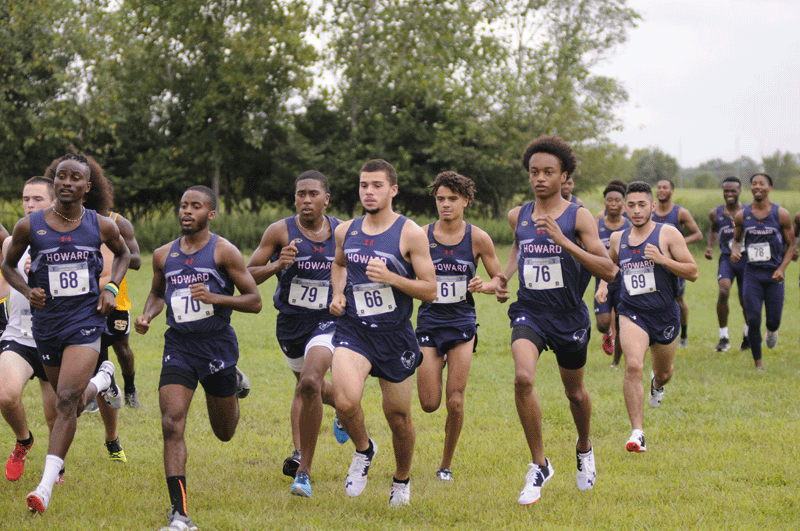 Stanford, Williams lead the way for HU

Derek Pryant;: Photo Lawrence Johnson

NEW MARKET, Va. (September 8, 2018) – Howard University Men's & Women's Cross Country took fourth overall at the James Madison (JMU) Invitational. The event was held at New Market Battlefield in New Market, Virginia.

Sophomore Destiny Stanford (Woolwhich Township, N.J.) and freshman Gavin Williams (Dover, Del.) led the way, each with top 20 finishes.

Stanford finished 16th in the 5k race after posting a 21:13 mark. Newcomer Melanie White (Orlando, Fla.) came in four spots behind her with a 21:24 time.

For the men, Williams clocked in at 28:00 and placed 20th overall in the 8k event. Second-year runner Anthony Gordon (Clinton, Md.) took 23rd, registering a time of 28:11.

St. Francis won the men's side with six runners finishing in the Top 10, led by Brendan Miller (26:19). James Madison women defended home with a victory while placing five runners in the Top 10.
Hawks impress in season opener at Delaware State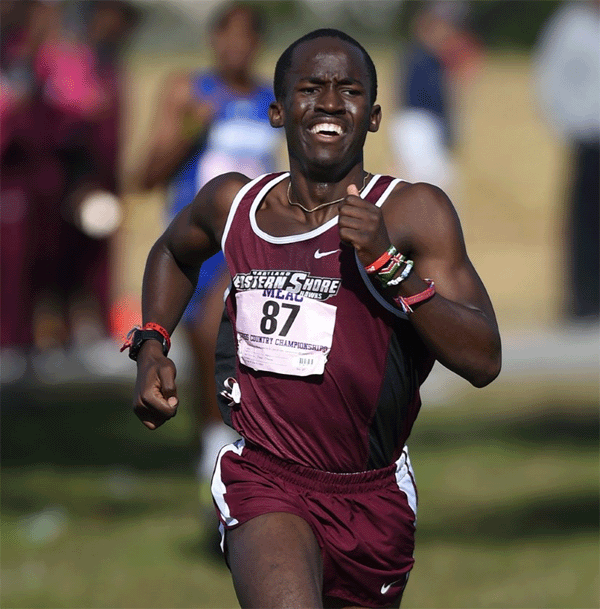 Men win first meet behind Cime; women take second place

Matt MCCann ; UMES Photo

SMYRNA, Delaware — Junior Hector Cime (Parksley, Virginia) led the men's cross country team, and senior Neus Quinonero (Valencia, Spain) led the women during the 2018 season opener at the Delaware State Hornet Invite on Saturday (Sept. 8) in Smyrna. The men's team won the meet with 37 points while the women's team came in second at 50 points.

"I couldn't be more proud of the team considering the youthfulness of the group, especially on the women's squad." Coach Damion Drummond said. "This begins the years of Hawk dominance across the board. Lets claim, achieve and receive it!"

Cime won the men's event with a time of 17:11 flat. Quinonero placed fourth in the women's meet, earning a 21:07.4 clip.

On the women's side, senior Luan Gabriel (Roseau, Dominica) earned a top ten spot by running a 23:04.7, and freshman Arianna Krcik (Pasadena, Maryland) ran the meet in 24:03.7 to finish 10th in her collegiate debut.

The men's squad beat runner-up Delaware State by 11 points while Morgan State eclipsed the women's side, earning a meet best 26 points to earn the win.