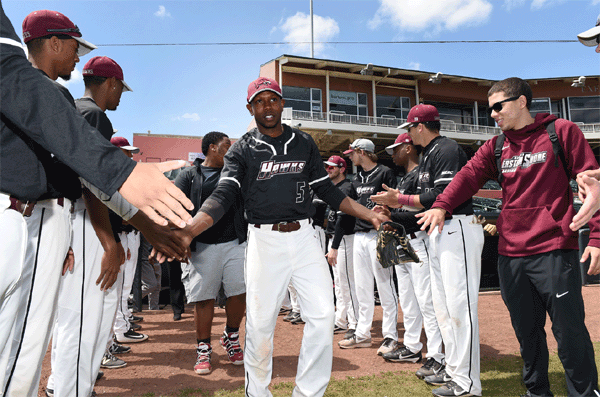 Isaiah Chambers named MEAC Male Student-Athlete of the Year
MATT MCCANN
Baseball player commended for his athletic ability and presence in the community

NORFOLK, Virginia — Maryland Eastern Shore's Isaiah Chambers (Bowie, Maryland) was named the 2018 Male Student-Athlete of the Year by the Mid-Eastern Athletic Conference (MEAC) on Monday (June 11).

"I would like to congratulate Isaiah Chambers." MEAC Commissioner Dr. Dennis Thomas said. "He's had an absolutely phenomenal career at the University of Maryland Eastern Shore, not only as a student-athlete, but academically and in extracurricular activities as well. I wish him continued success and I would like to thank his family and all of the people who had a positive influence on Isaiah."

Chambers becomes the third male student-athlete from Maryland Eastern Shore to win the award, after men's basketball guard Ishaq Pitt in 2015 and track & field runner Khalil Rmidi Kinini in 2017. The Hawks are the only athletic program in the MEAC to win this award multiple times since its inception in 2012.

"We at the University of Maryland Eastern Shore are proud of Isaiah Chambers on winning this award." Director of Athletics Keith Davidson said. "Chambers exemplifies what it means to be a Hawk, and continues our tradition of developing student-athletes into excellent young men and women."

A four-year letter winner on the baseball team, Chambers competed in 131 contests for the Hawks with 79 starts. In his senior year he batted .244 with 11 RBI's and a career best 10 stolen bases.

Over his four years, he earned a reputation as a strong second half performer, which proved pivotal in the Hawks' three MEAC Championship berths during his tenure. In 2018, Chambers reached base safely in 10 consecutive games to close the season, including the sweep of Delaware State that propelled the Hawks to Daytona Beach for this year's championship.

Chambers' efforts went far beyond the baseball field. He has earned a number of scholarships and awards, including a Jostens Sportsmanship Award, a Citizen Athlete of the Year Award, and The Hazel Endowment—all awarded by the university. Isaiah was also named to the MEAC Commissioner's All-Academic Team (2015-18), earned a Diverse Issues in Higher Education Arthur Ashe Jr. Sports Scholar Award (2018) and a 2018 Teachers of Promise honor.

He also served in several leadership roles as a Hawk. In athletics, Chambers worked as vice president of the Student-Athlete Advisory Committee. In other university ventures, he was president of Omega Psi Phi Fraternity Inc., Pi Epsilon Chapter and served as Chair of the Homecoming Steering Committee.

"Isaiah is a great, all-around young man on and off the field." baseball coach Brian Hollamon said. "He served us as an exceptional leader and teammate, and stepped up big late in the season when injuries took their toll. We thank him for his efforts and wish him all the best as he heads into the future."

The senior baseball player graduated on May 25 with a 3.6 GPA and a degree in Special Education.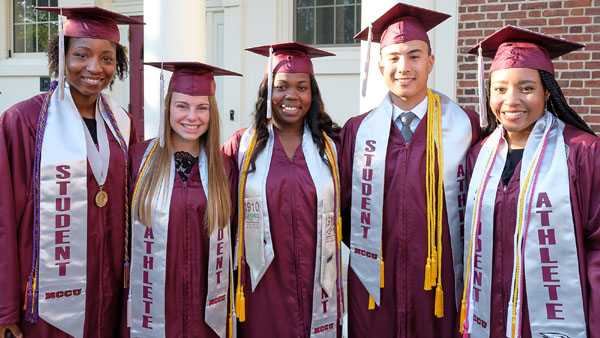 NCCU Student-Athletes Combine for 3.02 GPA

June 11, 2018

Kyle Serba

NCCU Student-Athletes Combine for 3.02 GPA

DURHAM, N.C. –North Carolina Central University student-athletes boast a combined cumulative grade point average of 3.02 at the conclusion of the spring semester.

[(Attached photo of NCCU student-athletes from 2018 spring graduation ceremony by Chi Brown of NCCU Communications and Marketing)]

"Our student-athletes understand the importance of academic achievement, as is reflective in our current overall grade point average," said NCCU Director of Athletics Dr. Ingrid Wicker McCree. "I applaud their hard work and effort in the classroom. I want to also thank our hard-working athletics academic support staff for all that they do to ensure our student-athletes are successful in the classroom."

Fifty-four percent of NCCU student-athletes have achieved a cumulative GPA of 3.0 or better, including eight individuals with perfect 4.0 overall GPAs.

The NCCU teams with the best cumulative grade point averages are men's tennis (3.68), women's tennis (3.58), baseball (3.34), women's volleyball (3.31), women's basketball (3.29) and softball (3.21).

In the spring semester, 138 student-athletes posted GPAs of 3.0 and above, including 17 with 4.0 semester GPAs.

During fall and spring commencement ceremonies in 2017-18, 58 NCCU student-athletes earned degrees. In addition, four student-athletes will graduate in three years after the summer semester.

Individually, men's tennis senior Dillon Strepay (Cary, N.C.) was presented with the Chancellor's Award for Academic Excellence - NCCU's top academic award - during Spring Honors Convocation, while senior infielder Andrew Valichka (Pedricktown, N.J.) was voted to the 2018 Google Cloud Academic All-America® Baseball Team as announced by the College Sports Information Directors of America (CoSIDA).
NCCU Baseball: Valichka Voted to Academic All-America Baseball Team
Duren, Jonathan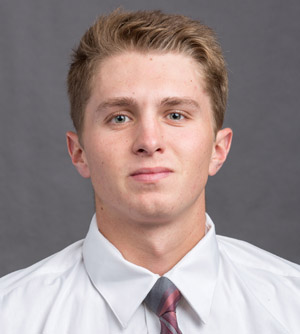 AUSTIN, Texas – North Carolina Central University senior infielder Andrew Valichka (Pedricktown, N.J.) has been voted to the 2018 Google Cloud Academic All-America® Baseball Team as announced by the College Sports Information Directors of America (CoSIDA) on Thursday, June 7.

Valichka was named to the second team, and becomes the third baseball student-athlete to be selected to the Academic All-America list in the Division I era.

"This honor accentuates Andrew's already impressive list of accomplishments with NCCU and the MEAC," NCCU baseball head coach Jim Koerner said. "All-American status puts him in an elite group of student-athletes. We are all proud of what he has done."

Valichka achieved a 4.00 grade point average while majoring in behavior and social sciences, and was named to the Dean's List at NCCU, as well as the Commissioner's All-Academic List within the Mid-Eastern Athletic Conference. He graduated Summa Cum Laude in May and will pursue a graduate degree while remaining with the NCCU baseball program as a student assistant.

Valichka batted .276 this season and started all 52 games that the Eagles played, while driving in the third-most RBI in the MEAC with 38 on 12 doubles and five home runs. He also finished the season top-10 in the MEAC in runs scored with 37, and hits with 54.


During his two-year NCCU career, Valichka played 96 games and drove in 57 RBI with 91 total hits. He also made 132 putouts with 142 assists from third base, and was also a perfect 9-for-9 on stolen base attempts.

The Google Cloud Academic All-America® Division I Baseball Team produced an average GPA of 3.90 with the first team combining for an average GPA of 3.97. The team includes 11 student-athletes with 4.0 GPA and two graduate students.

CoSIDA Academic All-America All-Time List – North Carolina Central University

Attached photo courtesy of Kevin Dorsey

Division I Era

Baseball – Andrew Valichka (2nd team, infield) 2018

Baseball – James Dey (1st team, designated hitter) 2016

Softball – Jenny Tracy (1st team, infield) 2016

Men's At-Large – Tamina Kienka (3rd team, tennis) 2015

Baseball – Gavin Guarrera (3rd team, pitcher) 2013


Division II Era

Women's Track/Cross Country – Katerina Glosova (2nd team) 2003

Women's Track/Cross Country – Katerina Glosova (1st team) 2002

Women's At-Large – Ria Bazie (1st team, tennis) 2002

Softball – Lanelle Turner (2nd team, infield) 2001

Nuggets tie program mark with 4 ITA All-Americans story: goo.gl/YbW4R8
National semifinalist Rush have 3 ITA All-Americans story: goo.gl/Xq1tZz
All-state honors for 3, including Borodii on 1st team story: goo.gl/E9cViM
XULA has 25 on 2017-18 GCAC Commissioner's Honor Roll story: goo.gl/KAaqW9
WSSU's Norris Selected by the San Francisco Giants in the 19th Round of the MLB Draft by Goodwin, Trevin Q.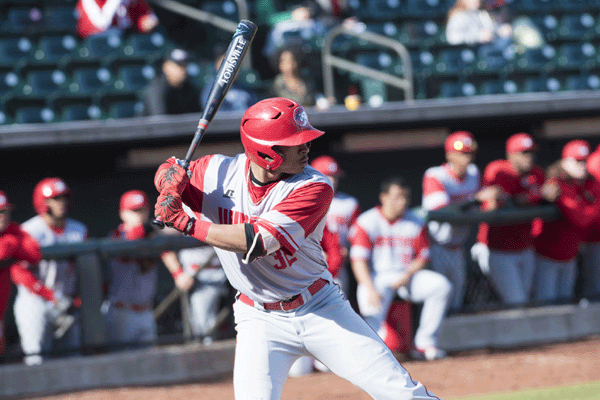 Rams outfielder becomes the first WSSU player drafted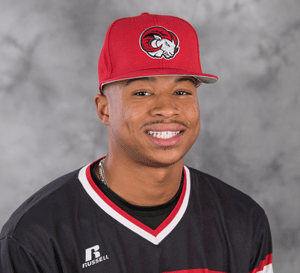 WINSTON-SALEM, NC – Winston-Salem State University junior outfielder Randy Norris was selected by the San Francisco Giants in the 19th round of the 2018 Major League Baseball Draft, Wednesday afternoon. Norris was the second pick of the 19th round (556 overall) and became the first WSSU player to be drafted into Major League Baseball.

Norris has had an historic career at Winston-Salem State. He has played three years with the Rams and is currently the team's career leader in hits (231), at-bats (608), and stolen bases (92). He is coming off of a stellar junior season that including finishing the season ranked fourth in the nation with a .437 batting average. He is also tied for ninth in the nation in stolen bases with 34. Last season, Norris led the nation with 47 stolen bases.

During his career, Norris earned several honors, including being named the Claudette Weston WSSU Male Student-Athlete of the Year and the Independent Collegiate Athletic Association (ICAA) Player of the Year. He also earned spots on the National Collegiate Baseball Writers Association (NCBWA) All-Region Team as well as the Rawlings/American Baseball Coaches Association (ABCA) All-Region team. He was also a North Carolina Sports Information Association (NCCSIA) College Division All-State team selection along with Central Intercollegiate Athletic Association (CIAA) All-Conference honors as well.

Norris becomes the second player from Winston-Salem State University to be drafted since 1985. For more information on Rams baseball, contact the WSSU Office of Athletic Media Relations at (336) 750-2143 or log on to www.WSSURams.com.
NCCU's Courtney Mirabella Signs with Italian Softball League Kevin Buczek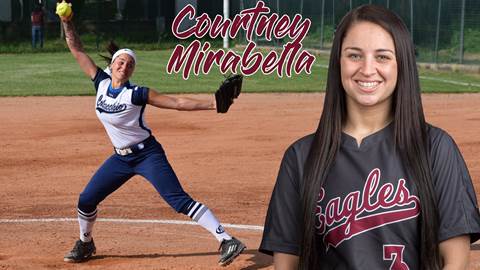 PICTURED: Courtney Mirabella during her first pitching performance for Collecchio on May 26 (courtesy of Collecchio Baseball Softball)


COLLECCHIO, Italy — Former North Carolina Central University pitcher Courtney Mirabella has continued her playing career by signing a professional contract with the Labadini Collecchio club in the Italian Softball League shortly after concluding her collegiate career with the Lady Eagles in May.


"It's an amazing opportunity that I just couldn't say no to," said Mirabella. "I get to live in Italy for a little while!"

Mirabella joins the AI series of the Italian Softball League after posting a record-setting senior season at NCCU. She has immediately made an impact for Collecchio with a complete-game victory in her first start, which featured 12 strikeouts.


After leading the Lady Eagles to a program-best, third place tournament finish in the Mid-Eastern Athletic Conference (MEAC) Softball Championship by tossing three consecutive postseason wins in early May, Mirabella quickly signed her professional contract later in the month. She has relocated nearly 4,500 miles from Durham, North Carolina, to the Northern Italian city of Collecchio, which is near Parma and sits pretty evenly between Milan to the north and Florence to the south.


"It's amazing for her to go over to Italy and play for team Collecchio," said NCCU head coach Vashion Johnson. "The Italian coaches were wondering if she would be fresh after pitching so much [at NCCU] and I was like, 'she is a workhorse and ready to go.' She is an amazing ball player."


Mirabella made an impressive debut for Collecchio, picking up a 3-2 win against Taurus Old Parma. She only allowed five hits over her seven innings of work and her 12 K's in the complete game is the most by the five Collecchio pitchers through 10 games.


The First Team All-MEAC honoree has batted in two games and is 2 for 6 for a .333 average. Mirabella, who joined the team late during the squads' first 10-game segment, will have a chance to play more when play resumes this coming Saturday. Collecchio (5-5 Overall) is scheduled for 30 more regular season games that is spread out until the end of September. She will have an opportunity to come home during a midseason break.


Mirabella has been in contact with the Italian National Coach and she could have the opportunity to play for the national team with strong play over the summer. She is in the process of proving her family ancestry is Italian and will need to become a dual resident as well. Both of her parents come from Italian lineage.


Johnson sent Miraballa a series of text messages later than usual one night to start the process of informing her about the chance of extending her playing career. She initially thought she was in trouble, but quickly found out the exciting news that Italy had interest in her as a player. Mirabella was able to talk with the pitching coach and it eventually led to her signing a contract with Collecchio a week after NCCU's season wrapped up. She even found out that the Italian eyes had been on her for a while, beginning with her playing time at North Carolina State University before transferring to NCCU for her final season.

The resident of Bradenton, Florida, is traveling outside the United States for the first time as a professional softball player. Mirabella expressed that she was excited for the opportunity before leaving in May, but felt it was going to be a big change. She expects to travel a lot with the team during her down time, allowing her to see and explore much of the country. Her parents and sister will most likely visit her as well. Mirabella, who only knew English and Spanish until this spring, has an app on her phone to help learn Italian.

Mirabella had an outstanding senior season at NCCU. She tallied 18 wins with a 1.66 ERA, 306 strikeouts, 10 shutouts and a .194 opponent batting average. All of those numbers were tops in the MEAC and are new NCCU Division I era records (since 2007-08). Her 306 K's is an all-time program record. The Lady Eagles' team MVP was named NCCU Female Athlete of the Year for her record-setting campaign.


"Courtney is the definition of a great teammate," said Johnson. "She did a great job of leading the team, both on and off the field. Don't let the numbers skew what she does as a teammate and as a fire starter, who gets her teammates to rally behind her. She is a great pitcher and a great person for the underclassmen to look at and say that's what we need to do for the following years."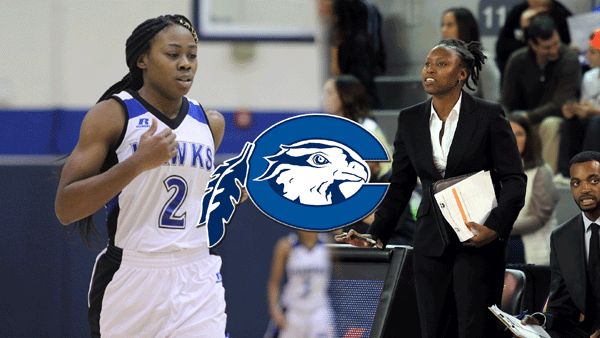 Jones Adds Two Assistants, Walker and Roberts
by Evann Carpenter


MURFREESBORO, N.C. – The Chowan Women's Basketball program and head coach LaToya Jones announced the addition of two assistants to the staff: Johnette Walker and Chantel Roberts.

"Johnette is a person of high character, energy, and has a passion for coaching and mentoring young women," stated Coach Jones. "She is a strong recruiter, communicator, and a positive presence to be around. Her professional playing experience and success will greatly benefit the direction of the program as a whole. She is a tireless worker and I am excited for her to be a part of the Hawk Family!"

Johnette Walker comes to Chowan after spending two seasons at Division I USC Upstate in Spartanburg, S.C. At Upstate, Walker helped the team improve their winning percentage and increased their Atlantic Sun Conference win total.


"I am humbled and blessed for the opportunity to be a part of an amazing program and University," commented Walker. "I am beyond grateful to Coach (LaToya) Jones for the chance to learn and grow from a great coach but an even better person. Coach Jones' vision, drive and work ethic excites me and motivates me to be better each and every day."

Prior to Upstate, Walker spent a season at Francis Marion as an assistant coach. During her lone season with the Patriots, Walker helped the team to a 24-9 overall record, an NCAA Division II Southeast Regional title and an appearance in the NCAA Division II Elite Eight.


Before entering the coaching ranks, Walker played six seasons professionally overseas in Germany. There, she averaged 15.0 points and 6.0 rebounds per contest in five of the six seasons.

Walker played collegiate basketball at Division I Radford under former coach Jeri Porter (now head coach at Francis Marion). Walker sits sixth all-time in Highlander history in scoring with 1,238 points and single-season career leader in Big South Conference history with 348 steals. Walker was named Big South Conference Defensive Player of the Year during her senior season. She was named Big South All-Conference as well as named to the All-Academic Team twice.


Walker is one of four players in Big South history to produce 1,000 points, 500 rebounds, 400 assists, and 200 steals in her career.

In addition to Walker, Chantel Roberts returns to her alma mater after her career with the Blue & White. Roberts was selected to the WBCA 'So You Think You Want To Be A Coach' program during the 2017-18 season.

"I am excited to welcome Chantel Roberts back to the program in the role of Assistant Coach," harped Coach Jones. "Chantel has a passion for coaching and has been very influential in the community and on campus. Chantel understands the level of commitment desired under my leadership to continue the forward movement of the Women's Basketball Program. Chantel's work ethic is undeniable and will benefit her as she grows in this profession. She has served in leadership roles as an athlete and student here at Chowan, and in those various roles she has gained a great deal of knowledge and experience. Her love for mentoring, and being a role model for the younger generation is an invaluable character trait. I am blessed to have her a part of my staff."


Roberts finished her career with Chowan strong being named to the All-CIAA team after recording a program best 16.0 points per game and averaged a double-double in CIAA contests. Roberts posted 921 career points, 563 rebounds, and 135 made three-pointers, which ranks in the top-five in program history in a career.


"It is a blessing to be granted the opportunity to coach at my alma mater," remarked Roberts. "I'm excited to be reunited with my Chowan family doing what I love most. I look forward to the transition of my leadership role this year and hope to inspire the ladies as Coach (LaToya) Jones and all of my past coaches here have inspired me."


Off the court, Roberts was named to the 2017-18 CoSIDA Academic All-District Team, as well as, a member of Alpha Chi, Alpha Lambda Delta, Beta Beta Beta, and Chi Alpha Sigma honors societies. The 2018 graduate was awarded the Chowan University Outstanding Student Award, formerly Who's Who.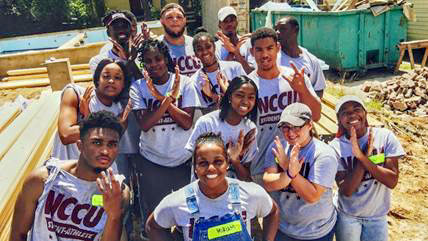 NCCU Places Fifth in NCAA Community Service Competition

Kyle Serba

DURHAM, N.C. - North Carolina Central University student-athletes completed 6,018 hours of community service in 2017-18 to place fifth among Division I schools in the annual NCAA Team Works Helper Helper Community Service Competition.

NCCU baseball finishes ranked No. 1 out of all participating NCAA Division I baseball teams. Other NCCU teams placing in the top-10 among Division I programs by sport are women's volleyball in second, men's basketball in third, women's basketball in fifth, softball in fifth, football in seventh, women's tennis in seventh, and men's tennis in eighth.

"I continue to be amazed by our outstanding student-athletes and their commitment to community service," said NCCU Director of Athletics Dr. Ingrid Wicker McCree. "They understand the importance of giving back and it is preparing them to be better citizens and leaders."

The NCAA Team Works Helper Helper Community Service Competition tracks service hours through the Helper Helper app and online portal, provides a team-by-team breakdown, and rewards top performers of the more than 200 NCAA participating institutions.
During the 2017-18 campaign, student-athletes in the NCAA Team Works Helper Helper Community Service Competition completed 412,280 hours of community service across the country.

For more information about the NCAA Team Works Helper Helper Community Service Competition, visit www.HelperHelper.us.