SAAC AGAIN HOSTS P.L.A.Y. DAY
Maurice Williams 04/12/11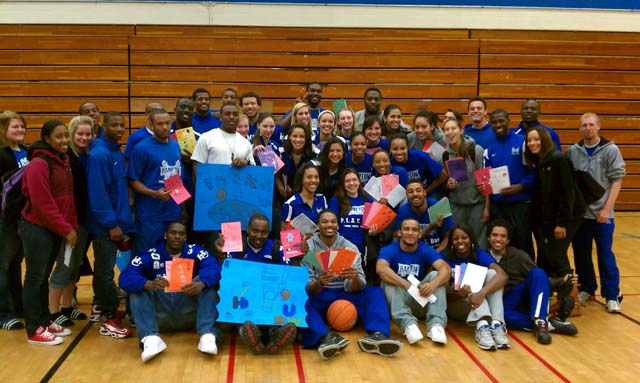 HAMPTON, Va. -- For the past two years, Hampton University's Student-Athlete Advisory Committee (SAAC) and the Department of Athletics have been proud to host P.L.A.Y. (Pirates Leading Area Youth) Day on campus. Hampton University's student-athletes understand that in order to compete at the collegiate level, well-trained athletes must hold academics, as well as respect for one's athletic program and community, to a higher standard.

This year's P.L.A.Y. Day was held on Friday, April 8.

P.L.A.Y. Day allows for student-athletes to interact with youth from the community, specifically from Girls, Inc. of the Greater Peninsula and the Boys Leadership Academy. These children are given the opportunity to show their athletic ability, learn about different sports, and most importantly the chance to have fun.

"P.L.A.Y. Day was a wonderful for way for the kids to engage in the activities Hampton offered," Tiya Ravens, program director for Girls, inc., said. "The partnership between a university and a nonprofit organization is very unique."

P.L.A.Y. Day activities included bowling, golf, tennis, cheerleading, basketball, volleyball, kickball, football, track & field and softball. Each child received the opportunity to participate in three of the above activities.

"SAAC loves to give back to the community who supports us," Dyrri McCain, SAAC president, said.

P.L.A.Y. Day is held in honor of and in the loving memory of the late Theo Smalling, a former basketball player and honorary graduate of Hampton University. As a member of SAAC, Smalling served on the Community Service Committee and wanted to ensure that student-athletes gave back to the cities of Hampton and Newport News.